Adult ADHD Forgetfulness: Lost Eyeglasses of Doom
Lots of folks have memory issues, but none with as much daily flare as adults with ADHD. If we're not getting on the wrong bus or heading east from Cape Cod to get to California, we're confusing meeting times and places several times in a row. It's almost like we're wired to get fired.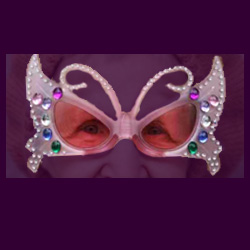 If I documented everything that went wrong with producing this video blog, they'd make me the ADHD poster boy—a dubious honor to be sure! I couldn't have done things more wrong if I had crossed a busy street backwards while filming my feet. But I have braved the odds and defied ADHD's attempt to thwart my efforts (Stick It to ADHD Forgetfulness!).
Please enjoy my latest escapade in which I discover I have lost my eyeglasses. Also, give me bonus points for using "thwart" in a sentence.
ADHD Forgetfulness: The Autopilot System Video
Wish I had thought of this sooner!
Follow me on Twitter for my ADHD escapades at @SplinteredMind or my novel writing project over at @DouglasCootey. And if you're a glutton for punishment you can friend me on Facebook as well.
APA Reference
Cootey, D. (2011, October 4). Adult ADHD Forgetfulness: Lost Eyeglasses of Doom, HealthyPlace. Retrieved on 2023, October 4 from https://www.healthyplace.com/blogs/adultadhd/2011/10/video-addaboy-aventures-in-adhd-6-lost-eyeglasses-of-doom
Author: Douglas Cootey
My husband & sons have ADD or ADHD. I do not. Recently I had an emergency brain bleed surgery and found myself having new post surgery experiences. I was putting on my socks and sneakers one morning. One sock was on, so I thought. I began looking all around our home, trying to find the second sock. I sat down on the couch to think about the missing sock. It was then that my eyes caught site of my feet. To my astonishment both my feet had socks on. When did that happen ? Why didn't I remember putting on both socks ? I have found myself in similar forgetful situations over the last few weeks. So this is what it feels like to have ADD. I now have more empathy for my ADD family members. So after laughing at myself ..... I put on my sneakers.
Leave a reply