If You Are Talking About Suicide, You Are Still Alive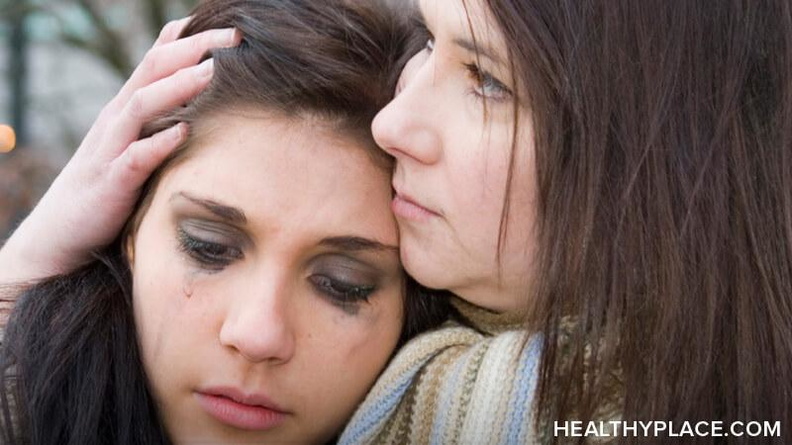 If someone is talking about suicide, he or she must still be alive. I take this fact as seriously as I take the desperation I hear behind thoughts about suicide.
He or she is still alive. And I want to know why. Being alive means choosing to live, at least for now. The reasons people who contemplate suicide chose to keep living tells a story of what is most important to them.
Talk about Suicide Using A Person's Reasons To Not Complete Suicide
In my life, working with many people who think about suicide, I have heard the following reasons to stay alive and many more:
-I won't do that to my children
-I still have hope that it could get better
-I am afraid it would hurt
-I want to grow up and see what my kids look like
-My parents would be devastated.
-Maybe it won't always be like this.
-I'm giving this once more try
-I don't really want to die
-My friend wouldn't be able to live without me
-I promised _______ that I wouldn't
Each of these tell a story about what is important to the person. It tells what has kept them afloat in the drowning sea of depression and anxiety.
Listeners Can Get Caught in the Panic When Someone Talks About Suicide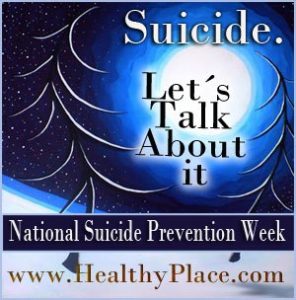 "Suicide" can be a scary word. People tend to panic when they hear it. We can get lost in the pressure and anxiety of responsibility to help keep the person alive that we lose track that this person has kept him or herself alive up to this point. Don't ignore your loved one and not worry. Stay with him or her, listen to their pain, show your love (i.e., let him know what you love and appreciate about him) And then, ask why he or she stays alive (How to Talk to a Suicidal Person).
Contemplating suicide can make people forget for themselves why they have stayed alive up to this point. The contemplation scares them, too. This conversation will imbue energy into why they have stayed alive up to this point, strengthening their resolve to keep living.
Talking About Suicide but Getting the Right Kind of Help
If someone is waving a knife around or trying to jump off a rooftop, calling the police is necessary. If someone has ingested something or has injured himself, immediate medical attention is necessary. Otherwise, calling the person's counselor - if he has one - or making an appointment with a new counselor is a great step to helping him to the light at the end of the tunnel.
Remember, it is pretty normal to think about suicide. The thought crosses most people's mind at one time or another. Sometimes it is fleeting and sometimes it is more serious. I always take it seriously, but without panicking. I know wanting to escape a bad situation is human. But so is wanting to live.
IF YOU ARE IN CRISIS AND NEED IMMEDIATE HELP, PLEASE CALL ANY OF THESE NUMBERS:
1-800-273-8255 (1-800-273-TALK)
1-800-784-2433 (1-800-SUICIDE)
1-866-488-7386 (1-866-4.U.TREVOR aimed at gay and questioning youth)
For comprehensive suicide information, go here.
Share Your Experience and Thoughts on Suicide Prevention
Do you think suicide prevention is something that's really achievable? Have you prevented someone from completing suicide or has someone helped you to not complete suicide? Please leave a comment below.
I blog here: Heal Now and Forever Be In Peace,
share here: Twitter@JodiAman, Google+
inspire here: Facebook: Heal Now and Forever Be in Peace.
APA Reference
Lobozzo, J. (2012, September 12). If You Are Talking About Suicide, You Are Still Alive, HealthyPlace. Retrieved on 2023, December 4 from https://www.healthyplace.com/blogs/anxiety-schmanxiety/2012/09/if-you-are-talking-about-suicide-you-are-still-alive
Author: Jodi Lobozzo Aman, LCSW-R
[...] anxiety stinks to high heaven. Sometimes the suffering is so constant or so intense we think that life is not worth living if we have to experience such [...]
Suicide as extreme self-harm attack, exhibits a human amiss act. It remains yet many dilemmas on this ominous hurting vice. On the national Suicide Prevention Week eve, I could to say that the life is continuous pain opposite reality. Therefore, it should to be prepare against daily surprise which may be both unmerciful or invincible ones. In any case, we ought to poses adequate psycho-social skills in order to manage these life difficulties. Otherwise we would be the victim of psychic sufferings, that leads to depression as open door of suicide behave. The life is dedicated to be alive against its hardness, which should serve as motivation element for healthy and strong person as well.
[...] Read More on Heal Now… /* */ Center for Narrative Practice240 East Ridge RdRochester, NY 14621(585) 544-5342 All Text ©2012 Center for Narrative Practice.All Rights Reserved. custom site byEnrollment Services var _gaq = _gaq || []; _gaq.push(['_setAccount', 'UA-28266285-1']); _gaq.push(['_trackPageview']); (function() { var ga = document.createElement('script'); ga.type = 'text/javascript'; ga.async = true; ga.src = ('https:' == document.location.protocol ? 'https://ssl' : 'http://www') + '.google-analytics.com/ga.js'; var s = document.getElementsByTagName('script')[0]; s.parentNode.insertBefore(ga, s); })(); [...]
I only tried to commit suicide once, had the pills on the table and the knife to my chest. Fortunately a couple of friends called and that stopped me. It's dreadful to think what my husband and children would have gone through. My husband also suffers from depression, and was suicidal at times. When low, he has contemplated stepping into the rapids at Niagara Falls (he works for the Niagara Falls State Park, and so has easy access to the Falls and knows where to walk in). His meds are working now and he's doing well.
What keeps him out of the Falls is being afraid of what it would do to me and our sons.
Not dying for your loved ones is a noble reason, you both must love each other and those boys a lot!
I've never thought about taking my life - thankfully. I've been in a couple tight squeezes but managed to work myself out of it. I worry most about out kids. The other night my son, a freshman had one of those moments when his world was crushing him. We spent the night talking through it, and got to the other side, but it made me think about all those kids out there whose parents push and push, and don't' stop to see the world from those innocent eyes. Nearly broke my heart. Well said, Jodi,
Brenda, I have said this before, but you are a beautiful mother. I hope my kids keep sharing with me as they grow up. I want to make that happen.
Suicide is a subject I usually avoid discussing, specially not to answer a doctor's question during a first consultation. It might be a scary subject but it also carries endless meanings. I never blame or judge someone for thinking about it, and I have spent so much time helping people who wanted to commit suicide. The best approach I found was to understand their reasons. It doesn't help to tell them that life is beautiful as they can't see it that way. It helps to share their pain and be there in a way that postpones the execution of the plan. Time is so important. Trying to make them wait until the next hour, the next day or following week is so helpful, giving them something to wait for.
You are a wonderful, talented friend. I am glad you are in my corner!
Leave a reply