Guilt Can Immobilize or Motivate You (Video)
Guilt can mobilize or motivate. Which would you prefer? Guilt is an all too common trigger for anxiety. This video covers what to do about it.
Guilt Can Immobilize
Guilt keeps us stuck when we feel like we are unforgivable. It is so definite, there is no room for anything else. Why try anything or attempt to see yourself another way? You are unforgivable. This thought pattern not only keeps you from healing, it also prevents you from contributing to anyone around you. It can make you anxious, avoid activities and people, and let go of dreams and relationships.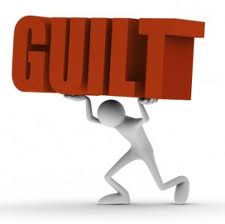 OR
Guilt Can Motivate
Guilt is here to show us what is important to us. It brings our awareness and attention so that we can make conscious choices. Guilt is a call to action. If we didn't like how we handled something, we can do it differently the next time. This is how we grow. So guilt is there to help us make a choice. After the choice (action is taken), the guilt is useless. It is actually worse than useless. It hurts you.
Watch this video on guilt to learn more!
Has guilt ever immobilized you?
By Jodi Lobozzo Aman
I blog here: Heal Now and Forever Be In Peace
and here: Anxiety-Schmanxiety Blog,
share here: Twitter@JodiAman, Google+
inspire here: Facebook: Heal Now and Forever Be in Peace,
Get my free E-book: What Is UP In Your DOWN? Being Grateful in 7 Easy Steps.
APA Reference
Lobozzo, J. (2012, December 12). Guilt Can Immobilize or Motivate You (Video), HealthyPlace. Retrieved on 2023, December 8 from https://www.healthyplace.com/blogs/anxiety-schmanxiety/2012/12/guilt-can-immmobilize-or-motivate
Author: Jodi Lobozzo Aman, LCSW-R
[...] our lives. Maybe, I might venture to say, have caused almost every problem. It leads to feelings of guilt and fear and inadequacy and worthlessness, etc. Aren't these the root of every [...]
Thank you Jodi! This is a great video! Little by little I am seeing that guilt and shame have immobilized me. As you said it's like I have one foot stuck in the ground. And little by little this belief is being chipped away revealing the goodness inside me. This video has really helped with that chipping away of this false sense of self.
With gratitude,
Stanley
I am so glad Stanley, i love the positive tone in your comments lately. It is all starting to sink in to where you need healing the most. Knowing how wonderful you are, just like everyone else sees!
Leave a reply