A Lesson from Jennifer Lawrence on Social Anxiety
The first time I saw actress Jennifer Lawrence on the silver screen – for her critically-acclaimed role as Katniss Everdeen in the Hunger Games – I was nothing short of impressed by her incredible talent and acting ability. Considering the unprecedented success of the film, it's safe to say I wasn't the only one who found Lawrence captivating on her mission to conquer the epic battle known as the Hunger Games. But there is something else about Jennifer Lawrence that intrigued me – that the actress once suffered from severe social anxiety. Needless to say, I found her battle with social anxiety as fascinating as her battle in the movie.
Find Your Calling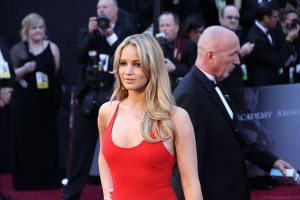 According to Jennifer Lawrence, nothing seemed to alleviate her social anxiety – not even the time she spent speaking with a therapist. Lawrence even admits to feeling "good for nothing" - until she found her calling as an actress. With her parents by her side, Jennifer headed for New York to pursue her dream of acting. During her first performance on stage, both Jennifer and her mother saw an incredible change taking place. The two watched all of Jennifer's anxieties disappear.
Lawrence attributes acting as her savior for social anxiety for one very important reason – it made her happy because she felt capable. When I first learned about her story, it inspired me to reconsider my beliefs about anxiety and finding your own calling.
Don't Settle for Less
For ten years, I battled not only social anxiety but also chronic depression. Instead of pursuing a dream career, I searched for jobs that would accommodate my social anxiety. While the thought of interacting with other people terrified me, certain career paths seemed to involve less social interaction and thus appealed to me more.
I racked my brain for career paths that would involve the least social interaction, believing I would be much more comfortable and ultimately, less anxious. However, if Jennifer Lawrence's story proves one thing, it is that my thinking was completely backwards.
There is an incredible sense of irony in limiting yourself because of anxiety. After all, if succeeding in your dream career makes you feel happy and capable, then what's the sense in searching for anything less than what you want?
Dare to Dream Big
My message to you is not to sell yourself short because of social anxiety (or any other mental health problem). As a person suffering from social anxiety, Jennifer Lawrence could have easily considered a career path such as acting as threatening, terrifying and ultimately unattainable. However, courage made her not only a successful actress who found her calling and personal happiness, but also a well-adjusted person who found the best possible way to overcome her social anxiety. Don't settle for less because of anxiety. Reach for the stars instead!
You can also find Anthony D'Aconti on Google+, Facebook, Twitter
and his website, Breathe Into the Bag.
APA Reference
D'Aconti, A. (2013, December 18). A Lesson from Jennifer Lawrence on Social Anxiety, HealthyPlace. Retrieved on 2023, December 6 from https://www.healthyplace.com/blogs/anxiety-schmanxiety/2013/12/a-lesson-from-jennifer-lawrence-on-social-anxiety
Author: Anthony D'Aconti
I have suffered the same effects of social anxiety, including the rapid heatbeat, drenched face and hands, trembling. It just seems like as soon as you prepare yourself to take on the day, all of that goes out the window and you re back at square one. I am so against taking medication because who is to say what the side effects will be. Dealing with anxiety is difficult. I appreciate articles like this for giving people an outlet to discuss these serious social taboos and to know that it is possible to overcome them. Thank you for this article!
I have bad social anxiety and I have an opportunity to audition for an acting role I've been dreaming of but I'm completely TERRIFIED to audition in front of complete strangers. HELP
I found a medication (Paxil) that helped me overcome social anxiety. Then I found the courage to talk to others which opened many doors for me
Great post! Thanks.
I really appreciate these articles.
Wow! At last I got a webpage from where I be capable of really obtain valuable
facts concerning my study and knowledge.
Social Anxiety Disorder and Acting:
I'm amazed that I'm even able find the courage to write this comment.
What I'm writing is completely without malice, but I have to say I'm offended by the title of this blog. (Am I wrong, and this is just sarcasm?) Regardless, this title trivializes the PAIN, SORROW, ANXIETY, and OSTRACIZING that people who experience this debilitating disorder face every day of their lives.
I read your wonderful and inspiring article and I profusely give credit to Jennifer Lawrence. She's an incredible actor. Incredible. However her story doesn't reflect everyone's story. SAD has different levels of severity. I'm a product of the 50's who still suffers with this. (Back then there was no such thing as "social anxiety disorder".)
I prayed that things would get better for me with time - when I got to middle school, high school, college, my first job.
Even with Associate's degree and a certificate in Radiological Technology, I entered the workforce severely crippled. I sought out a low level job (not even in my field) that didn't require much social interaction. After a few years, I decided to seek out positions that would FORCE me into dealing with people. (After all, doesn't taking control and facing your fear, along with repeated exposure to that fear, desensitize a person?)
I'll tell you what happened: NOTHING. Even when I turned to psychology and psychopharmacology to help me when I turned forty.
Over the years, things have gotten a little bit easier but I just turned sixty and I still suffer.
Acting!? I do it every day of my life! In order to function in this society, it's absolutely required of me!
Old habits die hard. I'll still keep seeking and plugging along anyway. Keep watch though. Next year, I believe I could be a contender for an Oscar.
Jennifer how are you are you over it now
Leave a reply