Bidding Anxiety-Schmanxiety Farewell
It has been a year since I came on board as one of the anxiety bloggers for HealthyPlace. In that time, I have met many people and made online friends I will almost certainly like, tag, and comment on forever. I met Tanya Peterson, who has been an incredible blog partner. I worked with the incomparable Natasha Tracy and learned more about the inner workings of blogging than I ever thought possible. These reasons, and so many others, are why it is so difficult to say goodbye.
Saying Goodbye Gives me Anxiety
Saying goodbye gives me a lot of anxiety. What if I don't like my next editor? What if my next blog fails? What if I never write again? When HealthyPlace put out a call for bloggers last year, I thought to myself, "I haven't a snowball's chance of being selected."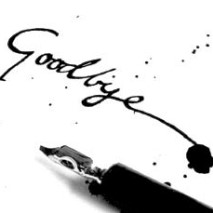 Before I was a blogger, I was a blog reader and I didn't believe I had the skills to be a weekly blogger. Even if I could manage to learn the difference between an en-dash and an em-dash, do I really have anything interesting to say? Will people really care about my opinion or feelings?
I never did master the dashes (I have a very tolerant editor), but I found I had many interesting things to say. I wrote about how anxiety says everyone hates me and about the worst panic attack I ever had. I covered a lot of ground and learned a lot about anxiety and panic, how other people experience this illness, and about myself. Tanya and I even won an award together.
More than anything, I enjoyed myself. Answering comments, e-mails, and social media messages made me happy. As a person living with bipolar and anxiety, it is a silver lining to be part of something so overwhelmingly positive when it comes to managing my illness. It was a treat to hear positive stories from my readers.
I will miss writing this blog, but rest assured, I have not retired from blogging. You can stay in touch with me on Facebook, Twitter, and my website, and you can e-mail me at gabe@gabehoward.com. I sincerely hope that you do.
I Have No Anxiety Saying Thank You
I have no anxiety saying thank you to Natasha Tracy for answering all my e-mails, supporting me, and showing interest in my growth. She is a fine blog manager and I only wish I could have gotten to know her better as a person. She has a tough exterior, an amazing worth ethic, and an eye for detail I cannot comprehend. One of the high points of my career will always be her telling me I was a good blogger.
Finally, thank you to the HealthyPlace community. Without all of you, I would have written in the dark without the benefit of readers. Your support and kindness will never be forgotten. Thank you for allowing me to write for you. It was a pleasure.
You can find Gabe on Facebook, Twitter, Google+, LinkedIn, and his website.
APA Reference
Howard, G. (2015, March 25). Bidding Anxiety-Schmanxiety Farewell, HealthyPlace. Retrieved on 2023, September 26 from https://www.healthyplace.com/blogs/anxiety-schmanxiety/2015/03/bidding-anxiety-schmanxiety-farewell
Author: Gabe Howard