Six Ways to Reason Anxiety and Anxious Thoughts Away
To reason with anxiety and the anxious thoughts that accompany it can seem not only ridiculous but downright impossible. Picture a toddler in the throes of a spirited temper tantrum. Said toddler is, at that moment, irrational and emotional and not quite capable of discussing the matter at hand over a cup of tea. Anxiety can be like that toddler. The difference between anxiety and a toddler, though, is that a toddler isn't developmentally capable of reasoning. We, on the other hand, are capable of rationalizing; by default, we can reason with anxiety because it's (temporarily) part of us. As far-fetched as it may seem, it is quite possible to reason away our anxiety and anxious thoughts.
It's Possible to Reason with Anxiety and Our Anxious Thoughts
To reason with anxiety is to rationalize it. To reason with, and rationalize, our anxious thoughts is to calmly think them through and call their validity into question. Are our racing, anxiety-laden thoughts true, or are they a bundle of lies and deceit? Are our anxious thoughts trustworthy?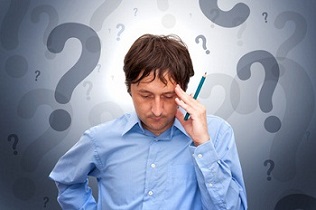 To be sure, the anxious thoughts we have are real, as are all of the myriad symptoms of anxiety. Anxiety is real, but that does not mean that it is right. Unfortunately, anxiety is also irrational and emotional; however, that does not mean that we can't reason anxiety and our anxious thoughts away.
Six Ways to Reason Away Anxiety and Our Anxious Thoughts
Identify the anxiety. When our thoughts race with anxiety, it can seem as though anxiety is about everything, in general, yet nothing, in particular. Neither extreme is true, of course. When we take time to just be with our anxiety without judging it, we begin to identify what, specifically, it is that is causing it.
Break anxiety apart. Even when we identify the source or sources of our anxiety, it can still feel huge and daunting. The next step is to break it up into more manageable bits. For example, if someone has high anxiety and fear about losing a job, he can break that apart. What, specifically, could happen upon losing the job? Why is it important to have that particular job? Asking yourself as many questions as you can helps reason your anxiety and anxious thoughts away.
Consider what can be done. Once you've pinpointed your anxieties and further broken them down, it's easier to make a plan of attack. Brainstorm as many problem-solving ideas as you can, and don't be afraid to be outlandish. When thinking about ways to address the fear of losing a job, one far-fetched idea might be to just quit the job and take off backpacking across your country. While that's unlikely to be a realistic possibility, it might just make you realize that there are many options, help you identify passions, and then help you shape goals. All this has the power to make you feel in control of your situation, thus reducing anxiety.
Determine if you actually want to do something. In reasoning with your anxiety and anxious thoughts, you might conclude that you want to make changes. Alternately, you might conclude that you don't want to do a thing about them. A student in advanced coursework might feel extreme anxiety over the ideas of success, failure, and perfectionism. She is considering leaving her program. In rationalizing this anxiety, she might decide that she does like her coursework and doesn't want to change things at the moment. That is part of reasoning anxiety away. The choice not to act is still a decision and is still a form of action and control. Consciously knowing that she likes what she's doing and actively choosing to continue on her path goes a long way toward reducing her anxiety. Will she still experience anxiety? Probably. It won't feel out of control, however, and it won't rule her world.
Decide to take action -- or not. Either decision, to act or not to act, is fine. It's knowing what you want that will help you determine a course of action. When you know what you want to do, you can make a logical plan and take steps to reduce anxiety.
Be at peace with your decision. One of anxiety's common tricks is to make us second-guess ourselves. Am I sure? What if this is the wrong thing? What if, what if, what if? When anxiety creeps up this way, return to step one and reason your way through it once again.
Think back to the tantrum-throwing toddler. In the moment, it seems to all involved that the tantrum will never end because the toddler can't be reasoned with. Yet in identifying the root of the tantrum, steps can be taken to bring it to an end. Anxiety is that way, too. No matter how intense and irrational our anxious thoughts seem, when we practice the above steps (and it does take practice), we can absolutely come to reason our anxiety and anxious thoughts away.
You can also connect with Tanya J. Peterson on her website, Google+, Facebook,Twitter, Linkedin and Pinterest.
APA Reference
Peterson, T. (2015, May 7). Six Ways to Reason Anxiety and Anxious Thoughts Away, HealthyPlace. Retrieved on 2023, December 6 from https://www.healthyplace.com/blogs/anxiety-schmanxiety/2015/05/six-ways-to-reason-anxiety-and-anxious-thoughts-away
Author: Tanya J. Peterson, MS, NCC, DAIS
Nice post. These tips are much helpful. Thanks for the help.
Hi John,
Thank you for your feedback. I'm very glad to know that you found the tips helpful!
Leave a reply