My Life Is Chaos but I Must Cope with Anxiety Anyway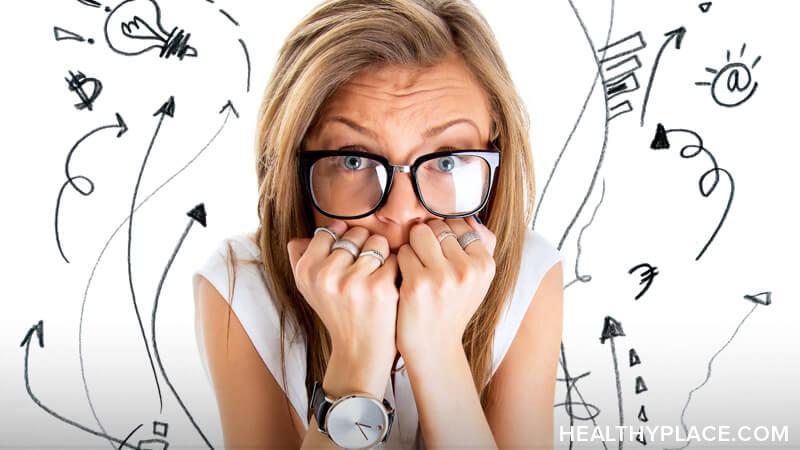 My life is chaos and that makes coping with anxiety difficult. In this house, there is always something going on, whether it's family drama, the dogs barking at everything, or something essential changing. At present, there is no clear path to my desk because my aunt recently moved in. I know I will go to the storage unit soon and fix this overcrowded situation. In the meantime, it is hard not to let the abundance of personal belongings drive me to distraction. For me, I have to find ways to get things done with anxiety even when life is in chaos.
My Life in Chaos Keeps Getting More Stressful
Further complicating my life of chaos, I am also seeking permanent, full-time employment. I work over 40 hours a week at my temporary job and I also apply for new positions or write daily. Prior to my current job, I considered going on disability. How do I do it? Sometimes I don't know.
As a single mom, I have to stay on top of my daughter's homework and her home and social life. I also have her variety of appointments and school events to contend with. I have yet to schedule my own appointments for counseling and medication adjustments, a lack of which can cause my anxiety to spiral out of control.
You Can Cope with Anxiety Despite Chaos
There are a few things I've found helpful in coping with anxiety despite the chaos in life.
Find some alone time.
Embrace the chaos.
Interact with supportive people.
Finding some alone time is extremely important. My favorite time to write is in the middle of the night or extremely early in the morning. I get up between four and five in the morning to write and then go to work. I would prefer to sleep in at times, but the cat yowls from my daughter's room, insisting that I get up and perform my morning routine.
I find comfort in my routines, but it is better to try and relax and embrace the chaos of life as it comes, as hard as that may seem. To manage the chaos of life and cope with anxiety, I make lists on my planner, my whiteboard, and my notebook. This allows me to stay informed about the most pressing issues in my life. I take my medication and make sure to get at least some sleep each night, regardless of the frenzy that awaits me the next day.
My family and friends are extremely supportive even though sometimes they can be a source of life's chaos. I have a personal support group online, comprised of close friends, and I also joined a social media group specifically for obsessive-compulsive disorder (OCD).
Coping with anxiety can be difficult when life is chaos. But by taking a break and finding a moment to center myself, I find that life is bearable. Sometimes, the constant distractions cause me to focus on my anxiety a bit less. Though the calm is rare, I make time for it and realize how important it is to maintain balance in my life.
APA Reference
Slavin, C. (2017, November 27). My Life Is Chaos but I Must Cope with Anxiety Anyway, HealthyPlace. Retrieved on 2023, December 8 from https://www.healthyplace.com/blogs/anxiety-schmanxiety/2017/11/coping-with-anxiety-when-life-is-chaos
Author: Cheryl Slavin
I'm so glad you've chosen to face the chaos of daily life along with the anxiety that you fight so bravely and successfully. I've been "disabled" due to major depressive disorder, and anxiety since 2006. Since then I've lost my home, my marriage, (a narcissistic spouse and mother), that I believe helped get me there, and worst of all, I've lost my only child, a grown daughter from a first marriage out of high school. My current ex brainwashed her against me for years I've learned, along with three gorgeous granddaughters I've not seen in over 5 years. This is my 7th set of holidays and birthdays spent completely alone. I was also diagnosed with complex ptsd during my long running insane separation, divorce, and post divorce that my ex drug me back to court on to get more that he already successfully stole from me. Through all this time I had no help. Long story. 4 years after the divorce I speak to no one and my mother blames me for ruining her life through cards with nasty letters enclosed. I've since long stopped opening them. My family is small but have disowned me since I felt it necessary to stop contact with my mother due to a counselors recommendation. One that was needed but I still feel much guilt about.
I'm glad you have the support system you do!!
You're amazing and you're doing things so well and are a definite inspiration to me and certainly lots more of us. I'm sure you'll get that permanent full time job and I also know what it's like living amongst clutter. Upon losing my home to foreclosure in 2012 and having to find a rental for myself and my Golden Retriever, (HARD with a large dog), and foreclosure looming. I was forced to downsize all the "Stuff" that comes with owning a home 24 years. (Married 16 of those with a hoarder), but found out I hadn't tossed much myself but was all neatly tucked away to move. Ugh. (Still much not unpacked or tossed).
If not for my daughter getting me moved where I'm at now I doubt I'd be here with all this stuff. Still dealing with abandonment issues after that. She revealed that I wasn't the mother she believed me to be, after playing both sides of my now ex's side of things and never asked me for my side to this date. Of all the things I'd give anything to have back is the love her and I shared, unlike myself and my own mother who's still alive at 92 and blames me for ruining her life.
You're on the right track. You definitely don't want to be in my shoes and I'm proud of you for the fight you've put into your health and your wellbeing as well as your family. I look forward to keeping up with you in future articles. Thank you!
I think this is a fantastic read. I love your point about spending time alone, making a point to carve this out. I feel like this is one of those "little" but (really) huge things that can make such a difference. It's important for helping to create feelings of balance and calm, and those are key with anxiety.
Leave a reply