Does Social Media Cause Anxiety or Help Anxiety?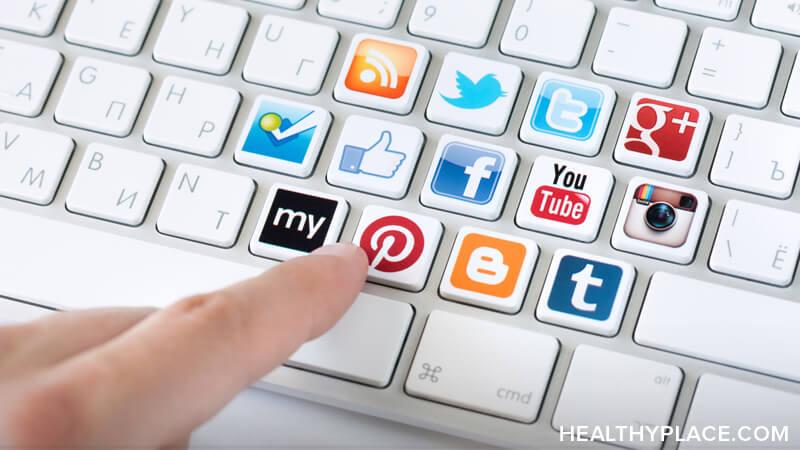 Does social media cause anxiety or not? Though social media is often seen as something that provokes anxiety, I find that social media platforms can be useful in alleviating my anxiety symptoms. I am anxious when I see disturbing news or opposing political views on my social media. But having an online support group for my anxiety disorders and my life, post-divorce, has been invaluable to me. For this and many other reasons, I find my social media to be a bit of a double-edged sword regarding anxiety management and knowing whether social media is causing anxiety.
Does Social Media Cause My Anxiety?
Social media can affect my relationships in negative ways.
Being away from social media does cause me a great deal of anxiety. It's not necessarily healthy to be addicted to social media in this way. I think perhaps checking social media has become another ritual in my battle with obsessive-compulsive disorder (OCD). The news in my social media feeds often depresses me, and I also have friends with a spectrum of opposing political views. I find that it is impossible to please everyone with my posts—in fact, some of my views tend to make others angry since I have such a diverse group of friends.
Social media has even had a negative effect on one of the most important relationships in my life. A post on Facebook led to the dismantling of my marriage. My ex-husband decided to tag me in an article on familyshare.com called 10 Ugly Things Awful Wives Do to Their Husbands.1 I was shocked and dismayed to find that he thought the main points of the article pertained to me in any way. Many of my friends contacted me, quite concerned about what I thought of his post and equally dismayed by his skewed perception of me and our marriage.
But social media is a source of support for me.
Social media does not always cause anxiety for me. Many of my friends, some of them contacts solely maintained on social media, have helped me through some of the hardest parts of my life. Because I suffer from mental illness, I have always kept a group of close friends in a private group online. I lament, rejoice and receive support regarding a variety of issues. Their empathy and these friendships have helped me through a lot, and they consistently celebrate my successes and talk me through setbacks.
In addition, I find a variety of support groups on social media tailored to my specific disorders. I also came into contact with an advocacy group trying to reform healthcare in Idaho. Because of them, I ended up speaking in front of state representatives about closing Idaho's insurance gap. I was extremely anxious about it, but I felt it was also important to give voice to concerns about the fate of the uninsured and mentally ill in my state. And it all started with messaging my representatives through social media.
So though social media does cause anxiety, I find it also relieves it. I believe that the positives of these platforms far outweigh the negatives. I will continue to use social media in my daily battles with anxiety, and also help fighting mental health stigma by being open about my mental illness online.
Source
Aaron, April and Jacob. "10 Ugly Things Awful Wives Do to Their Husbands." Retrieved February 25, 2018, from http://familyshare.com.
APA Reference
Slavin, C. (2018, February 26). Does Social Media Cause Anxiety or Help Anxiety?, HealthyPlace. Retrieved on 2023, October 3 from https://www.healthyplace.com/blogs/anxiety-schmanxiety/2018/02/how-social-media-helps-and-hinders-my-anxieties
Author: Cheryl Slavin
I think this is an excellent read that points to the balanced sides of social media when it comes to anxiety. I think it can absolutely hold a place on both ends of the spectrum. It's nice to know that the social media community can be so supportive and helpful.
Leave a reply