My Fall From Bipolar Recovery
My father was a beautiful man, but he passed away this past August. I thought then that I was coping with his death by not trying to think too much about it and carry on with my life. Instead, it triggered a bipolar depression that lasted from then until now. I didn't expect to have to deal with his death this past year. I expected him to be sick, but I always thought that I had more time with him.
Bipolar Recovery Can Be Elusive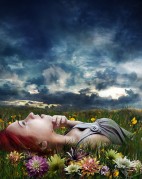 Looking back, I really thought that I was clear into bipolar recovery when my dad started getting sick. My mood had been stable for the first time in two years.
Of course, I was worried about him, but I didn't think the situation was dire. He continued to be put into the hospital over-and-over again for the next eight months. His leg would get infected or he would get pneumonia. The last time he was put into the hospital, it was over this enlarged cyst that had grown out of his pancreas.
That is when I began to panic. I clawed my arms because my husband didn't know what to do with the kids if I drove six hours to sit while my father was in surgery to remove the tumor. I finally said I was going, no matter what. The nurse had advised me that it was a risky surgery and he was at risk as a patient.
I drove down there, praying that he would make it. I drove straight to the hospital and I saw my father. He looked like he was peacefully sleeping, but that night he began to deteriorate. By morning, it looked like he had had a stroke and he had infection everywhere in his body. I tried to talk to him, but he was agitated and stared up at the ceiling. I spent the entire day crying as we prepared for his death.
I thought this all was a horrible dream and a terrible reality at the same time.
I got through his death and his funeral surprisingly well. I thought that I would have a breakdown, but I didn't. It wasn't until I was at home that I realized what had happened. My best friend in the whole world had died. I felt greatly alone. And I, too, wanted to die.
But I had a family who needed me, so I sought help in the form of antidepressants and a therapist. Grief is an awful trigger to bipolar depression. It doesn't let up. It's not something that you can get over in a short amount of time. We added Pristiq to my medication cocktail and eventually I stopped crying every day.
Slowly Climbing the Hill Back to Bipolar Recovery
My antidepressants worked. I've been implementing positive self-talk. The road to recovery this time is slow but sure. I feel different this time around. I feel like I can achieve stability for a longer length of time. It will take a lot of hard work, but I'll just have to take it one day at a time. Whatever I do, I want to make my dad in heaven proud of the work that I'll accomplish.
APA Reference
Fender, C. (2010, March 1). My Fall From Bipolar Recovery, HealthyPlace. Retrieved on 2023, November 30 from https://www.healthyplace.com/blogs/bipolarvida/2010/03/my-fall-from-bipolar-recovery
Author: Cristina Fender
Thanks for your blog. I think we can all help each other by sharing. I've been bipolar since my teens, diagnosed at 30. I've been learning to cope with it for the last 30 years. I've written poems and essays about my experiences. i'd like to share some with you from my anthology, "I'll Get Up One More Time Than I've Been Down". Would you share your email address with me or some other way i could send them to you.
Pete,
You can contact me through my home blog, Raw Writing for the Real World of Bipolar. There's a contact link at the top.
Cristina
Thank you for writing this blog, I was so touched because like you, I also lost my father whom I adored and was my idol and best friend. What you said about making him proud is beautiful and if you don't mind, that's a thought I'm going to borrow from you whenever I feel depressed and also whenever I accomplish any little thing. If he was alive, I know he would be proud of me. Thank you for sharing your story.
Brendan,
Thank you so very much for your comment. It really touched me.
I'm sure he would be very proud of you, Brendan. You seem like a wonderful person.
Best,
Cristina
Dear Cristina,
I have been suffering from Bipolar 1 disorder for about 14 years. Now my moods are completely stable and do not have to take medication.
Wow, Chris, that is amazing.
I don't want my other readers to get the wrong idea. Just because one of us no longer suffers doesn't mean it should be that way for the rest of us. We each deal with things in our own ways. I know some bipolar people who don't take medication but they do other drugs to self medicate. I'm not saying that this is you, Chris, but we all deal with things differently. I'm pleased that you feel stable.
Cristina
Leave a reply