Bipolar Disorder is a Blessing
I've heard from others that they think their bipolar disorder is a blessing. I once scoffed at them. How could being bipolar be a blessing? One has to be constantly on the warpath to make sure that bipolar disorder doesn't nip one in the bud. But I have to say that I'm rethinking my original idea. Being bipolar has led me on a spectacular journey. I've learned that I am not perfect, nor was I ever perfect before the bipolar diagnosis. I've learned that bipolar is not the essence of myself and it no longer controls me. Me and bipolar--we've come a long way together.
[caption id="attachment_510" align="alignright" width="170" caption="Bipolar is a Blessing"]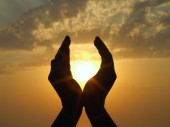 [/caption]
I was lead by my bipolar disorder to blossom in my writing.
I've met so many incredible people along my journey and each of them has lifted me up. I never knew what my place was in life and now I do. I want to help human beings like you and me. I have a dream that all mental health patients will have a choice in their medications and treatment. I have blossomed in my bipolar disorder. I've learned who I am and who I want to be. I want to radiate well-being for the souls who are still lost. With every passing day, I feel better and better and I want that for you, too.
Have you heard the new Danny Gokey song "My Best Days Are Ahead of Me"? Inspirational songs like that that gets me going in the morning. Danny tells us that our best days are ahead of us. I need to believe that. I need to believe that bipolar is a blessing. I need to believe that the worst times are behind me, so I can look forward to the future with a smile. The bipolar disorder will always be with me, but I'm no longer fighting so hard.
Being bipolar brought me a sense of gratefulness in my life.
I'm so grateful for everything that I have. I'm grateful for my family. I'm grateful that I've found me along the way, too. I think I have a greater sense of well-being because I know the dark places one can go to in life. It helps me appreciate the light.
Bipolar Disorder is a blessing. Without it, I don't think I would have found my way. I was faltering. I didn't know what I wanted in life. Bipolar made me take a long hard look at my life. I had to decide where I was going and how I was going to get there. The light has brightened my path in life. And I'm thankful for that.
APA Reference
Fender, C. (2010, April 12). Bipolar Disorder is a Blessing, HealthyPlace. Retrieved on 2023, December 9 from https://www.healthyplace.com/blogs/bipolarvida/2010/04/bipolar-is-a-blessing
Author: Cristina Fender
To Bipolar Vida.... Question? If bipolar disorder has caused you to blossom in the form of the writing you are doing now (self-help), what did it do to the work in the genre you previously dealt with? LeFay
LeFay,
I had difficulty finishing college. It's the one thing that I have always wanted to accomplish. I dropped out of college three years before I was diagnosed. Now I'm going back with much more determination.
Cristina
WoW!!!!!! That being read is very inspiring. Hope to get to know you and share in our lives journeys.
Lyn
i was recently diagnosed as bi-polar, I actually found out myself and went to my doctor with my thoughts about it. I am now on depakote and am feeling relieved to know what was wrong with me.
Dymphna,
I'm sure it is a relief to know something was wrong and hopefully now it can be fixed. A word of caution: medicine doesn't always fix everything, but it does help.
Good luck on your journey!
Cristina
What a lovely perspective. It's a gift to be able to see the silver lining in our lives. 'so much easier to be consumed by the downsides of this illness. I hope our family can also come to the ability of choosing to see the light, as you have done.
Laura,
I came to this conclusion after years of soul searching and finally being in a good place. I hope the best for your family.
Cristina
Leave a reply