Feeling Suicidal and Schizophrenia, Schizoaffective Disorder
*** Warning: this post contains frank discussions of suicide and suicidality. ***
Feeling suicidal when you live with schizophrenia and schizoaffective disorder is common, and I'm no exception (Schizophrenia, Schizoaffective Disorder, Suicidal Ideation). I've been feeling suicidal with schizoaffective disorder for over a decade—even when things are going well, the possibility of suicide has lurked in the back of my mind like a sleeping monster. And right now, not only do I have schizophrenic and schizoaffective symptoms to worry about, but the world seems to be falling apart around me.
Feeling Suicidal While Battling Schizoaffective Disorder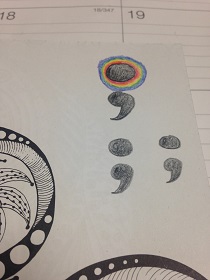 Let me set the stage. Anxiety has taken over my life and Donald Trump becoming president fueled all my fears. I can't go on Facebook without a post really tugging at me, really making me scared for the rights of women, minorities, and immigrants. I've been unfollowing pages and people who post a lot of political stuff. After all, if the cost of being informed means I'm psychologically paralyzed, I can't really do anything useful with the information.
What isn't fair is my anxious, schizoaffective brain. I was already paranoid since the first episode of my illness in 1998, but now I see the paranoia glaring back at me from computer and television screens. Because of news sites and newsletters I've subscribed to, I can't even check my email without confronting the juggernaut of other people's fears in the current political heat.
The night before last night, I was totally ready to die by suicide. I went to go get a journal to write a note to my loved ones. It was going to be about how I couldn't live with this level of anxiety anymore. The cover of the journal had the picture from the album cover of Sgt. Pepper's Lonely Hearts Club Band on it. The Beatles looked up at me, and they looked worried to me. I gazed at John Lennon and George Harrison—both dead too young. And I didn't take the dreadful suicidal urge to a plan of action. I can't explain it. It's as though I was in a trance and the spell broke.
Feeling Suicidal with Scizoaffecitve Disorder, Schizophrenia when You Have a Support Network
I told my husband, my mom, and my therapist what had almost happened. My husband said that since I always wear a semicolon necklace, I can't die by suicide. This made me laugh, as it was intended to. My mom was understandably worried about me and kept calling me to check in on me. I have an appointment with my therapist in a few hours. I'm going to tell her about the anxiety I feel I can't handle anymore. It's ubiquitous. It determines what and where I eat for lunch, how long I lay in bed after I've woken up in the morning, begging my brain to go back to sleep. It even determines what I wear every day.
I don't really know what keeps me going. I know my husband is a big source of strength, but I'd been living with acute anxiety and suicidal ideation before I met him. I think that, honestly, the main reason I'm still alive is that I'm really stubborn. My reaction to something trying to kill me is to do my best to outsmart it. Last night at work I drew semicolons all over my adult coloring book.
I think I'm going to be okay.
If you feel like hurting yourself, call a suicide hotline phone number now.
Photo by Elizabeth Caudy
Find Elizabeth on Twitter, Google+, Facebook, and her personal blog.
APA Reference
Caudy, E. (2017, February 23). Feeling Suicidal and Schizophrenia, Schizoaffective Disorder, HealthyPlace. Retrieved on 2023, September 23 from https://www.healthyplace.com/blogs/creativeschizophrenia/2017/02/schizophrenia-schizoaffective-disorder-and-the-semicolon
Author: Elizabeth Caudy
Elizabeth,
You are amazing young women who is so much stronger than that monster that attacks you.
Your living is important to so many who love you dearly. So many are anxious since the election. I myself avoid discussions regarding our President. I have to put my trust in the good politicians who will work to keep everything under control. God bless you my sweet lady. I say it again that you are an amazing writer. Take care--- Betsy
Leave a reply