The Mood Swings of PMDD and Schizoaffective Disorder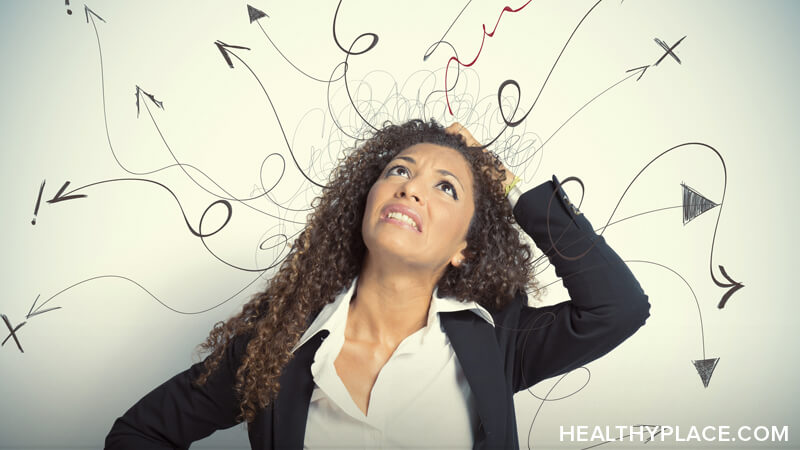 I have schizoaffective disorder, which is a combination of schizophrenia and bipolar disorder. I also have generalized anxiety disorder (anxiety disorders frequently accompany bipolar disorder). On top of that, I have pre-menstrual dysphoric disorder (PMDD) which is like the pre-menstrual syndrome (PMS) many women experience but worse. Much, much worse. It is especially bad when you already have a disorder like schizophrenia or schizoaffective disorder, a cascade of additional mood swings and depression.
The Mood Swings of PMDD Plus Schizoaffective Disorder can be a Deadly Combination
A lot of people think PMS is a myth. Well, it isn't. And neither is PMDD. I get downright suicidal during the time between ovulation and when I start menstruating. The only thing that helps is birth control pills. But there are trade-offs. Birth control pills can trigger severe headaches for me. My mom used to also get headaches from the pill—so it runs in my family. However, I'm planning on going back on the pill. First of all, I'm prone to really bad headaches anyway, and second of all, I've decided I'd rather have headaches than die.
PMDD's Mood Swings and Suicide
Suicidal thoughts have been shadowing me for a long time. When I was 14, a friend's father died by suicide—I seem to remember it being almost the same week as Kurt Cobain's suicide. Then, when I was 17, a family friend who was born four days after me jumped off a building. He lived, and when I visited him in the hospital we instantly became best friends. Tragically, he died a few years later, although due to a medical oversight and not by suicide. But a couple of years later, two close friends died by suicide within months of each other. All this happened against a backdrop of having a schizoaffective uncle who was sometimes suicidal. However, even though I was surrounded by suicide and had a serious mental illness myself, I was never suicidal. But as the illness set in, I started experiencing suicidal ideation.
I've been rushed to the Emergency Room twice in the past nine years because I felt suicidal, and I'm not playing games with this anymore. PMDD is a big part of why I often feel suicidal, and if I know birth control pills help with that, sign me up, even if I suffer from more headaches. My hormones make me feel suicidal during more than half the month, and that is just not acceptable.
You may wonder why I waited so long to decide to go back on birth control. Well, let me rephrase that: I wonder why I waited so long. It was partially because of the headaches and other side effects. But since this second, most recent trip to the Emergency Room, I feel I have to give birth control another shot since I know it helps with the PMDD, which is a big source of my suicidal ideation.
Too many people I know have died by suicide. I will not join them.
If you are feeling like hurting yourself, please call a suicide hotline phone number or go to your nearest Emergency Room.
Birth Control Helps My PMDD Mood Swings
APA Reference
Caudy, E. (2017, April 20). The Mood Swings of PMDD and Schizoaffective Disorder, HealthyPlace. Retrieved on 2023, December 11 from https://www.healthyplace.com/blogs/creativeschizophrenia/2017/04/schizophrenic-schizoaffective-mood-swings
Author: Elizabeth Caudy
Thanks for writing your article.Has it occurred to you that maybe you just have PMDD and don't have schizoaffective disorder? Are you on any psychiatric medication other than the pill?
I definitely have schizoaffective disorder. I hear voices. I am on other medication.
What medication are you on for it? I have a friend that I'm pretty sure has this.
I'm not sure where you're getting your information, but great
topic. I needs to spend some time learning more or understanding more.
Thanks for excellent info I was looking for this info for my mission.
Leave a reply