The Funny In The Head "Family Letter" For 2011
As 2011 slinks silently towards the exit sign, like a kleptomaniac at a bridal shower clutching a bag from Neiman Marcus, I must take time out from my busy schedule to pen, yet again, the Funny In The Head Family Letter.
Naturally, both of us would much rather speak with all of you individually but, between making Halloween costumes for the homeless, managing our halfway house for wayward squirrels, and building awareness for The Hugh Manatee Memorial Foundation, there simply isn't enough time.
(By the way, our new slogan, "Oh The Hugh Manatee Foundation" has been very well received.)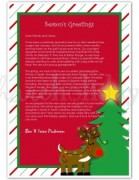 Our darling daughter Melancholy turned 19 this year! Seems like yesterday she was locking herself in her bedroom, Barry Manilow's Greatest Hits cranked up to 11, and crying alone in the dark for hours. Now she's a big girl, crying down in the living with the rest of us. We've even taught her how to avoid crying in her own beer and diluting the alcoholic impact.
Cedric, who I still maintain is adopted, although Mrs. Funny In The Head insists he's ours – (the product of a difficult patch when we weren't really getting along so well) – is doing in-depth research into television scriptwriting.
Instead of attending UCLA film school, my suggestion, he watches reality TV programs in our basement for 14-hours a day, every day, which he refers to as "absolute immersion education."
Cedric's unorthodox plan seems to have stalled slightly as he is showing pronounced signs of aphasia, arachnophobia and zombification. When we shared our concerns about these changes he assured us that the metamorphosis would actually speed acceptance into his chosen field.
Sarah Bellum, named for her auntie, appears to have the missionary bug so rampant in this family. She's in Betchawannaland for the season, teaching the Bushmen there to coordinate sweaters with slacks and accessories. (Her letters are absolutely chocked with hilarious vignettes concerning the appalling lack of fashion aptitude she encounters. One of them contained the memorable declaration; "I'm not coming home until you can't tell them from Bing Crosby.")
Kids! What can you do?
See you in 2012!
Mr. & Mrs. Funny In The Head
APA Reference
McHarg, A. (2011, December 27). The Funny In The Head "Family Letter" For 2011, HealthyPlace. Retrieved on 2023, December 11 from https://www.healthyplace.com/blogs/funnyinthehead/2011/12/the-funny-in-the-head-family-letter-for-2012
Author: Alistair McHarg
"Oh, the Hugh Manatee."
Seriously. That one brought me to tears. Although I may just be really tired.
Hi Angela: Delighted you enjoyed it. (Those "Family Letters" used to drive me crazy; so pretentious!) Thanks for reading & very best wishes to you and yours for 2012.)
Leave a reply