About Hannah Blum, Author of 'Mental Health for the Digital Generation'
I am Hannah Blum, age 26, and diagnosed with bipolar disorder type two. I have also struggled with an eating disorder and the daily issues of being a woman in her mid-20s. I feel fortunate to have this opportunity to write for Mental Health for the Digital Generation here at HealthyPlace.
Hannah's Mental Health Story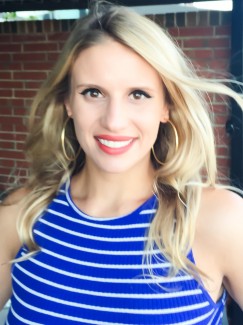 On the outside looking in, you would have seen the cliche popular girl, an athlete and a vibrant teenager with a smile that never seemed to fade; however, this was far from my reality. At the age of 17, I began to experience intense mood swings and moments of out of control emotional behavior. The episodes of emotional extremes surfaced out of occasional anxiety, so we all assumed it was teenage confusion.
The night of my senior prom, at which I was nominated for Prom Queen, was just such a moment. Minutes before I walked out of my home, I glanced at myself in the mirror, all dressed in fine glitter, and emptiness and hopelessness welled up in my reflection. I bolted into my bedroom, locked the door and did not come out for days, curled up and weeping in my prom dress. It was the start of the battle, and I refused to get help for my distorted feelings. At the age of 20, I was hospitalized for bipolar disorder type two and bulimia.
A Mental Health Journey When Young Is Worth It
The last six years have been filled with education, educating, and embracing my diagnosis, while figuring out how I am going to contribute to this great, big, beautiful world. I worked two or three jobs until finally gaining enough confidence to enroll back into college. In May 2016, I received my B.A. from North Carolina State University in Communication.
I have been a volunteer in the mental health community for many years, and needless to
say, it has been life changing. Outside of blogging and mental health advocacy, you can catch me going out to dinner with friends, traveling, reading and engaging in some type of physical activity. I love to laugh and use humor as a way to attract people's attention. I also believe laughter and love are the best forms of therapy. My life can be a bit of a roller-coaster; however, I control the speed. I prefer this ride over merely being a spectator.
Meet Hannah Blum, Mental Health Blogger for Young Adults
My goal is to help reduce the stigma of mental illness by sharing my story with others. My hope is that those affected, in return, will share their life experiences. Life without a story is like a book without pages -- empty.
Find Hannah on Twitter, Facebook, Google+, Instagram and on her blog.
APA Reference
Blum, H. (2016, July 25). About Hannah Blum, Author of 'Mental Health for the Digital Generation', HealthyPlace. Retrieved on 2023, September 21 from https://www.healthyplace.com/blogs/mentalhealthforthedigitalgeneration/2016/07/introduction-to-hannah-blum
Author: Hannah Blum
Hi Hannah,
I just watched your video about the ignored symptoms, and it really spoke to me. I started researching bipolar syndrome a few weeks ago for ideas for a school project, and I really started noticing the similarities in my life. I have been seeing a therapist lately because of depression, but when I stared learning about bipolar two, I started noticing that I've experienced many of these symptoms. I realize that self diagnosing is dangerous and not always accurate, and I'm being careful about it, but because of it, I feel like I can't tell anybody about it. If you would email me back, I would really appreciate somebody to talk to so that I can learn more about the disorder.
Thank you!
Hey Hannah i want to date a bipolar girl like you(fun-eee).Me too a bipolar disorder from 1998-still i take pills,not successful in life.Lived small did not dream big.could not last in relations cos bipolar brain is like HIGH-low tides.Want to settle in life for good(marry) and do not have guts i may get another maniac episode. I got 4 episodes already.God is still saving me not go for any suicide .I don't like to stay in India,i am living here to take care of mom and dad.I am 39, i am not rich as i don't care wealth-all i need is normal health.Want to fly away like eagle one fine day.Everything is hurdle in life "in-spite" of being Bipolar.When will i have my own life,i feel i am tied with chains.I can't see any one suffering. I love to Help.I am not helped by anyone of my circumstances. I can't lie as i am honest that's why professional life sucks.I am scribbling to burnout my expression.Not to get any one's attention.
David(India) signing off with more experience of living with Bipolar----God Lithium(anti suicide),,Goddess-sodium vaporize .....Olenziplane to burn aggressiveness . God Bless my Bipolar family around the world.
It's exciting to hear your story. Especially when it's from someone that went to college several minutes up the road from. I was diagnosed 7 years ago on March 11th.2011. Bipolar 1. Your channel is good. I can relate and enjoy watching them. Are you from Raleigh? My dad would get bored and he'd build a house every three years. That was his hobby. You could just the lake wheeler area. Girls would say I was a snob. I was having way more fun in my head than with them. I've changed drastically. People don't know me anymore. And I like it that way. Meds and doctor visits changed my life. Give me a shout out if you'd like and take care.
Thank you sooooo much for sharing. It means so much. I am sorry for your struggle.
Leave a reply