Are You Afraid of Group Therapy?
While group therapy can be extremely effective in helping individuals learn the skills needed to overcome many mental health and/or addiction problems, what happens when a person is afraid of group therapy? The fact of the matter is that most people are anxious about starting group therapy for the first time and you shouldn't let that stop you from participating in this type of therapy. Once you get used to the group setting, you may find that group therapy is extremely supportive and beneficial.
---
Treatment Program: Lauren Hardy, M.A., writes on behalf of Greenleaf Center, which is a behavioral health and substance abuse treatment program offering children, adolescents, and adults a full continuum of care including inpatient hospitalization, partial hospitalization, intensive outpatient, and traditional outpatient programs.
---
Why Do We Fear Group Therapy?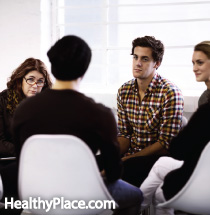 Many people have a fear of therapy in general, but add other people to the mix and this uneasiness about therapy can become even more intense. It is a common fear to speak in front of a group of people; we worry about how we are going to be perceived by others, we worry about making a fool out of ourselves or of saying something stupid, and we worry about sharing our innermost personal thoughts with others for fear of being judged.
How to Overcome Fear of Group Therapy
If you are new to group therapy and are feeling slightly nervous and afraid of your first meeting, this is perfectly normal. We all are apprehensive about the unknown and no one likes to feel vulnerable. However, scary as it may seem, group therapy doesn't have to be this way. Below are some things to keep in mind that may help ease some of the worry you have about group therapy:
The first thing to remember is that everyone in group is there for a specific reason and, in many cases, individuals may have gone through similar experiences, so they can relate to how you are feeling right now. This may be especially helpful because you will come to realize that you are not alone in your struggles; that others have gone through tough times and together you can work through it. (What A T-Shirt Taught Me About Group Therapy)
Another thing to keep in mind is that you do not have to tell all of your secrets with the group all at once. It is entirely up to you how much you choose to share about yourself with the group; no one is going to force you to talk. When you first start group therapy, you may not feel as comfortable sharing your personal stories with others but, as time goes on, many individuals find that it become easier to open up and discuss their feelings.
When you do decide to share, recognize that all group sessions are kept completely confidential and anything that you share in group does not leave the room.
Group leaders have been trained to help initiate group conversation and to bring up and work through any anxiety that the group as a whole may be feeling. Group leaders will also be there to guide and facilitate self-exploration, provide support, and encourage group cohesion.
Sharing can be uncomfortable, but do not completely write off group therapy because you are worried about opening up about your personal experiences. Many individuals have found that, by trusting the process and fully participating in each group session, they really get a lot out of this form of therapeutic intervention.
You can also find Lauren Hardy on Google+.
APA Reference
Hardy, L. (2015, February 24). Are You Afraid of Group Therapy?, HealthyPlace. Retrieved on 2023, November 28 from https://www.healthyplace.com/blogs/mentalhealthtreatmentcircle/2015/02/are-you-afraid-of-group-therapy
Author: Lauren Hardy, MA
I am okay sharing on a group level; however, i do get nervous and sometimes blush. When I have to speak in front of a group, I just about fall apart. That for me is nerve wracking.
Leave a reply