"Lowered Expectations" or "Giving Up"?
As much as I hate to say it, I may be taking the "BMX Mom" bumper sticker off my car this summer. Bob hasn't really expressed much interest in racing so far (I believe he's mentioned it once in the past few months), and frankly, I'm not eager to drop that kind of cash for his activities when his behavior and attitude are as lousy as they have become.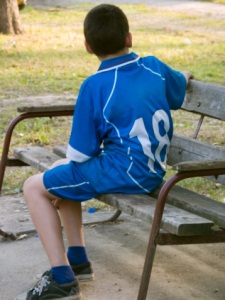 I mentioned this to my husband this afternoon. He, too, thinks attempting to support Bob's racing this season would be a waste of time and money--as he put it, "he's just going out there to get his trophy and leave." He's not interested in improving, he's not interested in making any friends at the track (although he has managed in years past to make a few enemies), and he honestly doesn't seem to care one way or the other about the sport.
Last summer was different. Last summer, he really seemed to enjoy racing, and really seemed to be getting something positive from the experience. And I couldn't have been more thrilled for him. Finally, here was something at which he could excel, a sport he could compete in honestly, something he could be proud of. But last summer, he was much more stable than he is this year.
This year, he has been in trouble more often than not, both at school and at home. He's back to hating everything and everyone around him, and back to the sense of entitlement that just drives me insane. He's back to where he was a couple of summers ago--where all he wants to do is show up, take the trophy because (in his mind) he deserves it whether he did any actual work for it or not, and go home.
I see no reason to spend the time, race fees and gas money to support that.
It's sad because I enjoyed Bob having that. I liked being a "BMX Mom," cheering in the stands like a complete lunatic every time he'd race, whispering under my breath pleasedon'tfallpleasedon'tfallpleasedon'tfall. I loved how excited he got over finding his name in the ABA magazine every month. But I know it wouldn't be that way this year. It may not be that way again, ever. And I have to accept that.
Am I "lowering my expectations", or "giving up on him"?
I don't think I'm giving up. We've supported Bob's racing for the last four years and it's been hit or miss. I don't want to continue pushing him in something he has no passion for.
He is who he is, and I have to accept it.
APA Reference
McClanahan, A. (2011, May 29). "Lowered Expectations" or "Giving Up"?, HealthyPlace. Retrieved on 2023, September 23 from https://www.healthyplace.com/blogs/parentingchildwithmentalillness/2011/05/lowered-expectations-or-giving-up
Author: Angela McClanahan