About Heiddi Zalamar, Author of the "Life with Bob" Blog
My name is Heiddi Zalamar and I am a single mom to "Bob", therapist and writer. As a licensed bilingual mental health counselor, I work as a child and family therapist in a low-income area in NYC. I have been working with kids since I was 13 years old, so by the time I had my son, I thought I could handle anything. NOT!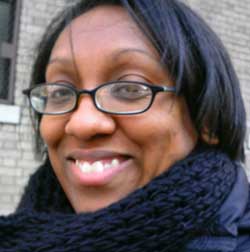 When I became a mom, I was so excited. My baby was born perfectly healthy and I was suited for the role. He had the usual issues during the toddler years (potty training, terrible twos,etc), but he was happy. I was too, until he went to first grade. His teacher, at the time, complained of his slowness in writing down homework and classwork materials. I attributed this criticism from her as her issue because she had been at the school for 25 years (she was teaching when I went there.) This event marked the beginning of our journey of dealing with ADHD and the beginning of my denial.
An ADHD Child? Not My Son!
As a kids' counselor in after-school and summer camp from age 13 - 21, I'd seen many things. By the time my son was in second grade (with a teacher I had also), I couldn't deny that there wasn't an issue. But, I still denied that "Bob" had ADHD. At that time, I was a socio-therapist providing behavior modification for children in therapeutic foster care. In other words, helping kids with various diagnoses, including ADHD. I felt that if I could handle my job, I could handle my kid even better. One would think that someone working with kids most of her life, and even went to school for it, would see ADHD in her own child. I didn't want to. I wasn't ready. I didn't have close friends with children who were diagnosed or family members who supported me.
My hope for Life with Bob is to provide parents like me with an ability to laugh through the tears, smile through the heartache and rejoice at success. I didn't have a place online to come to get support and knowledge around ADHD. I'd like to be able to provide that here. ADHD is SUCH a pain...sometimes. My son, "Bob" and I deal with it everyday. At home, school, at church or with family or friends. It's there all the time. But, it doesn't own him or me. "Bob" is an amazing kid, who just happens to be diagnosed with ADHD. And I'm his mom.
Parenting a Child with Mental Illness (Video)
In this "Welcome Video," I share a bit more about my life and what it's like parenting a child with ADHD. Take a look.
You can also connect with Heiddi Zalamar on Google+ and Twitter.
APA Reference
Zalamar, H. (2012, December 23). About Heiddi Zalamar, Author of the "Life with Bob" Blog, HealthyPlace. Retrieved on 2023, December 3 from https://www.healthyplace.com/blogs/parentingchildwithmentalillness/2012/12/about-heiddi-zalamar
Author: Heiddi Zalamar, LMHC, MA
Hi Heiddi,
I'm a documentary filmmaker currently working on a film that will profile different families such as yours who have a child with serious and challenging mental health conditions. As you can glean from our website, we are longtime documentary filmmakers who have worked on other projects in the mental health arena. Our goals are to remove stigma, educate the public and offer resources to other families struggling with the same complex and consuming challenges as you. We are actively looking for families who would be willing to be filmed for a couple of weeks as part of our project. I'd be grateful for any and all suggestions you might have to reach out to as many folks as possible as quickly as possible. Our only criteria are that the child be under 18 and that we be given full access when filming. Any interested folks can contact me directly.
Many thanks and all the best,
Bill
bill.katz@espiritusproductions.com
I'm at my wits end with my child, went online to research information and find support groups. I came across your site. Thank you! It has the encouragement I needed. I'm just so frustrated and tired. While I know my child will be an adult in a few years, I feel like she will never be ready. I cannot stop looking at her and seeing her as the child she was, not the person she is now and it is breaking my heart. I just want her to be able to function in society and have a great life...is that too much to ask?
Hi Arionna,
Welcome to the Life with Bob blog. Thanks so much for stopping by. You're very welcome. I can totally relate to the exhaustion of dealing with a child with mental illness. It really is very difficult. It sounds life you're having trouble seeing her for who she is now. There is nothing wrong with having great hope for your child's future. But, if you hold on to unrealistic expectations, you can hurt your relationship with your child. My advice is to celebrate the small victories - a good choice, a good day, a proud moment. Those are the moments that will help you see your child as she is now and not who she was before. I hope this helps and please feel free to visit again very soon.
Heiddi
Awesome site with great resources. Thanks for doing this.
Hi Monica,
Thanks so much for coming by to visit. Feel free to stop by anytime and share your thoughts. Cheers!
Leave a reply