How to Advocate for an Individualized Education Plan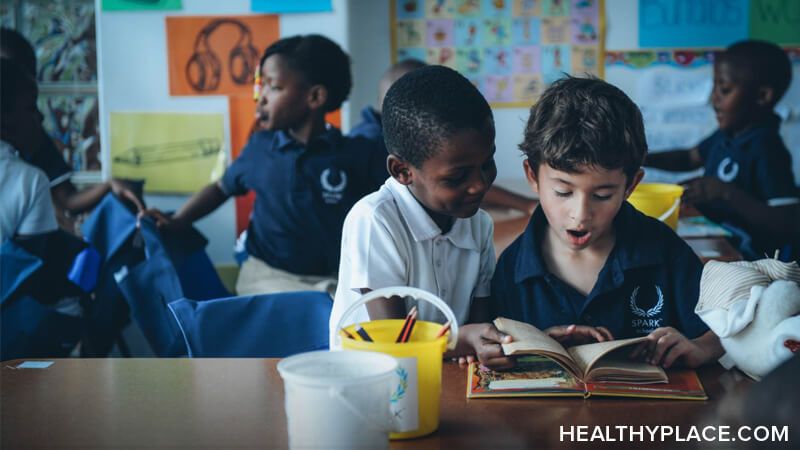 Advocating for an individualized education plan for your child can be challenging. If your child has a mental illness that interferes with their learning at school, your child has a disability. This means your child has the right to accommodations. One way to get those is through an individualized education plan (IEP). This document encompasses interventions and legal protections for your child. It is your sidekick in advocating at school--the Robin to your Batman. Below are steps to take to advocate for an individualized education plan for your child.
If in Doubt, Advocate for an Individualized Education Plan Over a 504 Plan
You will have two options: a 504 Plan or the IEP. A 504 plan is a simpler process and will get you things like fidgets in the classroom or breaks throughout the day. The IEP is a more formal option that includes measures of your child's progress to show interventions are working. It also provides more legal protections for your child. My son's IEP got him a much-needed behavior intervention plan for outbursts and made it so he wouldn't get immediately suspended for non-dangerous behaviors.
As the school social worker told me, you can always step down to a 504 plan if you start with an IEP, but going the other way around is difficult because of how formal it is. If you are asked whether you want one or the other, choose the IEP.
How to Advocate for an IEP for Your Child
1. Receive a Diagnosis
Most of us are not child psychiatrists, yet it feels like we have to know our child has a mental illness before anybody else. The sooner we know, the sooner we can get help. I asked many at his school, but no one could tell me what my son's behaviors meant or what I should do about it. We finally went to the pediatrician and that started the chain of events. I wish I'd known sooner to start there, so now I'm telling you. Get professional opinions as soon as you notice a problem.
2. Ask for Accommodations
After receiving an expert diagnosis for your child's mental illness, then you must ask for accommodations. As a social worker, I happened to know about IEPs, and this helped me in the process. Most parents don't know, however, so take it from me: You need to ask for help in whatever words work. If you provide documentation of a mental illness, and the school doesn't suggest accommodations, you suggest it (in writing).
3. Research Available Accommodations
The school will provide suggestions, but as a layperson, you may have no idea what they're not offering. You may not realize social skills classes are available or that there's an occupational therapist. My child had an IEP for two years before I learned there were specific pull-out lessons on regulating emotions. Those would've been perfect for him years earlier. It's going to be boring, but do your research and know your rights.
You Must Follow Up When Advocating for an Individualized Education Plan
Schools do their best, but you have responsibilities, too. Keep all documentation. Attend all meetings (and be specially prepared for the IEP meeting). If you notice changes in your child, immediately tell the school. Consult doctors. One thing that's helped me is "intermittent family leave" from work. I can take a couple hours off here or there to make sure I'm following up on my child's care and not be worried about losing my job.
Education for your child with a mental illness will take a lot of time and work that you couldn't have anticipated. Buckle down, keep your head up, and remember that, like Robin was to Batman, advocating for the IEP may be annoying, but you never know when it'll save your life.
APA Reference
David, M. (2017, April 22). How to Advocate for an Individualized Education Plan, HealthyPlace. Retrieved on 2023, December 6 from https://www.healthyplace.com/blogs/parentingchildwithmentalillness/2017/04/advocating-for-an-individualized-education-plan
Author: Melissa David