Dealing with Mental Illness Stigma is Manageable
Dealing with mental illness stigma is manageable and I have learned this truth through the many experiences that I have had to face in my life (What Is Mental Illness Stigma?). However, it had been quite some time since I have felt severely stigmatized due to having bipolar disorder.
I am very open with the state of my mental health, and one of my main goals in life has been to eradicate mental illness stigma in every way possible. I even created the Bipolar Disorder Society of British Columbia, and I work immensely hard to provide assistance and education to people who are dealing with mental illness stigma. My hope is to truly instill in others that dealing with mental illness stigma is manageable.
My Personal Journey Dealing with Mental Illness Stigma
Recently, I decided to put work aside for one week, and travel to Mexico in aims of bringing three rescue dogs back to Canada to be with their new adopted families, and these pups certainly had lived a severely difficult life. I was exhilarated with the opportunity to challenge myself, and do something really special, but I did not anticipate how challenging this journey would actually be.
Mental illness stigma tells us that because we have a mental illness, we are not able to tackle and deal with mental illness stigma and other difficult situations, and we are likely to break down under stressful conditions. I had to prove that this was absolutely not true, so I embarked on a journey that would not only bring me great challenges, but also force me to manage my encounters with mental illness stigma.
Subsequent to arriving with three rescued dogs at the Vancouver airport, I never anticipated that my journey back into Canada would result in an incident that truly stemmed from mental illness stigma. Subsequent to 10 hours of traveling, I waited in line to speak with a Customs Officer, and my hands began to shake as a knot tied tightly in my stomach due to symptoms of anxiety in dealing with the situation at hand.
After two hours of standing in an empty line, I was finally taken to an area where I was told to enter information into an outdated computer system to produce the necessary documentation to allow the dogs into the country. However, I was unable to operate this particular system, and when I requested help; every officer refused to explain the process. I was not only refused assistance, but I was actually scoffed at, while having a confusing binder of instructions thrown my way across the counter.
As I faced this task, the physical symptoms of my bipolar disorder were shown by my face turning red, my hands and entire body noticeably shaking, and very large prominent tears streaming down my face, all of which lasted a long time.
Managing Mental Illness Stigma is Possible
The fact that mental illness is largely invisible causes mental illness stigma to rear its head in a number of situations, and the majority of society, will treat people who have mental illness differently in comparison to being faced with someone living with a visible illness. However, in my situation at the Canadian Customs office, my mental distress was obvious, but not one officer who saw me, and there were many, even asked if I was okay. I felt as if I was being mentally torn apart at the seams,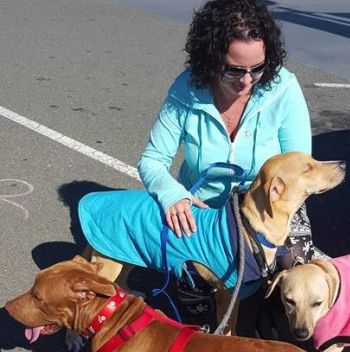 but I managed to focus and breathe, and then after a long while, I finally figured out how to produce the required documentation.
I repeated my personal mantra over and over in my head, which told me, "You have been through worse before, and you will get through this again." My past pains and challenges actually brought me hope and a sense of reassurance that this situation was not going to break me. Instead of focusing on this negative experience, I chose to recognize, and appreciate my personal efforts, as I had actually given these dogs and their new families an immense amount of happiness, and I was rewarded with my own gratitude and feeling better about myself, plus personal healing.
Later, I pondered, if a traveler had, perhaps, tripped and sprained their ankle, would the officers have come to their aid? I am assured that if I had demonstrated a physical injury, then my situation would have been handled quite differently. Mental illness is wholly invisible, but it can also be demonstrated visibly with emotion, and unfortunately, this often makes people feel extremely uncomfortable.
Do you feel it is necessary for people to avoid and refuse to deal with what appears to be the emotional effects of a mental illness, or is it actually acceptable to not deal with it at all?
You can also connect with Andrea on Google+, Facebook, Twitter, and at BipolarBabe.com
APA Reference
Paquette, A. (2015, September 20). Dealing with Mental Illness Stigma is Manageable, HealthyPlace. Retrieved on 2023, December 8 from https://www.healthyplace.com/blogs/survivingmentalhealthstigma/2015/09/dealing-with-mental-illness-stigma-is-manageable
Author: Andrea Paquette