Introduction to Martha Lueck, Author of 'Getting Through Tough Times'
My name is Martha Lueck and I'm very excited to be writing for the blog Getting Through Tough Times. I have experienced symptoms of depression and anxiety all my life, but I wasn't officially diagnosed with these conditions until after college. Throughout my education, I struggled with severe test anxiety. I also had learning disabilities which caused me to feel stupid compared to my peers. When I was 17, I lost my father who was my best friend. This loss affected my outlook on life, relationships, and even self-esteem.
Martha Lueck Succeeded Despite Mental Health Challenges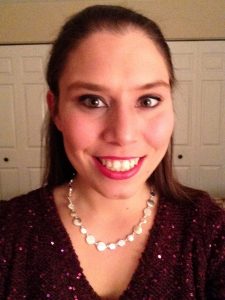 Despite my challenges, I got into Northern Illinois University and majored in journalism. I enjoyed making new friends, walking around the campus, and trying new things. But academically, I found myself worrying about whether I'd fail. I also continued to struggle with the void from losing my father. These hardships got really bad, and, at times, I felt them ripping apart my social life. I sought counseling senior year and continued to seek help when I moved back home.
Why Martha Lueck Writes 'Getting Through Tough Times'
In writing for Getting Through Tough Times, I want to help millennials with mental health conditions overcome life's trials and reach their full potential. Some of the topics I will be discussing include coping skills, self-love, advocacy, and mental health stigma and etiquette. By discussing my own experiences as well as the lessons I have learned, I hope my readers will know that they're not alone and that, no matter what they're going through, they can get through it. Even in times of weakness, we are all stronger than we think we are. We are all loved, and we all have a purpose in this life.
More on Martha Lueck
To learn more about me and my direction for this blog, watch this.
Find Martha on Facebook, Twitter, Instagram, LinkedIn and on her blog.
APA Reference
Lueck, M. (2016, December 8). Introduction to Martha Lueck, Author of 'Getting Through Tough Times', HealthyPlace. Retrieved on 2023, December 4 from https://www.healthyplace.com/blogs/toughtimes/2016/12/introduction-to-martha-lueck
Author: Martha Lueck
Martha, how did you get to be a blogger here at healthy place? I struggle with a form of depression and delusional anxiety, however, I am a good writer and have a lot of new found hope and drive and want to contribute to the community, I see most of the bloggers if not all of them are women and I wanted to look into this
Hi Cody,
I am very happy that you were able to find hope and drive. It can be really hard to find those things when you struggle with anxiety and depression. It is great that you are looking for opportunities to help others cope with mood disorders.
I find that blogging for HealthyPlace is a wonderful way to reach out, as it allows me to use my favorite outlet to benefit others. I found out about this position through a friend who was also looking for a blogging position. I wrote an article and made a short video as part of the application process.
You can find out about the position and application requirements here: http://www.healthyplace.com/about-healthyplace/about-us/blogging-for-healthyplace/
Good luck! :)
-Martha Lueck
Not a millennial; a baby boomer. But I wish you well on helping others in your intended audience range. Hope your message resonates well.
Leave a reply