PTSD and Integration: The Path To Healing
During my own PTSD recovery I studied - a lot! I read all I could get my hands on about trauma psychology and recovery theory. Some of my favorite current authors: Judith Herman, Babette Rothschild, Peter Levine and Robert Scaer. (Most of whom I've now interviewed on my radio show, YOUR LIFE AFTER TRAUMA.)
While I focused on the current authors, I also delved back into the past, reading the fathers of trauma theory, including Jean-Martin Charcot and Pierre Janet.
One of my fave quotes that made me feel soooo much better actually came from a comment made back in 1881...
The Importance of Linkages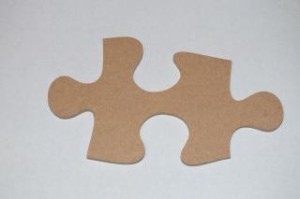 Charcot said that "unintegrated traumatic memories become parasites of the mind".
This idea made me feel so much better because it means that with PTSD I wasn't crazy, I just had some things that were pulling energy off my mind. Or, if you like how present-day noted scientist and expert in the mind/body connection, Dr. Joan Borysenko explains it, I realized "I'm not a chaotic person, there's just chaos in my brain."
What I like about this perspective is that we stop blaming ourselves and begin to look at the problem objectively as something to be fixed. This is where integration becomes very important.
Back in the late 1800s Charcot and Janet focused on the necessity of integrating traumatic memories into your present persona. Hypothesizing that the problem with trauma is that the memories don't get appropriately synthesized and consolidated (they were right, science now proves this is often the case), Charcot and Janet believed that a major element of trauma recovery work was finding a way to incorporate the traumatic memories into the whole person of who you are after trauma.
It can be normal to feel a split between your past and your present. At the base of the theory here is the idea of melding them together into a continuum so that you accept the memories and bring them into yourself rather than keep them apart as you may instinctively do after surviving something horrific and/or devastating.
Interestingly now, science adds a new layer to the idea of integration in trauma and PTSD recovery. Dr. Dan Siegel, author of Developing Mind and Mindsight, among other books, is an interpersonal neurobiologist with a fascinating approach to the idea of integration that can be applied directly to PTSD recovery. He outlines nine domains in which integration is necessary:
Awareness: integration of consciousness
Bilateral: integration of the left and right sides of the brain
Top and bottom: integration of the vertical brain structures
Memory: integration of both implicit and explicit recollections
Narrative: integration linking the past and present
State: integration within and across your emotional experience
Interpersonal: integration of how you attach/bond with others
Temporal: integration of how you perceive the future
Transpirational: integration of your identity
It's normal to feel fractured, fragmented and even shattered after a trauma. Given what you've survived and how you had to learn to cope - both during your trauma(s) and afterward - it makes sense that internally things have splintered.
As you make your way toward the goal of recovery you might want to consider the idea of integration, how it's been interpreted in both the past and present, and how you can incorporate it more into your work alone and also with a healing professional. It is eminently possible to achieve integration and recovery.
You are picking up the puzzle pieces, figuring out where and how they fit together so that an entire new picture emerges. That new picture can be you, strong, clear, confident and free.
Michele is the author of Your Life After Trauma: Powerful Practices to Reclaim Your Identity. Connect with her on Google+, LinkedIn, Facebook, Twitter and her website, HealMyPTSD.com.
APA Reference
Rosenthal, M. (2013, February 13). PTSD and Integration: The Path To Healing, HealthyPlace. Retrieved on 2023, September 25 from https://www.healthyplace.com/blogs/traumaptsdblog/2013/02/ptsd-and-integration-the-path-to-healing
Author: Michele Rosenthal
Thank you, Michelle for the very insightful blog above. I too had PTSD with a psychotic attack in 2003. As part of recovery, I came firstly across Cognitive Behavioral Therapy and subsequently Nuero Linguistic Programming. NLP offers a major tool for recovery known as Parts Integration which deals with reconciling past decisions, sometimes trauma to present day thinking. I'm not describing it quite so clearly, though as a process I know that it works. In my own circumstances, from the gift of hindsight, I can see that the trauma evolved because of the thinking I attached to previous events and circumstances and how they compound as to how I think and react in future events.. I appreciate that you put your circumstances out there so that others can relate and it also gives others permission to talk about their mental well being. I'm working on a project myself in the same area. I wish you well
@Donagh -- I looooove NLP! It had such a huge impact on my own recovery that later I got trained in it so that I could use it in my work as a post-trauma coach! Part integration is one of my favorite techniques; it makes an enormous difference immediately in everyone with whom I work.
Gosh you SHOULD be working in this area; you're so insightful and eloquent, this is so accurate: " I can see that the trauma evolved because of the thinking I attached to previous events and circumstances and how they compound as to how I think and react in future events."
Stay in touch. Would love to know more about your project and wish you much success with it.
@Renee -- I'm so glad this piece resonated with you. :)
Yes, I have heard of RRT. Thanks for the link. I really should have Dr. Connelly on my radio show, YOUR LIFE AFTER TRAUMA. We're always highlighting healing techniques. http://www.yourlifeaftertrauma.com/archives
Leave a reply