Introduction to Rizza Bermio-Gonzalez, Author of 'Treating Anxiety'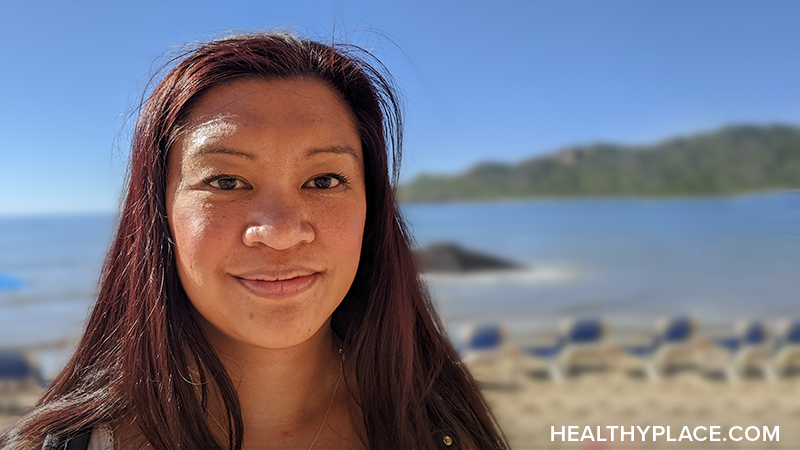 My name is Rizza Bermio-Gonzalez and I am very excited to join HealthyPlace and co-author the Treating Anxiety blog. I have been dealing with chronic anxiety since I was very young, and for many years I struggled with relating to others around me ("What Is Social Anxiety Disorder, Social Phobia?"). I constantly worried about things that others didn't seem to be worried about. But that is just one way anxiety manifested in me.
Anxiety and Rizza Bermio-Gonzalez
I started having repeated headaches when I was in middle school, and the doctors could not find anything wrong with me. As I got older, I became even more aware of the physical symptoms that I would experience along with my constant sense of dread, worry, and nervousness.
After high school, I went straight to college; however, the pressure of succeeding in school combined with the transition into adulthood became too overwhelming. I made some poor choices and graduated a couple of years later than expected. I married young and divorced after having my first and only child. As a single mom, I started graduate school, which was one of the most challenging experiences for my anxiety. I did not realize how challenging and taxing this was on my mind and body until, after I had graduated, I ended up in the emergency room multiple times due to the symptoms I was experiencing ("Recognizing the Signs of Anxiety"). It was at this point that I was determined to find a way to treat my anxiety and cope. While I still experience anxiety symptoms, I have found ways to live a happy and healthy life through education, experience, and support.
Goals for 'Treating Anxiety' by Rizza Bermio-Gonzalez
Learn more about where Rizza Bermio-Gonzalez wants to take "Treating Anxiety" in this video:
I look forward to writing for HealthyPlace and the Treating Anxiety blog. It is my hope that this blog will be a way to share with others our experiences and ways to address and cope with anxiety. It is my hope that you will find this is a safe place to share your thoughts, fears, and struggles. Through our support of one another, we can all find our way to peace.
APA Reference
Bermio-Gonzalez, R. (2020, January 2). Introduction to Rizza Bermio-Gonzalez, Author of 'Treating Anxiety', HealthyPlace. Retrieved on 2023, December 8 from https://www.healthyplace.com/blogs/treatinganxiety/2019/12/introduction-rizza-bermio-gonzalez-author-treating-anxiety
Author: Rizza Bermio-Gonzalez
I am so looking forward to reading your posts on here! Discussing the physical symptoms that go along with anxiety can be so eye-opening for those who aren't aware that that is what they're experiencing. Platforms like these that create safe containers for sharing and connection are so important. Thank you for being here!
Hi Lizanne,
Thank you so much for your comment! I agree that being aware of the way anxiety can affect us physically can often be surprising for individuals. You are so right that it can be helpful and beneficial to connect with others in a safe space. Thank you again!
Rizza
Leave a reply