Why Does Verbal Abuse Happen? What Makes a Person Abusive?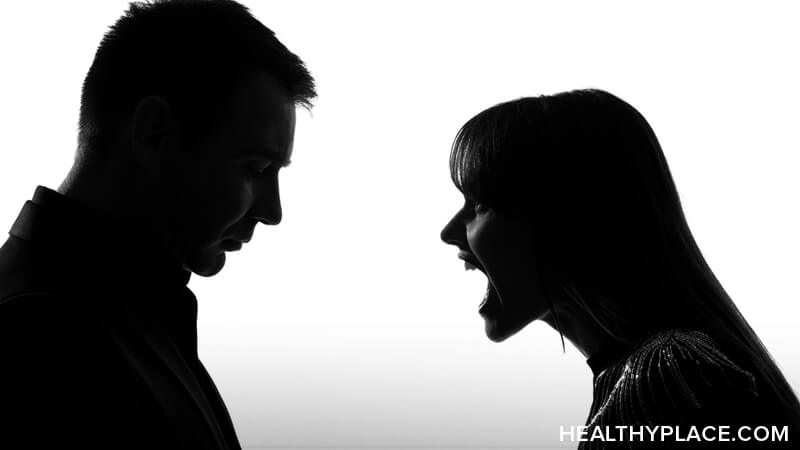 When I first realized I'd been in a verbally abusive relationship, I asked myself, "Why me?" and "Why does verbal abuse happen?" but there were no straightforward answers to these questions. The articles I read online echoed the reassurances of those close to me -- that the abuse wasn't about me, it was about my ex. "If it hadn't been you it would've been somebody else," I kept hearing, doubting if this was really the case. Years later, I still find myself wondering whether the abuse was entirely his fault or if I could have done more to prevent it. I still wonder why verbal abuse happened.
After the relationship ended, I did some soul-searching, trying to find a reason why I was treated this way. I blamed myself before I ever blamed him, as most victims do. I assumed, for a long time, that it must have been me -- that I was just impossible to be with.
But then I met somebody else. The relationship came easily. Living together was effortless. Sure, we fought like all couples do, but we were able to resolve our differences by communicating rationally without verbal abuse. I learned the difference between normal relationship conflict and verbal abuse. And the best part? I was free to be myself without anyone telling me I wasn't good enough. This was how a relationship was meant to be, and it highlighted everything that had been wrong before.
But it made me wonder, how can some relationships be abusive and not others? In order to answer this question and strengthen our understanding, we must consider two things: why some people are verbally abusive and why others allow abuse to happen.
Why Do Verbal Abusers Do It?
Before we delve any further into this subject, I should say that I don't believe there is any excuse for domestic abuse -- physical or emotional. The abuser is responsible for his or her actions, regardless of the circumstances, and the victim is never to blame. That said, there is always a reason why one person abuses another, and unless we can attempt to understand why it happens, we are powerless to end the cycle (What Are Victims Responsible for in an Abusive Relationship?).
There are reasons to believe that early childhood experience plays a part in verbal abuse. For instance, a person who grows up witnessing the abuse of one parent at the hands of another may internalize this behavior and then replicate it in his adult relationships. He then assumes the role of the abuser for fear of becoming the victim himself. Having seen it played out, he knows exactly how to establish control.
There are other reasons why some people are more prone to verbally abusive behavior than others -- such as drug or alcohol problems, childhood abuse, attachment disorder, narcissistic personality disorder, and even low self-esteem -- however, it is not our place to come up with a diagnosis, nor is it helpful. As victims, all we can do is attempt to further our understanding of what's happened to us, and know that we really aren't to blame.
Why Verbal Abuse Happens -- Can Verbal Abusers Change?
Sadly, you can't stop an abuser by simply pointing out why he's abusive, and you're in dangerous territory if you enable his behavior -- whatever the reason. It's important to remember that while there is always an explanation, there is never an excuse. He might not be able to control what's happened in his life, but he can control how he treats you.
It is hard to say whether an abusive partner will ever change for good, but you shouldn't hang around to find out. The abuse is ingrained and may have been so from an early age, so much so that it's normal to him. Sadly, he may not be able to accept that the problem lies with him and not you. As a result, he may never see his behavior for what it is.
In my next article, I'll be looking at victims of verbal abuse, and why some people go from one abusive relationship to another. As always, let me know your thoughts below.
I realize that both women and men could be abusers or victims; my pronoun choices are merely reflective of my own experience.
APA Reference
Smith, E. (2017, July 25). Why Does Verbal Abuse Happen? What Makes a Person Abusive?, HealthyPlace. Retrieved on 2023, December 6 from https://www.healthyplace.com/blogs/verbalabuseinrelationships/2017/07/why-does-verbal-abuse-happen-part-one
Author: Emma-Marie Smith
I've been married to a narcissistic man for 58 years. He was a great provider but not a good father or husband. He used to occasionally hit me but now he threatens me by putting his fist just inches too my face also objects like a hammer. I see my life pass before my eyes and say this is it.. I'm extremely nervous and gun shy. I'm ashamed that I didn't try to do something sooner than living my life on a time bomb. Things that happened in my life has caught up and now I suffer PSTD and health problems and I'm truly afraid and my stomach churns all the time.
what up i know its been like 3 years but i wanted to say that men get verbally abuse as well. as a women reading this , i would have enjoyed if it was not using one specific gender, but maybe that's just me. i am using this as data for my project, with proper credit as needed, so thank you. just an opinion, great writing tho
yes this are real life story
Hi Emma! I'm super stoked to find this blog! I didn't even realize that what I'm dealing with is "abuse" I mean I said it kinda lightly, but have always excused it. My husband is wonderful in so many ways, but he is certainly verbally abusive... It has gotten better over the years and now it's very subtle and cloaked I'm joking and "razzing" he is from Chicago and plays it off " everyone is like that, people from the west coast, are so sensitive" he calls me a Hillbilly cause I'm from Arizona. Anything that's trashy, he says "oh that's so AZ" we laugh about it and just laughing and/or ignoring things has been my way of coping. I used to call it out more, but then it would turn into a fight and I was crazy, thin skinned, freaking out, or like my mother. He is very crafty about he way does this, he is very loving in other ways (to be fair to him) but this every day feeling of I'm an idiot sucks! We have 4 sons and my teen sons see it too, cause he does it to them, but the one and only time they actually voiced it during a fight 3 weeks ago... he found every excuse why they don't what their talking about. He has recently said (when I said, counseling or we are done) that he would go and that he doesn't wanna be this way, so that is a step in the right direction for sure. He watched his dad and mother do this as well, his mother is difficult to deal with to this day due to hrr mouth. I have said things in anger that I regret also ( that of course is thrown in my face, any time I call him out) I don't mean to get so angerey, but I get to a breaking point, my comments are usually during a fight (which we don't have often) but they are really bad when they do happen. His comments are a daily thing. He is willing to go to counseling, but I am nervous about how that will go. He has turned my family against me ( I have recently reached out to his mom and my dad) but he has them convinced it's me and I'm crazy just like my mom.. I do have my things like her for sure, but I'm not even close to how she is. Also, my family knows how I feel about my mom and we have been estranged for 8 years now. But he sure loves to use that "mom" thing! I'm worried he will manipulate the counselor (I imagine that's possible, I don't know) he will call me a liar, etc. Anyway... thank hi for the blog I'm am excited to read more and feel better knowing this is abuse and not just me being "a girl" as he would say. Many blessings friend!
I have just walked away from an unhealthy relationship 3 weeks ago. I still find I miss Dr jekyl ( my name for the nice him) He put me on a pedastool of the highest height and would bring me down with a crash just to be the ressuer and put me back up. In 7 years I have Taken an overdose become estranged from family and become someone I don't know but worse than all that I exposed my daughter to it. My daughter is 14 and receiving therapy for anxiety and self harm. So I'm angry at myself and disappointed I wasn't stronger. I'm 38 and I don't know if I could ever trust again. We are currently living at my parents ( they welcomed me back with relief and open arms ) he says he's worried about myself and my daughter yet he wouldn't give up the house. Right now I feel pretty worthless. I do hope I will get over this as I hate feeling so angry sad and stupid.
I am across this blog this morning I think looking for relief. Almost a year ago I left in 5 and 1/2 year abusive relationship. Most days I find myself arguing with him in my head and he's not even around or trying to figure out what I could have done differently or how things could have been different. Sometimes I'm fine sometimes I'm angry sometimes I'm sad sometimes I feel completely alone. Really I feel like all my thoughts and feels have been put in a blender. I'm sure that I still love him and I think that's sick! I fell in love with the good because when the good was good god it was soooo good, but when it was bad it was horrible. I knew I should have left way before I did but it wasn't in till I became very sick with UC that I realize that the stress was killing me. Now I'm sick and alone and mad as hell at him but mostly at myself for allowing him to treat me that way. I hope to become apart of this group for my soul search for the new me that I can't seem to find.
I am looking forward to your next article I'm 41 and been in abusive relationships since I was 18 and it's like I keep comparing the abuse and now this last one I'm not scared of my abuser so I feel like it's better but this phycological abuse has me feeling beat up n so worse than any other abuse the things he calls me like whore trashy and dumb b*** every day all day and when he points out why (I had 3 kids with out being married ..I once had a tattoo of another mans name on my neck that's covered up and when he left me one time I went and dated someone else ..so than I feel like maybe he has a point and I am this trashy person he comes close to hitting me but doesn't and I feel safe because I don't fear him yet I'm so trapped in this I just can't bring myself to leave thanks for your blog I hope to use it to help
I like your statement that there is always an explanation for verbal abuse but never an excuse. Absolutely true and no amount of understanding about the possible causes by the victim will lessen the pain or the serious aftereffects on her.
Terri, thought this information might be helpful to you. See if you relate to it at all. Love you, Mommy ❤️?
Leave a reply