What To Do When You Are Lonely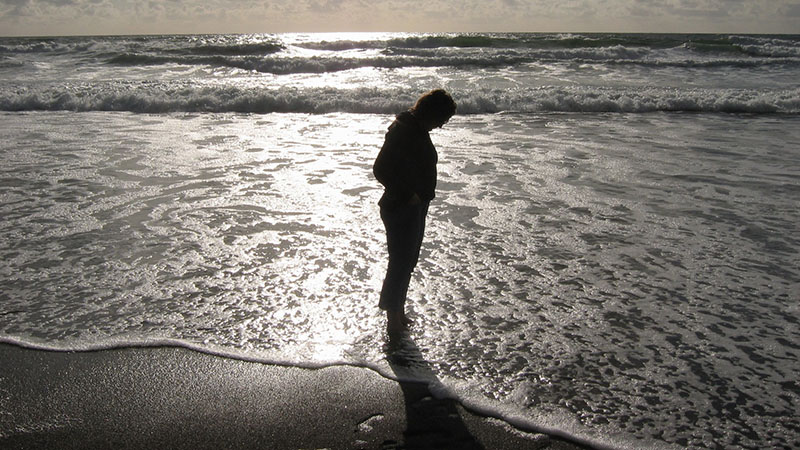 Sometimes people can feel lonely in a crowded room and others can feel totally comfortable home alone all day. Being alone is not inherently an issue. Many ancient sages or meditation masters can be alone and content. But this might be after they have gone beyond individual ego, and no longer feel separation from Oneness of the universe.
But for most of us humans, biologically and emotionally, we are social beings. We live in a communities because we need to. We can't do everything alone. We need help. Collaboration is our biggest survival skill. Our species would die off without it. It's natural to feel loneliness when you feel apart from your community (Loneliness and What To Do About Loneliness).
You Can Feel Lonely and Be Independent
We have contradictory ideas in this culture, that we are weak if we can't do things independently. But nobody, least of all successful people, do everything alone. Think of the top executives- they don't do things alone. Same for life saving doctors- they don't do surgery alone. Think of world leaders-they don't do things alone. Independence is overrated.
Also, co-dependence has gotten a bad rap from substance abuse recovery terminology. Think of the word literally outside of recovery's negative connotation. It quite accurately describes life in my family. We all need each other and are there for each other.
I don't know anyone who does everything alone. Then why do we hold ourself to this standard? I'll tell you why. It is usually a question of worth. It is usually a sign that some has a low sense of self worth, when they feel like they should be doing things alone. It's a judgment against themselves.
Feeling Lonely Includes Feeling Upset
On the other hand, lonely is totally different. Lonely is usually upsetting. It brings a melancholy, or worse, depression. Lonely is isolation, it breeds negative self identity, increasing sadness and anxiety. When we feel lonely, we feel like nobody loves us. We remember all of the evidence that points to this fact. (And for some reason, our mind gets empty of all the evidence against it.)
Loneliness makes us think:
I ruin everybody else's life.

I can't call anyone because I will be bothering them.

Nobody wants to hear from me.

I make bad decisions, I just shouldn't make anymore.

I don't know how to act in social situations.

I am awkward.

I have nothing to offer.

I'm a dork.

I mess up everything.

I can't do anything right.

I can't trust anyone.

I hurt people.

Everyone hurts me.

I am worthless.

I am unlovable.

Nobody wants me there.

Everybody leaves me.
Any of these sound familiar?
Even if none of these are true (which I can assure you they aren't!), when we are alone, sad and anxious, each of these thoughts can take on a life of their own, twisting through our memories to find even more evidence of why they are true. Pushing us further into our sadness and firming our commitment to even more isolation.
How to Deal With Feeling Lonely
If you feel this way, get to another person as fast as you can. Go against everything you are thinking about yourself and reach out to someone. You think you might feel worse, but it will make you feel better. You don't have to tell them how you are feeling, just talk about anything. Even if it is the weather. You just have to get out of your head. You know this works because it probably has worked in the past. Don't delay this time.
How about you? What do you do when you are lonely?
I blog here: Heal Now and Forever Be In Peace, share here Twitter@JodiAman, Google+ and inspire here Facebook: Heal Now and Forever Be in Peace.
APA Reference
Lobozzo, J. (2013, March 27). What To Do When You Are Lonely, HealthyPlace. Retrieved on 2023, December 11 from https://www.healthyplace.com/blogs/anxiety-schmanxiety/2013/03/what-to-do-when-you-are-lonely
Author: Jodi Lobozzo Aman, LCSW-R
I have worked part-time for years and have just gone back to full-time. I can't go out at night. I just can't get myself to go out. This limits my social interactions. This adds to my loneliness. I'm obese, and my attempts to lose weight and exercise aren't leading me to lose weight. My weight, and my HSV2 and fear of reaction to disclosure, lead me to fear of trying relationships. This adds to my loneliness. I have a friend who lives in another country who also spends much of her time alone, but rarely feels lonely. I find this interesting, and I envy the perspective but haven't been able to emulate it.
I have been a loner for the biggest part of my life. As a child I was extremely shy and never really bonded with anyone. Every person I tried to befriend ended up dominating the relationship.
Thank you. Loneliness is something you feel ashamed of and blame yourself for. It feels a bit like wallowing and self pity. Neither of which are admirable.
Could use a friend myself.
I suffer from severe depression and anxiety carnt do anything on my own my 25 year old daughter is looking after me but I feel so lonely and self harm every night just to focus on something and not my head whizzing round
To Nancy...I completely know how you feel. I have suffered anxiety in social situations for years. I dealt with it okay when I was younger. It was easy to hide but I always felt lonely and I isolated myself as my parents were both narcissistic so I felt alot of shame for no good reason. I am now 51 and am isolating other than going for groceries and appts . I love to be out and active to a certain degree but have nobody to do anything with. My friends don't understand after all this time that I still feel uncomfortable in certain situations so they give up. I wish zi had someone to talk to. I sm fun loving and know lots of great things to do to have fun and not feel lonely and isolated. But times running out on me too....take care !
I know this is a very old article but I've just read it and relate to most all of the comments I always read.
I too, have crippling anxiety, have done all the "reaching out" to the few close friends I still have only to be made to feel I just need to force myself to do something to help myself. If I were able I'd have done it, I assure you. I'm disabled due to major depression, anxiety, since 2006, as of a cruel brutal divorce from a narcissistic spouse in 2013, I was diagnosed with complex ptsd. I've lost the only family I loved to the lord of this man to my adult daughter from a first marriage out of high school. She's 37. I'm 56. My only child. We were closer than close. I prided myself on our relationship because my own mother was never a mother. She's still alive but I stopped contact with her over 6 years ago when telling her my marriage was falling apart and I was losing my home of 24 years to foreclosure. I made that call from my then counselors office because I knew the backlash I'd receive. I did. My also narcissistic mother told me what a failure I was and an embarrassment and shamed her again. She never liked my now ex from the day they met over 20 years ago but she suddenly tells me I couldn't keep a man either. That was the last straw with her. She's now 93 and still tries to contact me. I don't listen to her VM's. I've heard enough. I no longer open her cards that she'd enclosed nasty letters inside accusing me of elder abuse. I owe her now in these years she's in assisted living fir raising me, feeding and providing shelter. I've heard all of that. Yet I still feel guilt if she dies without me having tried to talk with her one last time. My other family members have disowned me since my decision to stop contact. Nobody likes or can stand being around her but once I stopped doing everything for her years ago, they had to pick up when I dropped the ball. After all, I was on disability. A paid vacation I'd chosen according to my mother above being a loving caring daughter she believed I was obligated to be. My now ex emotionally, psychologically, financially, etc., abused me for years before I realized it was NOT me nor my fault as he'd engrained in me for years. I've spent every day and night alone with just my dog who I credit for my being here at all. I think about suicide daily, but do not have the courage it takes to go through the motions to complete it. It can't be an attempt. I can't fail at that knowing my family would think it was some cry for help. The only family I can't let go of is my daughter. She's been fed lies for years and I can't blame her completely for believing the same pathological liar j was married to. I have three gorgeous granddaughters I've not seen in 5 years now. Im only a few miles from them and I she's never answered my calls, texts or letters. I won't be like my mother and make her feel guilty. I can't. I love her and still respect her but I'm running out of time. She has no idea if I'm dead or alive and I'm imagining she doesn't care. It's harder and harder to get through each day each season each new year which will be here again before we know it. I've spent the last six years of holidays birthdays everything alone. It's getting harder to get out of bed for anything other than to let my dog out and in. I'm failing her too, because I've stopped walking her and I because of other fears.
If anyone reads this comment who would like to correspond with someone like me, because I know there are many of us, please comment, I'd love to have a new friend and maybe we can help lift each other up or listen and hear each other or anything other than this silence and horrible loneliness. I wish everyone the very best who feels much like I do.
I get lonely and anxiety i depression and i dont like the situation feel makes me feel like im not important in my life
I am a single woman approaching 30 and a researcher in a foreign university. I know I have many advantages as I am a single woman. But I live a town which is a family town and as I am a foreigner I am not always invited by my friends when it is Christmas or other festivals. I engage myself with lots of activities and talk to many people. Still I do not get emotional satisfaction. Instead all those activities make me physically exhausted. I feel extremely lonely and rejected. I crave for love and company. I try dating websites also, but it does not work. Most often I meet people who are not of my type. I have certain intellectual need when I talk to people. I do not expect that everyone will fulfil this need, but I hardly get people who can of my type. I desperately seek to have a partner, but all I get frustration. As I am a foreigner people normally do not consider me as a person who will have a stable career as a person in the foreign land. My family is far far way and I cannot travel always there, neither they can come. my friends here are always busy with their kids. So they cannot be with me when I need then. It affects my research. I am getting very afraid that I am doomed to be lonely and single all through my life. I do not like pets. I do not know how can I control this anxiety of being lonely. I feel that I ll suffer from acute depression. I cry a lot. sometimes people with family irritate me, and I get very very much exhausted with planning all the time to have some company. I need more time for my research.
I have read all the comments and replies on this article. I can totally relate to the comments of being lonely, depressed, and having anxiety. However, from my perspective, the replies are often suggesting the person join groups, take classes, volunteer, etc. While all of these sound helpful for some people, they are not for people like me who can hardly make it to the corner store for milk. When you are to the point that you live in PJ's, don't shower for a week, feel sick all the time, cry all the time, cannot sleep at all on some nights, taking a class or joining a group would be like climbing Mt. Everest. When I can get my mind motivated, I lay in bed and say to myself that no matter how I feel tomorrow I am going to do this, and this. Tomorrow is here, but my attempt at motivation has faded, and I am right back in my chair, thinking the same thoughts, and feeling worse as the day progresses. I have had traumas in my life, a lot of different types at different stages of my life. However, starting in 2001, my life began a down hill tumble that has lasted to this day. A lot happened, especially in the five year span of 2003-2008. I have suffered physically and emotionally, and still do. I cannot get out of this place. I do not know how. I think and/or imagine many different ways to escape, and think about how happy I would be, but then reality sets in, and I realize that unless I am happy when I do these things, I will not find happiness by doing them. I will still be lonely, sad, feel guilty, worthless, unloveable, hurt, and I am not a likable person. So, i am back to where I started, in my bed dreaming of how I am going to take charge of my life, and be that strong women who was the fixer, the fighter, the helper. And then I cry, because I know that woman does not have the strength anymore to fix anything, or even fight for my life. Loneliness is torture, I suppose that is why they use solitary confinement in prisons as punishment. When you daydream about having a friend to talk to, or cry because you want to feel the touch of another human, a hug, an embrace, but no one is there, that is torture. I realize the suggestions made in the replies are a starting point that may help me, I am a long way from making it to a class, or joining a group. Even if I could find a support group, I am not sure there would be people like me there. It is one thing to be depressed or lonely, but still able to work, and socialize, to never getting dressed for a week or more at a time. OK, i have said enough, sorry for the length.
So very lonely all of the time,,,by myself 85% of the time,,,sad,miserable,,unhappy,,no one cares,,,dread winter,,,no phone calls,,can't stand it much longer,,,help,,,judi
That's me! I have complex PTSD and other illnesses so I am on a small disability pension. I don't have a car so going anywhere means public transit and that's hard also for balance reasons. You can't get a seat, even with a cane when you're old. I'm 63 and my in town friends have all died. I have two out of town friends and I call them every few weeks but can't travel to get to them. I have 5 younger siblings that I helped raise but no one calls me or responds to posts on facebook. I did volunteer in the past but as my health worsened, had to stop. Could not commit to being able to work scheduled hours. I have a cat and she keeps me from suicide. The only interaction I have is with strangers on Twitter. Somehow, I have 5,000 followers so I kind of live for them. I reach into my well of pain and try to find encouraging comments/quotes/articles that would have helped me when I was younger and I post those. Even though they no longer speak to my situation, I figure they might help someone else out there. But it is lonely when the phone only rings for telemarketers. Just venting here. Please forgive me for rambling on.
I lost my husband 8 years ago and my life has been very lonely. I have a son who lives abroad and a daughter who I never hear from. I feel so isolated with no one to turn to. The only person I talk to is my dog. Where I live neighbours just don't talk to you. There is not a day go by that I can't stop crying I don't know which way to turn to. I have seen my Doctor and he told me to pull myself together and get on with my life. How do I do that ? just to talk to somebody would be nice but that does not happen. I would really like to talk to someone who may have been in the same situation
There are times when I feel lonely as well. I have a consistent problem with anxiety that interferes just before I fall asleep at night and sometimes it hits me. First thing in the morning. I was married, but he was extremely controlling, emotionally abusive and if I had stayed he would have physically abused me. I managed to raise my 2 daughters alone and during that time I met someone else that was worse then my ex. This damaged me emotionally and it has taken quite a few years, some therapy and counseling to get over the damage he did to me. I am now 52 yrs old and hardly Trust anyone. I've always had one or 2 friends, but after 14 yrs my best friend showed me her "true colors." I try to keep busy and spend as much quality time with my little grandson.
I grew up in a very dysfunctional environment. My father was an alcoholic that was emotionally physically abusive towards my mother and later my siblings.I never felt "Safe" and had a very difficult time Trusting others. My mother and I were always close, but now she is continually attacking me verbally and I never know what to expect.
My father is still an alcoholic and emotionally abusive, but is now losing his memory. My immediate family is very dysfunctional fractured as my mother bitterly and angrily refers to us as. As for my 2 daughters one has developmental problems and lives in a group home. She consistently picks up with the wrong people and gets into trouble a lot even though she is almost 30 yrs old. My other one I have to be cautious with like"walking on egg shells" She is extremely controlling and emotionally abusive.
Who am I kidding! I have no one! I work p time at a mental health agency as a "peer facilitator." I am also seeing a counselor, but not very often. I also attend drop in advanced DBT therapy when I can. I am also in the process of trying to start my own business.
I have been hurt so much that I find it very difficult to let others in. I don't know how to help myself...
Recently I decided to take a break from all my social communities (except for talking to some friends on skype) so that I can learn not to be emotionally dependent on them because they take up a lot of energy and time to the point of affecting my schoolwork. The problem is I don't have anyone to talk to in real life and it's making me feel pretty lonely and sad.
I live in a dorm (this is my second semester in this dorm) and there are some folks here and I'd like to make friends with them, but I'm a weird person and tend to not make friends easily with people unless they share a similar whimsy to myself. I'm also inclined to think people don't like me because I'm weird.
I make bad decisions, I just shouldn't make anymore./I make bad decisions: I just shouldn't make any more.
Having got that out of the way, I can only say that sometimes a week of isolation (holiday, frriends & family away, illness) can be a sort of meditation. I've been taking stock since Xmas. I have a few resolutions, one of which is to stop insisting on correct punctuation online! Quality TV and radio and cats help. I'm hoping to resume my activities next week. The phone is a lifesaver too. And let someone have a copy of your house keys, in case you need shopping etc.
I deeply relate to every one of the thoughts listed under "Loneliness makes us think...." The problem is that being told they aren't true isn't enough; I've tried for years. I'm both socially motivated and have crippling social anxiety and can't seem to talk myself out of either one: I hate being alone but it's less painful than being with people. I've tried all the conventional advice, too: volunteering, school, creative stuff, etc. It's just too hard to reach out anymore.
Place my hands on opposite shoulders, close my eyes, rock myself to the song SONGBIRD & cry if I need to let it go - Self Compassion strengthens me to face the world. It also helps to know God has got my, our individual, best interests at heart, to make the good possible.
I started experiencing anxiety this past summer. I'm 21 and just moved to a new city with a roommate to transfer at a new college. My roommate works a lot and is already graduated from college. This is my first time living away from my parents whom I've been dependent upon my whole life. This has caused me to feel pretty depressed/lonely when my roommate goes to work. School doesn't start until Wednesday so maybe I will feel better when classes start. My doctor said I have anxiety due to the life changes I'm going through and it will pass once I get settled in. This is my hope because I really don't want to get any worse.
my saddness is too much to take in sometimes....i have some family but we just dont connect the way we used to. My life isnt happy...the only thing that makes me keep going is my son who is 5.
"I can't call anyone because I will be bothering them." Or what makes it worse is when you're not taken seriously
How does loneliness, anxiety and depression fit together. I think I have all three. When I'm with people I get more anxious. Living alone without much funds after paying bills does not leave much for taking classes. And then there is winter and most roads bad for my small car. Help!
I have done some really dumb stuff out of being lonely. The thoughts listed in the above box is accurate. That is what a lonely person thinks. I am getting up in years and my children are all grown I wonder what life is going to be like. I really have to work on feeling lonely. I am starting to volunteer program for Faith Communities and mental illness and getting them connected to resources in their neighborhoods. I will not let loneliness win. I have come to far now. I will have bouts, but I won't let it get me down. (How did that sound? I say it enough and I will come to believe it. lol).
Thank you so much for sharing this post. It was interesting and at the moment you watch it, you absolutely won't neglect it Very informative blog. I believe many may benefit from reading your weblog therefore I am subscribing to it and telling all my friends
I was divorced a while ago and finally found the love of my life or so I thought. Both of us had suffered depression and it was so comforting to be with someone who understood. I helped this person break a cycle of abusive relationships and have her everything I had emotionally and financially. However she suffered from anti-social personality and was a binge drinker. I thought she was recovering from all only to find she was cheating on me physically and emotionally. When I confronted her and kept getting lied to I threw her out.
Like your article pointed she felt she needed to do all the things she did alone and should not have needed help. She said she needed to find herself and stay out of relationships but she had already started another. She completely crushed me. I've never felt so used and humiliated and worst of all, lonely.
It happens all the time but I will never understand how people that are essentially the good ones get hurt the most. She is all over social media saying how happy she is and it's the same pattern she was in before. Now her new love is a recovering alcoholic and I am left empty and lonely wondering if true love even exists or worse, what is the point of life? To keep getting hurt? To continue running into walls.
Thanks for the article it explained a lot and helps.
Indeed, this paper indicates substantial tools to improve and develop social skills, as important way to overcome the feeling of loniles. Moreover, this concern emotional experience provokes many mental difficulties with fatal consequences for global welfare. Therefore, it is of value to make attempt to deal with this emotional perturbation. Yours suggestions and recommendations exhibits great and useful choice. Beside these lessons it ought to explore in smart manner the social and cultural characteristics of milieu where respective person live and works. Without this remark, ours effort would be stranger and inappropriate for others. Above all, it remains the scertainment that we should be social active on fulfilment ours life needs.
Leave a reply