Anxiety and Overthinking Everything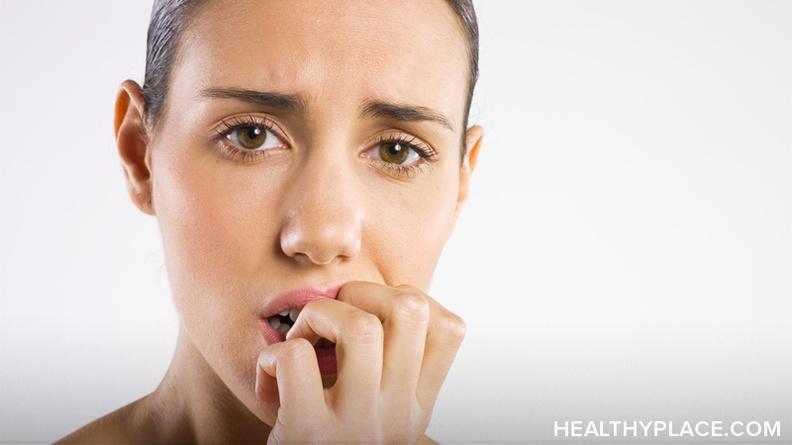 Anxiety and overthinking tend to be evil partners. One of the horrible hallmarks of any type of anxiety disorder is the tendency to overthink everything. The anxious brain is hypervigilant, always on the lookout for anything it perceives to be dangerous or worrisome. I've been accused of making problems where there aren't any. To me, though, there are, indeed, problems. Why? Because anxiety causes me to overthink everything. Anxiety makes us overthink everything in many different ways, and the result of this overthinking isn't helpful at all. Fortunately, anxiety and overthinking everything doesn't have to be a permanent part of our existence.
Ways Anxiety Causes Overthinking
An effect of any type of anxiety is overthinking everything. There are common themes to the way anxiety causes overthinking. Perhaps this generic list will remind you of specific racing thoughts you experience and help you realize that you're not alone in overthinking everything because of anxiety.
Obsessing over what we should say/should have said/did say/didn't say (common in social anxiety)
Worrying incessantly about who we are and how we are measuring up to the world (common in social and performance anxiety)
Creating fearful what-if scenarios about things that could go wrong for ourselves, loved ones, and the world (common in generalized anxiety disorder)
Wild, imagined results of our own wild, imagined faults and incompetencies (all anxiety disorders)
Fear of having a panic attack in public and possibly thinking that you can't leave home because of it (panic disorder with or without agoraphobia)
Worrying about a multitude of obsessive thoughts, sometimes scary ones and thinking about them constantly (obsessive-compulsive disorder)
Thinking -- overthinking -- a tumbling chain of worries, vague thoughts, and specific thoughts (all anxiety disorders)
Result of Anxiety and Overthinking
With anxiety, not only are these thoughts (and more) running through our brains, but they are always running through our brains, non-stop, endlessly. Like a gerbil hooked up to an endless drip of an energy drink, they run and run and wheel around in one place, going absolutely nowhere. Day and night, the wheel squeaks.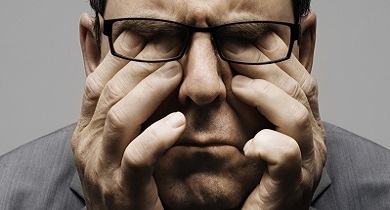 Anxiety and overthinking everything makes us both tired and wired. One result of the thinking too much that comes with anxiety is that we are often left feeling physically and emotionally unwell. Having these same anxious messages run through our head everywhere we go takes its toll.
Further, another dangerous result of anxiety and overthinking everything is that we start to believe what we think. After all, if we think it, it's real, and if we think it constantly, it's very real. Right? No. This is a trick anxiety plays. Anxiety causes overthinking, but with anxiety, these thoughts aren't always trustworthy.
You have the power and the ability to interfere in anxiety's overthinking everything. It's a process that involves many steps, but a step you can take right now to slow down that gerbil is to have something with you or around you to divert your attention. Rather than arguing with your thoughts or obsessing over them, gently shift your attention onto something else, something neutral. By thinking about something insignificant, you weaken anxiety's ability to cause you to overthink everything.
I explain this further in the below video. I invite you to tune in.
Let's connect. I blog here. Find me on Facebook, Twitter, LinkedIn, and Pinterest. My mental health novels, including one about severe anxiety, are here.
APA Reference
Peterson, T. (2015, December 31). Anxiety and Overthinking Everything, HealthyPlace. Retrieved on 2023, December 11 from https://www.healthyplace.com/blogs/anxiety-schmanxiety/2015/12/anxiety-and-over-thinking-everything
Author: Tanya J. Peterson, MS, NCC, DAIS
Hi I'm 17 and recently I've been suffering from some severe panic attack cause by overthinking. I have a boyfriend whom I've been dating for a little over a year now and I love him so much. But every time I say that to him my anxiety and the little voice in my head will tell me "well maybe you don't" and "maybe you like other people" things to that extent. When I have these thoughts I'll have a complete mental breakdown and anxiety/panic attack because I know these things aren't true but I can't stop thinking them. It's get to the point where I tell myself I don't even have anxiety and I'm just a bad person which will also trigger panic attacks. This does not happen very often it happened about eight months ago and again recently he makes me so happy and I just want to know how to stop these thoughts so I can just enjoy my relationship.
I feel so overwhelmed all the time one minute I'm fine the next I'm worried about the kids the bills what to make for dinner I can't talk to my husband about how I feel and it sucks I have been dealing with anxiety for a long time but at this moment I'm not in control anymore I can't sleep anymore I eat every once and a while. Plus I hate going to work I hate being around people I just can't deal with alot of things right now I just want a break from everything I love my kids so much but sometimes I feel like I'm not the right mother for them and I don't want them to be like me sad and lonely... even when the room is full!!!
Social media is a big problem for me. Everytime my boyfriend likes a photo of a female I am scared he will leave and no matter how much he tells me it's just a like I still think the worse and I have horrendous panic attacks. I just want it to stop.
To be perfectly blunt, I'm not sure the article really helped me. It's not that the advice isn't good, because it is. See, I also struggle with depression along with anxiety. With overthinking I try to distract myself, but my depression steals all of my motivation and energy, so I laze about all day, overthinking. My anxiety seems to be social anxiety, as I have trouble accepting or even fathoming that my friends really like me and like having me around. What would you reccomend to someome like myself?
Hi, my name is Tori, I recently was on birth control for 5months. I stopped taking my birth control 2 and 1/2 weeks ago. I had had some mood swings while on it but when I started my 5th pack I started developing severe anxiety and intrusive thoughts along with some depression. The day the anxiety hit was the day I started my period on the pill. This period came 2weeks early and lasted 10days. My face also started to break out while on the pill. I have had issues with anxiety in the past but learned how to cope with it and hadn't had any problems with it in over 4years. I was wondering if you know anything about the link between birth control and anxiety. I will say that everyday seems a little bit better. I am taking supplements to help my hormones rebalance. I have also started practicing CBT and exposure therapy along with mindfulness. If you have any knowledge regarding this issue please let me know. I do not want to go on any anxiety medication because I feel like my brain can learn how to reprogram itself. Thank you so much !
I always build up the worst thing that could happen at anytime with a client in my business and it never turns out to be even close to what I have worried myself about for days on end before the appointment! Even on weekends my anxiety and thoughts just plague me! I have to learn how to get away from this thinking pattern somehow! Loved your article!
Thank you so much! I recently got out of an argument with my boyfriend, and it was pretty bad, he concluded everything was fine now today but now my anxiety is always giving me the worst case senreos, such as what if he doesn't love me? What if he's faking? What if he actually wants to leave?" those thoughts make me cry as well as go about stir crazy, just wish me luck on getting over this, it's such a mental battle, and no matter how much reassurance and effection he gives me, it always seems to not helo after he leaves for the day, it's stressful needless to say. ?
Really useful thank you for the advise. So difficult to switch off. Always imagine the worst situations at work and the reflection on me...switching off at weekends very hard
This post was helpful in distinguishing between social anxiety, which I've dealt with, but also performance anxiety. I didn't have a word for the latter, so it's helpful for me to journal and pin down when my anxiety is arising, pinpointing symptoms, and figuring out strategies for managing my symptoms. Thank you.
It's a shame you don't have a donate button! I'd certainly donate to this fantastic blog! I suppose for now i'll settle for bookmarking and adding your RSS feed to my Google account. I look forward to fresh updates and will share this website with my Facebook group. Talk soon!
Do you think the mind can give you symptoms that aren't really there? For instance... Say you found a lump under your ribs while in the shower that you never noticed before. Right before you found the lump you had no symptoms and could not feel it unless you touched it with your hand. You go to the DR and Dr confirms yes there is something there and you start to worry over it right away and within the next few days you start being able to feel it without touching it. Like feeling something on your body that wasn't there before. Not imaginary feelings though real ones and just uncomfortable and awkward. Then it starts hurting here and there. I don't know what to think. I don't know if my worrying over it ius causing the symptoms because I had no symptoms before I felt it or if it's gotten bigger. I have an appointment with general surgeon on May 22nd.
I am asking because I suffered health anxiety for many years but have had it under control for the most part for the last 5 or 6 years but now since I found this lump it's back.
Hi
This is rk.I realized myself suffering from anxiety and overthinking .let me tell what's always going on my mind.2years ago I crushed on one girl.but after that I slowly came to know that girl committed. I disappointed more on that because still I didn't proposed. My mind often that thing very too much.days after my mind accepted that's not only girl in universe. But still thinking ,thinking ,thinking. Actually if somebody take about that girl my emotional very very worse.Iam thinking myself as hero on same story.same while that's happen different my own story on everyday.iam thinking like she come one day and.she thinking about me that things are I can't avoid even if I very busy.iam taking drugs for depression also.pls give some advice to idiot thought.
No sure what's going on with me I think I'm suffererinf from a lot of things I think I have OCD and I have anxiety I always feel like someone is talking about me I think other can smell me I will brush my teeth or take a shower If I feel like someone is sniffing around me it's really taking a toll on me I just want to learn to control it and his have a thought that's it all in my head and others never understand they just think your crazy or do things for attention I never use to be this way so everyone around me is making it seem worst then it really is i go to the doctor often because I always think something is wrong with me I diagnose myself with all these problems for my doctor to tell me nothing is wrong with and I don't smell but I don't think nobody want to tell me the truth can that. E apart of my anxiety have you heard of a phobia that causes those issue help me I just want to know how to not let others affect my way of living my mood can easily be ruined by something so unnecessary or just from me overthinking a situation
May be I'm thinking too much... My frnds are not liking my behaviour nowadays ... They are thinking that I'm not giving them importance as new frnds came into my life... I'm leading to depression, severe head ache, chest pain (left side) some times, I'm not getting sleep properly... What's my problem..pls ans me :(
hi ,
I tend to overthink and always think people are talking about me
for example i can be standing somewhere some school kids can be in a group near me this happens with some people ive had trouble with before
and anything i kind of hear them say , if they laugh and if they look at me i kind of think that they are talking about me
ive been wrong before
but im wondering if its because ive had trouble with some people before and thats why i tend to believe they are always talking about me when they are around me
Hello I am 15 years old and I had social anxiety for atleast 4 years. It all started with people being judgemental about my looks. People would call me ugly and wierd looking and many other names. This is the reason that I became depressed and sucidal. I know it's stupid to have these thoughts and feelings about my looks, but I can't help but dwell and over think about it. It confuses me so much because their was this kid who was my best friend (Who was called ethan) he was so judgemental about my looks for as long as he was my friend for, but their were some times where he would be nice to me. He would call me not ugly and avarage looking, and most times he would hate me. But I dont know why. he was so negative towards me it made me want to be alone and it made me hate going past people because I didn't want to be judged by them. He and many others has made me think life as pain and unfairness and I either want to hurt them and torture them or just hang myself. Please help me I am trying to be confident but Its so hard.
Hi, I've suffered from PTSD turned into Agoraphobia for almost 10 years.
Thank you for writing this, it helps a little. I still can't stop myself overthinking, and its driving me to the brink of insanity. I ruined a perfect chance at a relationship today, over a minor tiny detail that i couldn't stop obsessing about. I try constantly to find way to distract myself, but i can never do it. My mind just takes control, and i have no control over it.
I really appreciate people who write things like this!
Hello Tanya!
I don't know how to start. Because I feel like I have so much to say that I cannot organize all of my thoughts. I need help, I feel so hopeless, I don't understand myself. In my last year of middle school I used to feel so confident, so sure, it was my best year, I felt so much prettier, happier, so grateful for life and everything, I'd never overthink because I would be so sure, but then, when I started high school two years ago I decided to be immature, stop being grateful, I know it sounds so stupid. It is, and it was the worst decision ever, I don't even know why I did that. I thought they were going to be the years that would do make mistakes to be better, but I already was good enough, enough to think that I could better myself being good enough (idk if that makes sense). I regret it and I tried to change it but know I feel like it has become a habit that I can't change. So I just feel, confused, I don't know how to feel because sometimes I feel so sure/confident but later I feel so crappy like I don't know, so weird, so insecure about myself but at the same time I feel like Im not. In some way I just don't know why and what to feel, even what to think. I think I overthink my feelings and I don't know what to do so then I just feel like depressed. Anything you could say would really help me.
I have social anxiety, since i was at school, I am now 27. I tend to spend too much time thinkinng, i get a persistent racing thoughts most of the time, especially when i'm stressed or anxious. I also have aspegers, which i think may contribute to my thought. The thoughts i tend to get are very unusual, like sometimes i can think about something that i have just done but exactly how it happened, like as if im reacting it in my head, or sometimes i often get a intrusive thought where i think i don't like something when really i do. I also occasionally, but most often don't, get unintentional sexual, self harm, harming my parents or my cat. I do quite often get anxious thoughts such as worrying thoughts like someone is going to say something that will stress me out or at times i can worry about things that will happen. But because I've had them for such a long time they have progressively gotten worse, due to not having the right help i need, but stress and my anxiety has made it worse and because i focus on them too much, which i find extremely difficult to resist them. I'm not sure if they are partially related to my autism as well as my anxiety but sometimes i question if some of the thoughts i get like the unusual one's are related to my anxiety or my autism, as these thoughts are really odd. I very often question if there's something wrong with my brain or if i have slight mental retardation, sorry for using that term, because i can't think of anyone with anxiety or austism who experiences this. I have tried a lot of medications, therapists and psychologists but nothing has ever worked. Please be completely honest even if you think it is a intellectual disability or something that i haven't heard from, as it would help me understand why i get this going on in my head?
Tanya thank you ! This has been plaguing me for so long now, this morning was one of the worst, I was just walking around the house like a maniac trying to find something to keep my mind diverted. Worst thing is there was no reason for me to be freaking out, nothing is happened/going-on right now that could generate this type of panic. But your advice is fantastic. Focussing on a mute object and thinking about the way it's shaped or what it's made out of. It's calming to think about something that has no effect on my bigger picture. Thank you for this, saved me a lot of stress.
Great article, its reassuring to know there are other people who have the same things going through their mind, loved the gerbil analogy, although it feels a bit more like a time lapse video running at an extreme speed...think Madona's ray of light video form the 90's...or was it the 00's (sorry its the only way i can describe it). its also accompanied by a constant cacophony of panic.
My anxiety was brought on following a brain injury, along with memory and cognitive issues, which is why its pretty difficult for me to deal with, its like I'm a different person.
I've been taking some nootropics which seem to help with some things.
I agree the video helped for the length of the video lol!
enjoyed the article as well!
Leave a reply