Bipolar Disorder and Ghosting: It's a Big Problem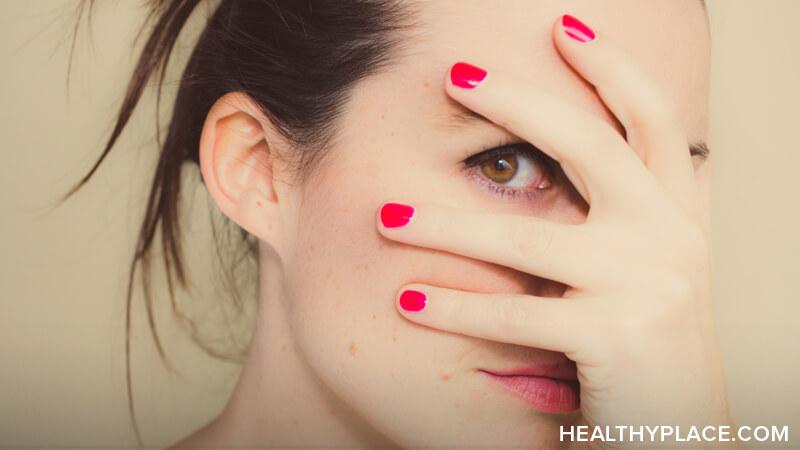 Bipolar disorder and ghosting is a big problem. I didn't realize the extent of this problem until I saw the number of comments on my recent YouTube video, "Ghosting and Bipolar Disorder: Why We Do It".
What is Ghosting? The Role It Plays in Bipolar
Ghosting is a contemporary term used for when a person completely cuts off all communication with a friend or romantic partner by not responding to texts, ignoring calls and acting as if the person no longer exists. It is done without a reason or an explanation from the person doing it. One day they are a part of your life, and the next day they disappear from it without warning. It negatively impacts friendships and romantic relationships. Ghosting is done by many of us living with bipolar disorder, especially during bipolar depressive episodes.
"I'm guilty of this when I'm hypomanic and in a negative mood and I'm super sensitive and I get easily hurt or angry at people and instead of confronting them, I just ghost them when they try to contact me." ~Xoxofmw, YouTube commenter
Why Do People with Bipolar Disorder Engage in Ghosting?
Those of us living with bipolar disorder definitely have a problem with ghosting people. It doesn't matter whether it's someone we're dating or friends with. Unfortunately, sometimes we're even ghosting our family members.
I have bipolar II and yes, I've ghosted people. Why? It feels more comfortable for me to cut off all communication with another person when I am struggling with highs and lows. Secondly, when I am dating someone, the fear of being rejected due to my diagnosis of bipolar disorder is always present. That makes me push another person away when they get too close. Thirdly, the stigma of mental illness causes severe anxiety in those of us living with bipolar disorder. Although a person we are romantically involved with may not be showing signs of rejecting us due to bipolar, we feel as though it is inevitable that at some point it will happen.
"I just do this on a low episode. I see it as protecting friends from me dragging them down to my level. Plus, in all honesty, I can't deal with feeling suffocated whilst in the low and just want to be left on my own. It's easier that way. ~ Claire, YouTube commenter
Self-stigmatizing is another significant reason for ghosting as well. Those of us with bipolar disorder subconsciously believe that we are unlovable and undeserving of friendships and relationships, which causes us to act on ghosting. The stress and pressure to explain the reasons for pushing away creates anxiety; which is where ghosting comes into play.
"I do this a lot. I stop answering phone calls and texts, and avoiding any form of communication with friends and family. In my mind, I don't stop loving them or care for them. I just feel overwhelmed and I feel the need to create a distance between me and them so I can calm down. Now, unfortunately, this can take from a couple days to a couple weeks." ~ Katia, YouTube commenter
The Affect Ghosting Has on Others
Over the years, I have realized that regardless of what is going on in my life, ghosting is hurtful to another person. I have been on both sides of ghosting, and it is very harmful and causes extreme insecurities.
"I just lost a friend who deals with bipolar. She just cut me off. I tried and tried. Dealt with the ups and downs and dealing with my own depression and insecurity, it was very difficult. ~ Embree, YouTube commenter
Bipolar disorder is not an excuse for hurting another person. Although we deal with anxiety and depression and it leads to many of us isolating ourselves, we are still responsible for the way our behavior negatively affects friends, family, and romantic partners. There are people who care about us, and they deserve a proper response even though it is difficult for those of us living with bipolar disorder to do so at times. This is something I am working on as well because I severely struggle with opening up which leads me to ghosting other individuals.
My ex, who's getting well with depression and very positive about her progress, left me since I have bipolar 2 and I isolate myself every once in a while. She doesn't like it since it triggers her. So she broke up with me and told me I can't give her what she needs. ~ Chaz, YouTube commenter
Self-awareness is essential when it comes to behaviors like ghosting. Many people with bipolar disorder do not even realize that this is a problem. Building strong relationships without openness and communication is impossible. Acknowledging the problem is the first step to self-awareness and learning how to properly communicate with others to prevent anyone getting hurt or feeling ignored by someone they care about.
"When I feel like isolating, I "check on" the people around me, my friends in recovery. This way I am not alone, but I am not talking about ME, I am checking on THEM. Seems to help! ~ BipolarLightningBug, YouTube commenter
What about you? How has being ghosted by someone with bipolar disorder affected you? And if living with bipolar disorder and ghosting others has been part of your life, why do you do it? Also, helpful suggestions on how to end this type of behavior are welcomed.
APA Reference
Blum, H. (2019, January 28). Bipolar Disorder and Ghosting: It's a Big Problem, HealthyPlace. Retrieved on 2023, October 4 from https://www.healthyplace.com/living-with-bipolar-blog/2019/1/bipolar-disorder-and-ghosting-its-a-big-problem
Author: Hannah Blum
My story is similar with the ghosting when he's upset. He drove home at midnight after an imagined slight/completely illogical after two huge glasses of wine. Would not answer the phone all night and next day. Returned things we had bought together. I have many examples of drama and pain and immaturity. We only dated for 4 months but he was so incredibly loving and sweet when not in a mood. I was never allowed to have my own moods/he could not handle it and they were mild compared to his. He insulted me SO bad the other night as we crawled into bed. I was up all night with tears and waves of stress. I begged him to apologize and he insisted he meant it and that "it was not that bad". The entire 4 months have been either extremely loving or extremely irritable. That day I made him leave his key and take his things out of my house. All he had to do was acknowledge my pain. I just don't understand it but it's on par with the whole way the relationship has been. This happened yesterday and although I feel relief I still love him and want to make sure he's ok. He is ignoring my texts and phone calls completely. I'm sure by now I'm "against him" like "everybody else". I know in my heart I did the right thing because I'm recovering from a car accident and I also have my own mental health to worry about. I know my life with him would be very hard. It's all so painful. I hope he sticks with his new therapist and that we can work it out one day. If anyone would like to answer this post I would really appreciate it. He's such a tortured soul who literally does not know how to have a respectful, adult conversation geared towards resolution. Instead he just escalates. I feel my own mental health regressing.
Thanks everyone for sharing your stories. I have a couple of people in my life with bipolar disjunction. . When on medication they can seemingly function normally. I have one friend that goes back 60 years. We have been close. Somewhere around 5 years ago I noticed her erratic behavior. We don't live in the same city so this became apparent when she visited us. Unfiltered and no boundaries the behavior was quite a shock. I won't go into details but after 5 days of that and speaking with her family members much came to the surface. She said she hadn't brought enough meds with her. Whether or not that was true she had people feeling like babysitters before she went home. She would have periods of normalcy. For a time afterwards she lived with her daughter and that not working well for the household she went to a half way house of a sort where meds would be sorted. Then she finally got her own place. Our friendship has been through many phases. I decided to move nearby because I had not recognized patterns to her behavior changing and getting worse over time. We had many conversations where she seemed herself, doing the right thing to get help. Now that I am here, after and for many months she has cut me out of her life. I was hurt at first even angry. I am approaching indifferent as I have decided to cut ties with her. It is too much of a roller coaster. Also my husband and I will be moving back to where we came from. I read somewhere a statement that addresses this issue very well. Having bipolar doesn't give you a free pass to treat friends with no respect. So we move on. She is on meds, found a new therapist and has a life even in the pandemic. The difference is I am not in it, but it is my choice not hers.
WOW! ALL OF THIS IS INCREDIBLY INSIGHTFUL AND VERY CLARIFYING TO SAY THE LEAST. RECENTLY STARTED DATING A CHILDHOOD LOVE I'VE KNOWN FOR NEARLY 30 YEARS NEVER KNOWING ABOUT THE BP UNTIL JUST A FEW MONTHS AGO. GHOSTING WHILE LIVING TOGETHER HAS BEEN ONGOING FOR OVER 3 WEEKS NOW, CONSIDERING THE VERY INTENTIONAL DAILY COMMUNICATIONS THROUGHOUT THE DAY COMING TO A VERY ABRUPT HALT HAS RAISED RED FLAGS ON SO MANY LEVELS. AFTER READING ALL THESE POSTS/EXPERIENCES IN AN EFFORT TO EDUCATE MYSELF, I'M NOT SO SURE THIS WHAT I WANT MY LIFE TO BE IN AN ONGOING RELATIONSHIP WONDERING AND WORRYING WHETHER OR NOT EVERYTHING IS OR IS GOING TO BE OKAY AS I DO HAVE TO CONSIDER MY OWN MENTAL/EMOTIONAL STATE OF HEALTH AND SELF RESPECT.....
I WISH she would just ghost me. I've been in a relationship with somebody with Bipolar and OCD personality disorder since summer, and have been trying to get out of it almost the entire time. I realized it had been a mistake early on, but she managed each time to keep me in it with threats, fear, obligation and guilt, and frankly, she scares me. I've tried just honestly talking to her and she winds up having a panic attack. I've tried just taking a break and some space, and she felt abandoned and wound up in the ER. I wish I could just escape this. I would have just sent a text, taken the coward's way out and been done a long time ago if she didn't know where I live, but I can't risk her showing up and being crazy, and I also don't want her life to fall apart or she hurt herself.
My girlfriend of three and a half years ghosted me. She was diagnosed BPD-1 about 20 years ago. I believe she also deals with bipolar psychosis or bipolar with "features." I don't think she's aware of the psychosis aspect of the disorder and that she suffers from this. Her mind creates alternate realities and delusions. She blocks out or represses stressful, anxiety-inducing topics or experiences. We both have children and decided to try living together. We discussed before taking this step, that if blending families didn't work out for any reason, she'd move out and we'd continue our relationship. Well, it didn't work out because of differences in parenting style and philosophy. We talked about how the best thing for the children would be for us to live in separate households. We were in agreement and she said she'd start looking for a new place. After about a month, she hadn't looked for a place so I asked her about it. She told me that we didn't have any such conversation. I asked her every couple of months if she was looking and she began changing the topic or ignoring my question all together. There were several heated exchanges after that and finally two years later and more heated exchanges, she looked for and bought a house. She tried to get me to ask her to stay at every step in the process but I held firm. This was in the best interest of our children after all. Once the deal was done, we talked again about how we would continue our relationship. I pointed out that it wouldn't be too different since her new house was only 6 blocks away. Everything went downhill from there. When it was time to pack and move her belongings she said she was too overwhelmed. I ended up packing and moving all of her stuff. As the move was nearing completion, I was dropping a few things off and noticed that she hadn't been to bed in many days and was manic. A day later I asked if she was manic and if she should make an appointment with her doctor. She told me that she wasn't manic. I had moved the last of her things. I hadn't heard from her in about a week and her mail was piling up. I texted her and asked if I could bring her mail to her. She responded that I was not to call, text, come to her house, or go to her daughter's school or she would call the police and file for a restraining order against me. I checked in periodically and the threats started coming from her girlfriend. She accused me of stalking and harassing her friend. One of her psychoses is paranoid delusions, the belief that someone is out to get her, wants to cause her harm, or is stalking her, etc. She has vilified me and developed alternate realities to cope with her feelings of rejection, despite my letting her know that I wasn't rejecting her and that I wanted her in my life forever. I told her we'd live like this for a few years and then when the children are older, I would marry her. Her response was that I was trying to manipulate her. My best guess is that her manic episode triggered her psychosis. She believes the alternate realities her brain has created to cope and has ghosted me ever since. It's been 9 months and she hasn't contacted me in any way. I want to reach out and suggest that she talk to her doctor about psychosis but I'm afraid she'll follow through with her threats and call the police. I don't believe she will ever realize any of this on her own and I've most likely been ghosted for life. She didn't formally break up with me and the last I heard from her we had a wonderful future ahead of us, then nothing. It is very painful to have the woman I love go from a bright future together to all of this with no contact in 9 months with not so much as an explanation.
Does anyone know if while they're ghosting you specifically, would they still post on social media? I went through a mania phase with a women and she just stopped talking to me and blocked her post on FB. I had no clue what happened. So I checked with some mutual friends and that's how I found out she was still posting here and there mainly about her kids. I mentioned that I knew she was doing that during a text when I was trying to figure out what the heck happened. I mentioned a post she hidden. Next thing I knew she blocked a few mutual friends so they couldn't see post moving forward. She lifted the blocks and finally reached out 3 weeks later. Then she went silent again for two weeks and blocked again! (Is that normal?) she said sorry for being flakey and she's working on it) Anyway just wondering also if it's common to do this and still post?
It's not just hard to say "this is what's going on" - as a couple people above have explained. It's needed to settle down or because you don't want them to see you like that. Ghosting tells somebody the opposite. It says, you mean nothing to me and never did, not even as a human being let alone somebody I at least said I loved.
Maybe the disease is responsible for wanting to ghost.
But your lips still work or fingers to write a note
Unbelievably cruel to another person
My best friend who is BP2 just ghosted me. We got into it a little over text, nothing big or crazy just a misunderstanding... literally went back and forth maybe 4 times total about something she was trying to tell me and I was misunderstanding. By the end of that (can't even call it a fight or disagreement) I told her thanks for clarifying and moved on to the next subject... then she blocked me off her phone, then I noticed she blocked me on fb! For what exactly I don't know 🤷🏻‍♀️ we've literally had actual fights in the past and just give each other time, but this time she just blocked me from her life. Truth be told I'm super hurt 😔 I struggle with my own issues (anxiety and PMMD) that take their toll on me and I really don't need this either. I've been there for my friend always and I want to be here now but honestly for my own peace of mind and mental health I may need to just let her go.
I was engaged to a man with bipolar for 16 months, he just broke it off in 24 hour turn around, one minute I love you more than anyone the next goodbye. I am divorced and wanted to wait on marriage because of his bipolar and some odd behaviors I was seeing, but committed to the relationship. I had been married to a man with major undiagnosed mental illness so jumping into marriage quickly was not good for me. My previous husband had another family behind my back so major betrayal and he did this as a pastor.....yes for real. So I wanted time with this person to see how his bipolar played out, reasonable request. Well as time passed I began to see some behaviors that were strange, child like behavior, like making boy noises and turning objects at the dinner table into animals, giddy behavior, constant immature joking, and other more risky talk constantly. Then rude comments about how I look but when confronted could not understand how that would hurt me, then continued to beg me to marry him and tell me how much he loved me. Then I caught him flirting with women on FB, caught him in several lies. Did not get me a birthday gift for a pivotal birthday, more odd statements that reflected promiscuous behaviors but when confrontation he goes silent. Obviously this was going south, how he talked to his parents was horrific, never would take responsibility for his own actions, oh he did in the beginning, told me about his bipolar in a deceptive way and then lied about it. Yelled at me in public, having to explain simple things to him and he literally was having trouble with easy tasks, cognitive issues, having to rephrase a sentence so he could understand, major issues, and I did my best to support and prayed as we believed God had brought us together initially and many of these behaviors ramped up recently. Well Obviously I had major reservations, and knew I could not take all of this on, it was not safe. This is not a stable person, so I knew I had to end it, however he did before me. Some of this behavior is bipolar immaturity, impulsively, pressured speech and cognitive impairment from bipolar aging, but some was just plain selfishness, pride and arrogance all wrapped up in a nice package, nice expensive clothing, nice house, nice dinners, you get the picture. People need accountability, we can't act anyway we want and trample others, Obviously he did not act like this in the beginning or I would have walked so if behavior at times can be controlled in the beginning what happened. Glad its over, don't like the sudden turn around but thankful he revealed his true self.
The man I love keeps ghosting me. He shows up showers me with attention then disappears for months.
Last time he even asked to marry me. Then disappears. He told me he was in a dark place.
I feel so sad about all that is happening.
My wife of 7 1/2 years was diagnosed BP2 last year after she went into a depression and moved out and had a short affair with an ex. She started meds and after a while we started putting the pieces back together and she moved back home eight months ago. Things had been going seemingly well, with a spell here or there that would last a week or two where she would question whether she should be in a relationship. After a short time, she always would come back. But things had been going well until the coronavirus put her working from home for six weeks. During that time she started drinking more and more, going to bed by 8 p.m. and just not her normal self. Then, as soon as she could start going back to work, she told me she had rented an apartment in another town 30 minutes away and moved out the next day. She said if she can't make a relationship work with me, she'll never be able to make one work. She says she needs her own personal space and needs to rely on herself for all the things she wants and needs. She has barely been in contact since she left three weeks ago, just occasionally texting to say she is sorry or to ask if I'm ok. The last thing she said to me is that maybe we could have some sort of relationship someday. What? I'm giving her the space she wants but I really think her drinking with her meds may have triggered something. She talked to her doctor but lied when he asked if she'd been drinking. So I'm also wondering if this is the end or just another spell I should try and wait out? There is no easy answer I know.
Hi, mine is using olanzapine 20mg daily, guess he is bipolar. We were planning to marry, then he told me that he doesn't want. 2 months later this issue, he broke up with me and wanted to remain as friends. And exactly like yours, sometimes he was chatty sometimes, sometimes ghosted. Yesterday I told him that I get hurt when he ghosts me and found out that he read that message and blocked my number. I don't know what to do, I just love him too much. Will he unblock me?
Hi all,
I am really stuck and torn on what exactly my situation is. My boyfriend and I have been dating for 2.5 years and he has bipolar 2. He came out and told me about his bipolar 4 months ago, in which I didn't see anything wrong with it, as I'll always love him regardless. Shortly after, in January, he began considering going on meds and taking lithium.
Once he began lithium, I noticed that he had hypomania quite often. When he does, we tend to argue more.. and I would try to avoid these arguments as much as I can, given that he's not listening or trying to speak loudly and overlapping me.
During this time, we've been in the process of talking about getting engaged and having a future together. His goal was to propose sometime this year. In doing so, he suggests that we should try living together, so he began his process of looking into apartments. We started going to apartment viewing, while also trying on ring styles/sizes, etc.
One month ago, we got into a small argument in which it triggered into him asking for 3 days of space. This 3 days turned into 1 week, then 2 weeks, then 3 weeks and now a month. During this entire month, he ignored both calls and messages of mine when I had asked if he was ready to chat. So 2 days ago, I decided to reach out to him to see if he was ready to talk and he said he was. He told me this wasn't going to work out and that the last 3 weeks, he was able to spend all that he wanted and do things whenever he wanted. This was devastating for me to hear because he had always been able to do and spend however he likes/wants.
I'm just a little confused on whether this is all part of him having bipolar or the effects of the meds, or if it's just simply commitment issues. I'm so tired of excusing his behaviours and being stuck on what's acceptable and what's not. I'm currently in the last semester of my college and battling practicum at this point and this world-wide COVIC-19 pandemic. Having to move on seems almost impossible, given that I can't even do normal things with this social distancing and isolation. I'm just so torn that he's selfish enough to not even recognize the mental stress he's putting me through. When I asked what he was thinking, he would only reply with 'these are my thoughts, you don't get to know them.' How does one go from so loving to a completely cold and mean person? It's like he threw everything that we had planned for away. I just don't know who he is, what this is, am I in denial and excusing all this behaviour for him having bipolar. I just want answers.
My bipolar husband went off all his meds and the urging of his family and left me and the kids two and a half years ago after 12 years of marriage and went to live with his mom . He didn't tell us he was leaving just walked out and said he was never happy and told us to keep or donate all his stuff and he would take two suitcases only and he ghosted us . When we were together he would often go radio silence off and on and dissapear for days or hours or weeks at a time and ghost but would always reappear . This time he hasn't shown back in our town for 2.5 years. We have had 5 seperate good week long visits but in his new location and he ghosts on and off in between and texts and calls very sparingly and refuses to barely answer any calls and often ghosts and refuses to answer texts off and on ghosting sometimes refuses to see us when we visit or not following thru with visiting us but he has been quite good with at least texting something every two weeks if not every couple of days . He goes thru period where he is really communicative and then really uncommunicative. He is very adment he doesn't want a divorce and has apologized repeatedly for hurting me like that for ghosting and leaving and promises we will have a traditional marriage again . He is currently jumping locations again across the United States with his mom and wants me to wait an additional 2 years for him to save up money to buy us a house in yet a different location . I really love him and enjoy when he isn't ghosting and take my marital vows seriously and hate to give up on a sick spouse but how do I tell the difference between ghosting because of illness and ghosting to play games ? I suspect he just doesn't want me to forget him and move on with my life without him and he might be playing games but when I accuse him or ask him nicely he gets really offended and his feelings are hurt and he accuses me of thinking he's a asshole and thinking bad about him and not giving him the benefit of the doubt and ghosts again . He says he doesn't mean to ghost but doesn't know what to say .. Is this typical of bipolar ghosting or is this simply playing games how do I tell the difference ?
Leave a reply