Bipolar Disorder: 3 Must-Ask Questions for Your Psychiatrist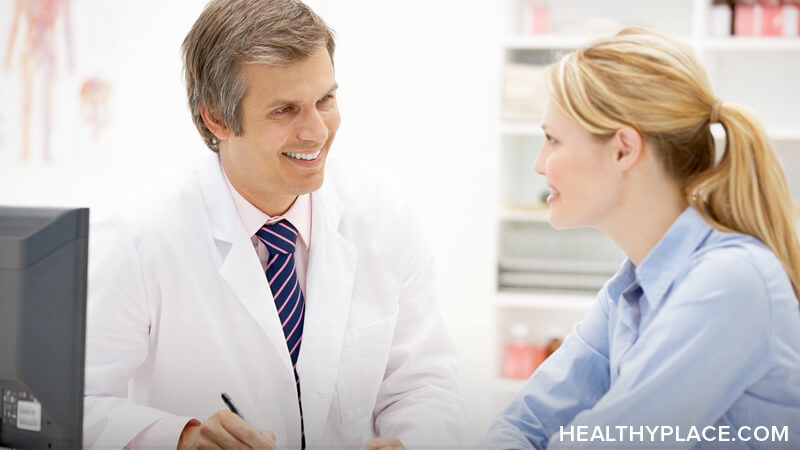 Finding the right psychiatrist for bipolar disorder treatment was one of the most significant challenges I faced after receiving my diagnosis of bipolar 2 disorder. The treatment process taught me many things, specifically the importance of asking your psychiatrist questions regarding your bipolar treatment. So I'm sharing three must-ask questions for your psychiatrist when you live with bipolar disorder.
Will I Have a Say in My Bipolar Medication?
It is essential your doctor consider your opinion when it comes to discussing bipolar medication. In my experience searching for a psychiatrist, many were unwilling to listen to my opinion about my diagnosis of bipolar 2 disorder. In many situations, they made it clear that they were the expert and I was the patient, which only made me feel incapable of making an important decision. It is not meant to question the psychiatrist's credibility or make extreme demands, but you want to make it clear that you also want to share your input. It is your life with bipolar disorder, and everyone works differently, which makes finding a psychiatrist who is willing to listen to your needs and wants essential to living a good life with bipolar.
Why Did You Become a Psychiatrist?
In one of my first appointments, shortly after my diagnosis of bipolar 2, I politely asked my doctor why she decided to become a psychiatrist. She told me her father was a psychiatrist and did not expand further on the subject which made me feel very uneasy. The lack of empathy and passion for mental health made me question her approach to treatment. The experience made me realize that one of the most important questions for your psychiatrist pertains to why they chose a career in mental health. In my opinion, if they express a caring attitude, it makes those of us living with bipolar disorder more comfortable.
Can You Help Me Reach My Bipolar Treatment Goals?
If you are struggling with bipolar disorder medications and have been going through treatment for a long time, don't worry you are not alone. As someone with bipolar, I know it's easy to settle when it comes to medication, but you should not feel obligated to take medicines that do not make you feel any better. I thought about stopping my bipolar medication treatment at one point after my diagnosis, but fortunately, I gave it one more shot. I felt like I needed to be more assertive and confident with my psychiatrist. On a piece of paper, I drew two columns, one labeled, "How I Feel," and the other marked, "How I Want to Feel". When I went into appointments with different psychiatrists, I showed them the list and asked if they could help me attain these goals. Some told me that I had to be more realistic, and others gave me no reaction. After some time, however, I found a doctor that listened and was more than willing to help me reach these goals. She has been my psychiatrist for five years.
These three questions for your psychiatrist will hopefully lead to one that treats you with respect and is willing to listen with both empathy and determination.
APA Reference
Blum, H. (2018, November 12). Bipolar Disorder: 3 Must-Ask Questions for Your Psychiatrist, HealthyPlace. Retrieved on 2023, December 5 from https://www.healthyplace.com/living-with-bipolar-blog/2018/11/bipolar-disorder-3-must-ask-questions-for-your-psychiatrist
Author: Hannah Blum
Psychiatry as medical discipline require more capability to interpersonal relationship than others branches of medicine. So, it is important to develop the constructive communication in order to help patients with mental and emotional disorders. Your three must-ask questions exhibit great contribute to achieve willingness clinical psychiatric performance. In this direction the first step to this therapeutic accomplishment is unconditional readiness to to treat people with mental difficulties. The second prerequisite to be mindful clinical psychiatrist is to respect the personality of mental illness persons, without any primitive prejudice. While the third interpersonal feature of any clinical psychiatrist is the psycho-social habit to listen carefully psychiatric patients. In a word, each clinical psychiatrist should be empathic through daily clinical practice. Otherwise, each formal professional medical and psychiatric preparation would be unuseful and insufficient tool to comprehensive psychiatric treatment.
Hi Dr. Musli Ferati! I really appreciate you sharing your professional opinion on this subject. Psychiatric treatement is the first step to living a good life with bipolar disorder, which makes the communication between patient and doctor important. Your insight is extremely helpful and I look forward to you sharing more insight on future posts! Thank you! -Hannah
It's amazing how empowered having the right questions can make us. This is such a great resource read for people to have! Thank you for sharing this insightful honesty and wisdom.
Hi Lizanne! I agree! Taking a more assertive approach and asking questions gives those of us living with mental illness more confidence! Thank you for commenting! -Hannah
Leave a reply