Creative Coping Skill For Binge Eating Disorder: Art Therapy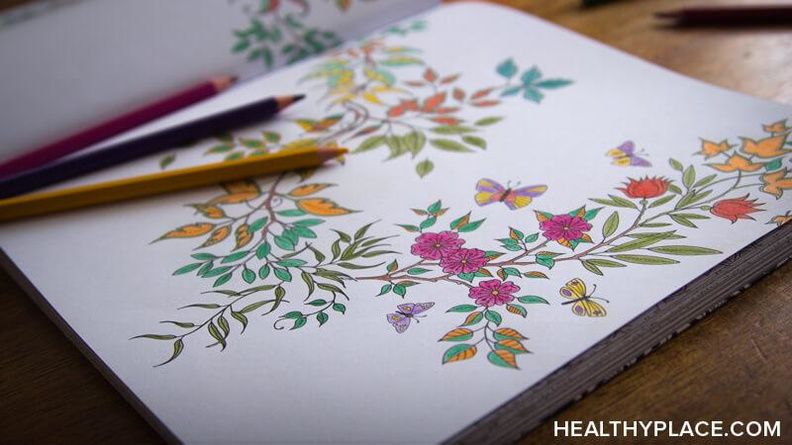 There are a lot of creative coping skills for binge eating disorder and one of them is art therapy. Painting, writing, drawing, sculpting, and crafts can be valued tools in your binge eating disorder creative coping skill set. The great thing about art therapy as a creative coping skill is that it can be low-cost or even free and often requires as little as pen and paper.
How Art Therapy as a Creative Coping Skill Helps Me
Although I was only diagnosed with binge eating disorder in 2012, I had been dealing with its effects for my most of my life. Being a very artistic person, I had always found the arts a great channel for my frustration and emotions and even my experiences with my mental health problems. I've tried a variety of art forms and still have some on my bucket list to try.
For example, I can't draw to save my life, but I love to color and, especially, to write. I recently purchased a prompt journal and I keep it by my desk so whenever I need a moment to myself or something to distract me from wanting to get food, I write for a minute or two and refocus myself. I also write poetry and short stories about living with an eating disorder and my thoughts and feelings about these events.
How to Use Creative Coping Skills for Binge Eating Disorder
So you have binge eating disorder and you'd like another tool in your coping skill set (Mental Health 101: Developing Coping Strategies) -- but how do you find what kind of art is right for you and how to you keep up with it? This is the fun part.
By now, you probably already know what kind of art you have an aptitude for and what kind of art you enjoy. Notice that these two facts do not have to be mutually exclusive. I can't draw, but I also don't enjoy drawing. So I wouldn't use this as a type of art therapy for my skill set. But I do love to write, so writing is one of my main tools in my creative coping skill set.
Tips For Using Creative Coping Skills To Deal With Binge Eating Disorder
Try a lot of different things. You never know what might seem silly but turn out to be really fun. Music therapy is a creative coping skill, too. Remember to consider it in your possibilities.
Take an art class at a local library or learning extension. These classes are usually inexpensive and a lot of them can be one or two nights. This will give you a taste of the art without breaking the bank or demanding too much of your time.
Be adventurous. You might think coloring is for kids, but if you give it a chance, you could find that it's really soothing and helps you find a creative spark (Calming Anxiety: an Alternative to Meditation). Don't rule anything out without trying it.
Set aside time to create. It doesn't need to be hours and hours, just a little time here and there so you can unwind and do something creative during your day. Consider it part of your daily self-care.
Explore your feelings with your art. If you choose a medium such as writing or painting, you can use this art form to express your hopes, frustrations, and all of your other emotions you deal with in regards to your binge eating disorder. Creative coping skills lead to the expression of your emotions, and they can be very freeing and very helpful in conjunction with different types of mental health therapy.
APA Reference
LaBranche, S. (2015, October 22). Creative Coping Skill For Binge Eating Disorder: Art Therapy, HealthyPlace. Retrieved on 2023, March 30 from https://www.healthyplace.com/blogs/bingeeatingrecovery/2015/10/binge-eating-disorder-and-art-therapy
Author: Star LaBranche