Insomnia and Bipolar Disorder
Can you have one without the other? Of course, you could have insomnia by itself, but insomnia and bipolar disorder are best buds. Best buds that drive me up the wall! I would kill for one whole night of 'I can't wait to get up in the morning and live life' sleep. Bipolar gods, are you listening?! Well, in case they're not, I'm off to a sleep specialist to discuss the twixt that is bipolar and insomnia.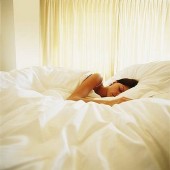 Insomnia and bipolar disorder don't mix well.
When my six year old daughter creeps in at 4:30 a.m. and whines, "Daddy...", I want to get up and yell, "Go back to bed!", but instead I wake up like a good little Mommy and attend to her needs. But what about mine? I go to bed at 9:00 p.m. and this week I've managed to sleep until 6:00 a.m. Sounds great, right? No. I wake up two to three times each night. It's not full and restorative sleep. Bipolar and insomnia prevent me from enjoying sleep.
The sleep specialist recommended a different medication: temazepam. It worked in the past, but it doesn't work any longer. I waited two hours last night to fall asleep. It was horrible. I wanted to cry. My insomnia will never get fixed, I just know it. It's so frustrating.
Insomnia is common in bipolars.
During our consultation yesterday, the sleep specialist said that she sees many with bipolar disorder and they all have insomnia. She said she believes it's a neurological thing that occurs in bipolars. Whatever it is, I don't really care. I just want some decent sleep. I can't remember when I had some decent sleep. I'd like to be able to get out of bed and have only one coffee instead of the two coffees and red bull to get me going in the morning.
I just got a call from her and she said that she'd like me to take one Xanax, one Ambien, and one temazepam. I'm rolling my eyes as I speak. Will this actually work?
Last night, I fell asleep in thirty minutes. It was heaven! No taking one to two hours to fall asleep. I fell asleep immediately. I got eight hours of good sleep. I guess the doctor knew what she was talking about! It's an amazing feeling to sleep well.
I think it just goes to show that trying new things might be hard to do, but in the end it's the right thing to do. I've been trying all kinds of things to get well. This is just one avenue, against bipolar disorder and insomnia, that may need some tweaking in the future. At least it's a step in the right direction.
APA Reference
Fender, C. (2010, April 5). Insomnia and Bipolar Disorder, HealthyPlace. Retrieved on 2023, November 30 from https://www.healthyplace.com/blogs/bipolarvida/2010/04/insomnia-and-bipolar
Author: Cristina Fender
I've been looking around healthyplace.com and actually am impressed by the amazing content here. I work the nightshift at my job and it really gets boring. I have been coming right here for the past couple nights and reading. I simply needed to let you know that I've been enjoying what I have seen and I look ahead to reading more.
Leave a reply