Three Herbs Everyone with BPD Should Know About
Borderline personality disorder (BPD) is a complicated disease. While a personality disorder such as BPD in itself can not be medicated, its co-occuring illnesses and symptoms can. But what it medication is not available during a sudden flare-up of symptoms? Or what if the medication on its own is ineffective? There are three herbs you should know about: yerba mate, kava kava, and valerian.Please note this is all strictly my opinion: I've had luck with these herbs when medication was not available or effective. Also, discuss any herb use with your psychiatrist--some herbs can interact with prescribed medications. Please also note that you should stay on your medication and use the herbs as a supplement, not a replacement. I keep them on hand for emergency flare-ups of symptoms--sort of an herbal first aid kit.
Yerba mate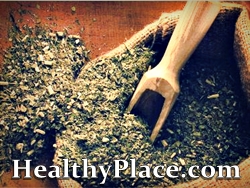 Yerba mate is an herb from Argentina. It is a natural anti-depressant, anti-anxiety and mood stabilizer. In Argentina, yerba mate tea is given to children to even out their temperaments. According to The Herb Book by John Lust, N.D., Darwin called it "the ideal stimulant". It is also known to relieve fatigue and stimulate mental energy.
My friend Donna Yarema, who owns a tea shop which carries yerba mate, calls this "the happy tea" because it seems to improve customers' moods. In fact, the shop's manager, Randee Bennett, uses yerba mate to treat her bipolar disorder. Yarema told me that mate should be brewed like a green tea; the water should be heated to just before boiling, then the herb steeped to taste.
When I drink yerba mate, I feel like I could conquer the world. Yerba mate is a perfect pick-me-up for when you have a mild depression.
Kava kava
Frankly, this is the best anti-anixety herb I've ever used. It has been used to fight fatigue, insomnia, and anxiety. It takes effect very quickly and leaves you with a mellow feeling. So pleasant was this mellow feeling that some states passed laws listing kava kava as an "under the influence" herb.
According to the National Center for Complementary and Alternative Medicine, kava kava has been shown to be beneficial for anxiety. However, studies have been suspended due to a possible link to liver damage. This side effect appears to be rare, but be warned. WebMD.com recommends not taking it for more than three months without consulting your doctor.
According to WebMD.com, kava kava does not interfere with mental alertness when taken for anxiety. "Kava may be used instead of prescription antianxiety drugs, such as benzodiazepines and tricyclic antidepressants," the site reads. "Kava should never be taken with these prescription drugs."
I haven't had any problems with kava kava, but it may interact with some psychotropic medications. Consult with your psychiatrist before using kava kava.
Valerian
Traditional Osage healer Lo Ha Wa Ti An Ka calls this "Grandmother Earth's Valium" and says his tribe used it as a nerve tonic. According to A Woman's Guide to Vitamins, Herbs, and Suppplements, valerian has a long tradition of use in treating insomnia, anxiety, and depression. I used to use it to treat self-injury urges.
According to 20,000 Secrets of Tea, valerian was used in World War I-era England to treat air raid strain. "Sedative to the higher nerve centers, valerian relieves pain, tension, and the effects of excessive strain to bring sleep in stressful situations, with no morning-after effects," the book reads. "It quiets and soothes the brain and nervous system."
The book warns that valerian should not be taken with sleeping medications, since it will enhance their effects. Low doses are recommended with breaks every two to three weeks. The book notes that it's best to use valerian in small amounts in tea blends. It's also worth noting that in about 5 percent of the population it can cause hallucinations, so be warned.
So those are three herbs everyone with BPD should know about. Remember, I'm not a psychiatrist, so this is no substitute for medical advice. Only you and your doctor can decide what's right for you. I'm just telling you what's worked for me when modern medicine either failed or wasn't available. Do your homework on these herbs or others that may help, such as hyssop, St. John's Wort or lavender. Here's to your health!
APA Reference
Oberg, B. (2012, May 8). Three Herbs Everyone with BPD Should Know About, HealthyPlace. Retrieved on 2023, December 11 from https://www.healthyplace.com/blogs/borderline/2012/05/three-herbs-everyone-with-bpd-should-know-about
Author: Becky Oberg
Hi everyone. The only reason you would think that you need any herbs for BDP or for living anyway is that you put yourself out of balance with herbs or spices. I mean any of them. I've removed them from my diet completely long time ago. It was the long process of discovering. About 20 years ago I noticed that what I eat has a huge influence on my mood. It took me a while to create my todays diet and it's still not perfect. You see there is many factors to be taken in consideration. Now I'm in the process of adjusting it to changes of four seasons of the year. Anyway, only recently I've read an article that all herbs and spices are basically poisons. In small amounts they're not lethal, but our bodies need to get rid of them asap. This is the reason why we observe very intense reactions to them. These reactions often can cover symptoms of some illnesses hence we think of them as medicine. The only way to be healthy is to eat and live in a healthy way. There is no other cure. Herbs in that matter are not different than drugs I guess. They only less concentrated. If someone is interested I think I can find that article.
About Yerba mate, I'm Argentinean, and as such, have grown on it.
It does not contain caffeine, it contains matein which has stimulant effect but certainly is different than caffeine.
You can drink mate all day long all life long ... it's not at all toxic!
I think it's very important learning how to filter all we read in internet as there's too much info, and unfortunately not all of it is legit.
That being said, herbs act differently in every organism so it's a bit of a try, test and discover what works for you.
Much love
Is Yerba mate really a good thing for borderline/ bpd? Its said, borderline personalities should avoid coffee at all costs! And without coffee they did ofter much better, than with coffee. In yerba mate its also caffeine, which boosts dopamine, orexin, serotonin etc.
I think this is important facts that should be added about the yerba mate. It can be toxic in large amounts.
I learned in psychopharmacology class that Folic Acid works wonders for mood disorders
I feel soooo sorry for you Americans! Not being able to access treatment if you can't afford it. That sucks soooo bad! I can't afford my treatment either but we have the NHS over here so I feel soooo bad for the people that need treatment but can't access it :-( hugs for alll of you!!!! :'(
So I've used natural/homeopathic medicine my whole life and also, after some pretty horrific experiences with psychiatrists, opened my eyes again to what mother earth provided me... That being said: I use kava, valerian (with lemon balm, hops and passion flower) and also used to drink yerba mate every morning for its antioxidant and energy benefits but stopped ( I'll be starting again now that I've learned about these benefits) THIS STUFF WORKS! PEACE, LOVE& LIGHT❤
Hi, my fiance was been diagnosed with BPD about a year ago. He was on medication but we lost our insurance and can no longer afford at the moment to see a doctor or the necessary prescribed meds. It's going to be a year before we are able to get back into the doc. To get meds back. So would these be safe for him to take for the next year? And is it safe to be taking all 3 at the same time? Or do you have a better suggestion to tide him over for such a long period of time?
A lady has written about a better treatment for bipolar disorder
which has improved her a lot.
The article describes bipolar is caused by antibodies and an immune connection. If that surprises people, well , another similar illness autism also has been found to have a connection to antibodies and the immune system.
Also the treatment is meant to fix the antibodies problem and leads to improvement for bipolar-disorder.
View her article:
 http://mytreatment-bipolar.tripod.com/
Can you tell me what form of kava you found most helpful? I have made the tea using traditional methods and it was so horrible tasting I couldn't get it all down. I also have kava capsules, but it made my stomach hurt.
I have never taken either form as treatment and I would gladly ensure the side effects if it will help in a crisis but if you know a better form I'll give it a shot!
Thanks for the information. Sounds like these are cruelty free aids to wellness too. Well done.
Once again, I learned something from your posts. I've known about these herbs but you put it into a very concise manner.
Thanks!
Thank you so much for your advice, Becky! I love your energy too. YOu are a beautiful person!
Thank you for this very helpful article.
Have you considered psychedelic treatment for your condition? I have had severe infant abuse and psychedelics really hepled me recover some of the memories and helped me heal a LOT.
Best wishes to you, Becky!
with love,
Gypsy
Thank you, I have just been looking for information about this topic for a while and yours is the greatest I've discovered till now. But, what concerning the bottom line? Are you certain about the source?
Leave a reply