Should Suicidal Gestures in a Person with BPD Always Be Taken Seriously?
Mental health professionals often say to never ignore suicidal thoughts or suicide attempts. Unfortunately, suicidal thoughts and behaviors are one of the symptoms of borderline personality disorder (BPD). It gives rise to the question "Should I always take suicidal thoughts and gestures seriously when the person has BPD?"
What Can Happen When They're Ignored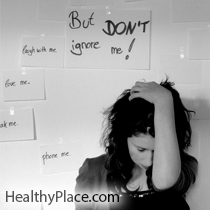 I spent the worst four months of my life at Richmond State Hospital in Richmond, Indiana. While there, I was injured, and denied medical treatment for the injury because staff assumed I was trying to get narcotics, despite the fact I have no history of prescription drug abuse. The injury quickly caused chronic pain, making it difficult to walk. In addition to this, my alcoholism was given priority over my mental illness. For some people that works, but not me. So I was in physical pain, mental pain and because I was on an indefinite commitment, there was no end in sight. It was a perfect storm for a suicidal episode. (Information on Suicide and Suicide Hotline Numbers)
I told the staff I was suicidal. I told my therapist I was suicidal and showed her the note I'd written. I told the psychiatrist I was suicidal and my plan. They all ignored me. Other patients told the staff I was suicidal. My parents told the staff I was suicidal. But the staff ignored me until I made an attempt. Then they had the nerve to ask me why I did it.
I refused all treatment until I could meet with the psychiatrist. It took four days of noncompliance, but I finally got to meet with the psychiatrist. I asked him why they'd ignored it, and he said "We had another borderline on this unit and every other word out of her mouth was suicide, so we figured you were the same way."
That refusal to see me as an individual case could have cost me my life.
What If The Suicide Attempts Are Chronic?
I spent nine months at Larue Carter, a state hospital in Indianapolis, on a unit specializing in borderline personality disorder. These were the worst cases of BPD in the state. While crises were common, suicide attempts were not because the crises were often managed quickly. That said, there were people who were chronically suicidal. Staff would triage these individuals, and take each episode of suicidal thoughts on a case-by-case basis.
For example, we checked in with staff on a daily basis, giving our stress level on a scale of one to ten. Staff would establish a pattern with us, and when our stress level was higher than normal, intervene with a suicide assessment, confiscating potentially dangerous items such as shoelaces or putting the person on 15-minute checks. If the person often had a high stress level, he or she was taught stress management techniques.
While a high stress level did not always equal an intervention, patients were always taken seriously. I remember one patient went off while I was getting my medications, and the nurse said "He's angry because I've learned to ignore him." I reported that, and she was fired after an investigation revealed other mistreatment of patients. Even in the case of BPD, suicide threats should never be taken lightly. They are, more often than not, a genuine cry for help by a person who doesn't see any other way to deal with the current situation.
You can also find Becky Oberg on Google+, Facebook and Twitter and Linkedin.
APA Reference
Oberg, B. (2013, December 11). Should Suicidal Gestures in a Person with BPD Always Be Taken Seriously?, HealthyPlace. Retrieved on 2023, December 9 from https://www.healthyplace.com/blogs/borderline/2013/12/should-suicidal-gestures-in-a-person-with-bpd-always-be-taken-seriously
Author: Becky Oberg
I have BPD and throughout my life been called an attention seeker and crying for help both are my worse triggering words I want to die more than ever since my husbands death from cancer 18 months ago want to join him so much yet when I attempt suicide its never taken seriously I hope one day I'm successful will be the biggest two fingers and told u so to mh staff ever they leave me abandoned and more desperate than ever
I was recently diagnosed with BPD I find that I am often misunderstood. I am seeking help however it's a difficult journey especially when I feel suicidal like I do right now. I've been given the tools to deal with this problem by my psychologist especially when I'm going through my emotional wave. Whoever suffers from this, there is hope. Take a deep breath, and remember to take things one day at a time, the wave will pass
I have a friend that is suicidal and she is 12 and so am I and I have once cut myself and I got help and so have she and I will always be there for her if she needs me or have suicidal thoughts so remember I am here for you to
A comment on the: He's angry because I've learned to ignore him." I reported that, and she was fired after an investigation revealed other mistreatment of patients. -- this is called Liberum veto or "I wont allow it". The most unhappy person can overrule a large number of persons who don't find any reason to complain. This flawed Polish form of representation, with downfall in 18th century. Supposedly listening to customers is always the best and liberum veto removes a bad apple. The problem is that it also removes good employees as well. Presumably the substitute was more friendly, but if the substitute had no significantly better ability to make unhappy people happy then nobody won. But the new employee should by all logic have less skills than the old employee and therefore the firing the was in the interest of the few, however not in the interest of the many. You think you did everyone a favor, but may just have been the opposite. A large number of patients lost service level instead of gaining more of it.
I bellieve that is among the such a lott significant information for me.
And i amm happy reading yyour article. However want to commentary on few general things,
Thee web site style is ideal, the articles is really excellent : D.
Excellent activity, cheers
I had a boyfriend who was BPD and alcoholic. As far as I know he never got treated for the BPD. Everybody assumed if they could get him to quit drinking, he would magically recover from his severe mental illness (which he was drinking to self-medicate!)
He tried to commit suicide several times before he was successful. There were at least two occasions on which he simply tried to drink himself to death, both times requiring hospitalization (or it would have worked). Next up was an attempt to stab himself to death. When I could not contact him (I had broken up with him at his point and he had gone to live near his parents, 300 miles away) did I ask his parents to go check on him. They found him lying on the floor in a pool of blood.
Only a couple months later he totaled a car in a single-vehicle crash that was probably another suicide attempt.
And six months after that, for some inexplicable reason, his parents left him alone in the house where they had loaded guns, and he shot himself in the head.
So yeah, I have to agree. Not every borderline is just "acting out" when they threaten (or even attempt) suicide. At least some of them mean to do it, and will try increasingly more effective means until they finally succeed. I think it's ridiculous that medical personnel think they can ignore these people who mean so much danger to themselves (and by extension, to others--the person I'm speaking of left two teenage children).
I totally agree with the above comment. Reading this post brings up such feelings of anger over the way I was treated in the past. This is an excellent post, Becky.
Becky thank you once again for a honest smart post. Thank you for working at this.... I am sure it is very hard sometimes to keep it up but I agree with Tom Cloyd, those that can need to keep talking/writing about it. And thank you to Tom Cloyd too for his well written comment to Becky's post. I for one really value what you had to share.
Becky, this is a courageous, informative, and useful post. Thank you for writing. As mental health professional, I've treated (very successfully) BPD, and I know that the perspective you advocate concerning suicide is compassionate, effective, and the professionally correct one. Period.
I've also done a lot of suicide intervention work, and I know that every communication regarding suicide should be taken seriously until the matter is resolved. If the person is doing it habitually to call for attention, then they obviously NEED attention. What's so difficult to grasp about that, I've always wondered?
BPD has a reputation for being difficult to work with. Well, there are a number of diagnoses about which that could be said. BPD in particular is difficult if one doesn't have a clue! That's always been my professional response. It actually makes a good deal of sense, if you learn about it, and it definitely responds to correctly structured treatment. We have good research on this, and it's just NOT news any longer.
We are in the midst of an awakening in mental health, concerning a number of matters. Growing awareness of the importance of trauma history and attachment failure history are two of the most important sources of this awakening. I hope to see the day when we can pretty much be assured that people with BPD are competently treated no matter where they go for help. We're not there yet, however.
That's one reason - and there are others - why your post is valuable. People need to know how things are, and how they really ought to be. We'll just keep talking and writing until they get the message.
Leave a reply