Why We Need to Reform Military Suicide Prevention
I became suicidal while on active duty in the Army. What happened next was a classic example of how not to help a suicidal person.
"Snap Out" of Suicidal Feelings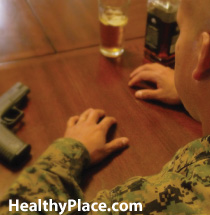 My buddies told me to snap out of my suicidal feelings or it would go on my military record. My drill sergeant threatened me with disciplinary action in front of the entire company. I was denied treatment for more than 24 hours. The psychiatrist asked my drill sergeant, "Why didn't you bring her sooner?" I was given a medical discharge, a 30-day supply of medication and a list of mental health providers in my area.
Such action is why the suicide rate in the military is so high. In this post, I discuss my experience and the need of reform military suicide prevention.
You can also find Becky Oberg on Google+, Facebook and Twitter and Linkedin.
APA Reference
Oberg, B. (2014, September 30). Why We Need to Reform Military Suicide Prevention, HealthyPlace. Retrieved on 2023, December 1 from https://www.healthyplace.com/blogs/borderline/2014/09/why-we-need-to-reform-military-suicide-prevention
Author: Becky Oberg
I saw so much of that!! Your blacked balled right off the bat. The DS has no feelings what's so ever either from what I witnessed. Their feelings are that you shouldn't have joined if you can't hack it and or why the hell did you get through MEPS. So they'll really make a Soldier's life a living hell if they think that one is suicidal. Like I said, I've seen it time and time again. I almost became a DS just to stop it and wanted to make up for those who weren't caring at all. The Military has got to stop this labeling crap and make sure that all personal can feel that their careers are safe now and in the future!! This is why guys and gals are killing themselves mostly. Their afraid of their Unit's reactions and the "what if's". And besides being in so much pain of course.
A commander recently received an e-mail from a soldier that seemed suicidal. His intervention saved that soldiers life. Sustainability and prevention awarness is the Army's top priority. It is the responsibility of articles like this to highlight the assistance available at each post installation or VA hotline (1-800-273-8255 and Press 1)
Leave a reply