Extreme Emotion Coping Skills for People with Borderline PD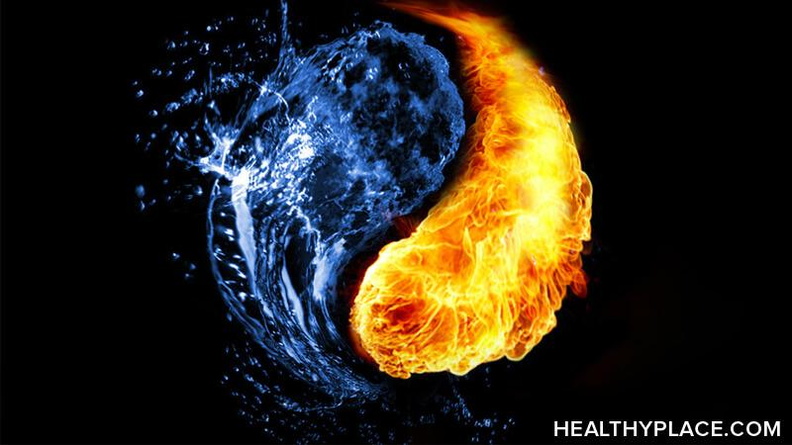 Coping skills for borderlines experiencing extreme emotions are critical to develop. Highly intense, emotional reactions are one of the dominant features of borderline personality disorder (BPD). How can we return to ourselves when we're caught in an emotional whirlwind? What coping skills can be we learn for dealing with extreme emotions?
Regulate Borderline's Extreme Emotions
Understand Emotion Mind
When we're experiencing extreme, emotional reactions to something, we're in what dialectical behavioral therapy (DBT) refers to as "emotion mind." In this state of mind, we are prone to impulsivity, irrational thinking, catastrophizing, and self-destructive behaviors. We often feel unsafe in these moments. In the past, my extreme emotions led me to believe that my loved ones were abandoning me, that I was a terrible person, and that I was in serious and urgent danger.
Wise Mind and What It's For
Triggers for extreme emotional reactions can vary -- really, anything can set off emotion mind, depending on the individual. The "why" isn't what matters here. What's important is how we manage these emotions in order to return to what DBT calls, "wise mind." Wise mind is essentially a cross between emotion mind and reasonable mind. You're in wise mind when your emotions align with the facts of a situation.
Goal Is to Return to Wise Mind
It can be extremely difficult to return to wise mind when extreme emotions are dominating you. In less severe manifestations of emotion mind, we can return to wise mind by using simpler coping skills, such as distracting ourselves with cat videos on YouTube or curling up in a blanket nest. But that's not always enough. In extreme situations, you may need to use skills like TIPP, which stands for "temperature, intense exercise, paced breathing, and progressive muscle relaxation."
TIPP for Coping With Extreme Emotion
In this video, I talk about how to utilize TIPP and other extreme emotion coping skills in borderline that can help you move from emotion mind to wise mind.
Find Emily on Facebook, Instagram, Twitter, Google+, and at her blog.
APA Reference
Eveland, E. (2016, May 17). Extreme Emotion Coping Skills for People with Borderline PD, HealthyPlace. Retrieved on 2023, December 5 from https://www.healthyplace.com/blogs/borderline/2016/05/coping-skills-for-borderlines-experiencing-extreme-emotions
Author: Emily Eveland
I've always known I've been different. I've always went from deep infatuation with a partner, to the next day telling myself I don't love them and they're disposable to me (even though they aren't). I just do this to avoid the abandonment, which of course isn't a thing. My partner never intended to leave. The thoughts are all in my head. I've never known why I have acted this way...I just assumed I was a selfish or bad person, despite me not acting in a selfish manner in other areas of my life. Upon this week discovering I have BPD, everything in my life now makes sense. I now know when I'm having a wave of emotion, it isn't really "me"; it's my disorder. This has helped so much with dealing with situations already. Classic case of getting left on read on messenger and your partner is online. Well you can imagine the catastrophrising occurring in my head. The feeling of them not loving me and going to leave me etc. But I've now learned to ride the wave of emotion thats occurring and actually say to myself out loud "YOUR PARTNER LOVES YOU. ITS ALL IN YOUR HEAD". Thanks for this post. Really enjoying these so far.
I am not able to control my feelings anymore
Hi Laura, Thank you for writing us and I'm sorry to hear you're having a hard time controlling your feelings. I know how hard and frustrating that can be. I've been there, too. Sending you warmth. I've often been told "this too shall pass" and it's helped me. Please keep reading our blogs. I'm the author of More than Borderline. There is hope. Warmly, Whitney
I was just diagnosed with it and I'm overwhelmed with all the stuff that I'm reading
i am so with you on this, i feel like i have answers, finally tho, and can get to work on trying to lead a healthy life
I totally agree, I was also recently diagnosed and having the ability to now understand our disorder, we can work on them and understand ourselves better :)
Leave a reply