Accepting Weight Gain in Bipolar Disorder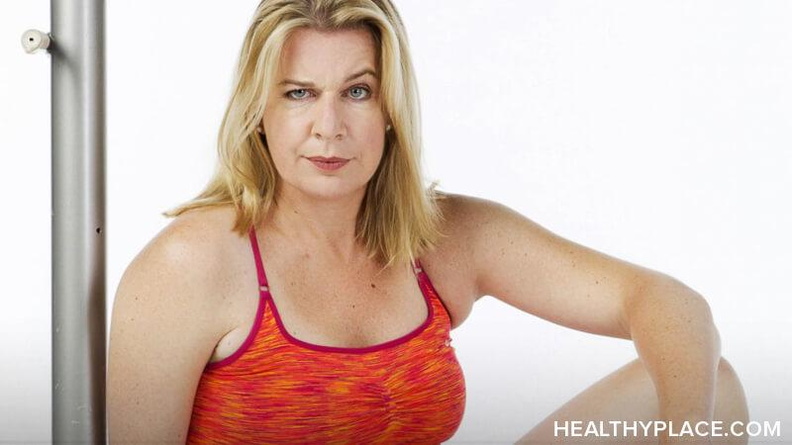 People with bipolar disorder, regardless of medication, are, on average, heavier than the average person. This is likely due to sedentary lifestyles and poor dietary choices due, in part, to reduced income. I suspect it's also because of untreated and undertreated people exhibiting major depression and never getting off the couch (something I know a lot about).
But then, of course, there are the side effects from medication and one of the big ones that effects people drastically is weight gain. Antipsychotics, in particular, can make a person put on a lot of weight and fast. (Tip: the antipsychotic that was newly approved in bipolar disorder, lurasidone, has been shown to be weight-neutral.)
And while many people work very hard to try to lose it, the fact of the matter is, most can't. Losing weight is something that is tough in the average population let alone in a medicated one. So sometimes, acceptance is the only answer.
Battling Weight Gain
Now, don't get me wrong, if you're determined to battle your weight then I'd recommend seeing your doctor and working out a diet and exercise plan that works for you. That's your call and with enough work and persistence, I suspect you'll experience some success.
But to everyone else who just can't win the battle or doesn't want to wage it, then I think acceptance is key.
Weight Gain and Self-Worth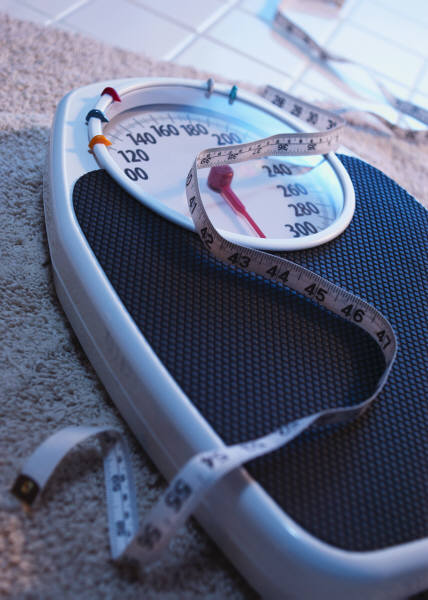 Now I know that people judge themselves (especially women) by the number seen on the scale. It's not like I haven't done this or don't understand this. But this is patently ridiculous. Letting a number that you only partially control run your life is like letting the type of car you drive run your life. Not everyone can afford a Lamborghini.
And I know that this type of judgement tends to feed right into feelings of depression, which is a double whammy for people with bipolar disorder.
And while it's true that just saying that this judgement is illogical doesn't make the feeling go away, especially after years of judgement, if we want to feel better, it's a feeling we have to stand up to and fight.
Other People Accept Our Weight Gain Just Fine
The thing is, most of the people around us accept our shape just fine. I've been through many dress sizes and I don't remember a friend remarking on it even once. In fact, I don't recall a lover commenting on it either. (Well, except one person who was concerned I was losing too much weight. Different thing.) While, in our heads, we think everyone is judging us for our weight, the fact of the matter is that is a self-centered view. Other people just don't give it that much thought.
Accept the Weight Gain Already!
So, knowing that there's only so much of the number on the scale that we control, understanding that judging ourselves for it is illogical and admitting that other people just don't care about it, the only thing left is acceptance. Acceptance of a body change isn't easy, it's a process, but it's one that we can do and that we must do for our own happiness.
And if nothing else, remember this: sanity before vanity. I'd rather be fat and happy than skinny and depressed any day of the week.
You can find Natasha Tracy on Facebook or GooglePlus or @Natasha_Tracy on Twitter or at the Bipolar Burble, her blog.
APA Reference
Tracy, N. (2013, October 22). Accepting Weight Gain in Bipolar Disorder, HealthyPlace. Retrieved on 2023, December 7 from https://www.healthyplace.com/blogs/breakingbipolar/2013/10/accepting-weight-gain-bipolar-disorder
Author: Natasha Tracy
I spent $7k on trainers over a year. 4 days per week. Met the guy Mondays thru Thursdays at 6am before work. He stacked 300 pounds on a cart, hitched it to me like I was a freakin ox and had me crawl around the track until I couldnt move. I did this and other military- like insanity for a year. Dieted too. Lost 25 lbs. Ive since gained it back. My weight has stabilized where it was before I spent seven f'ing thousand dollars. I could have gone to Bali all inclusive in a beachside resort with unlimited cocktails for that. Then, people had the gall to say to me I needed to lose weight, no matter how much money I spent or how hard I worked. The author is right. Losing weight is hard enough without some chemical you have to jam down your pie hole every day to keep you from strangling the idiotic HR lady in your office that gives you the grand prize of metabolic syndrome causing you to balloon from firm 180 to 330 in 5 years. Good news: there are almost 2 of me now [moderataed]. Bipolar weight loss is like Trump being smart. Impossible.
i went from 150 to 240 lbs on psych drugs, im scared of switching from risperdol since it works well for my bipolar, but ive gained 20 lbs in last two years on it and i walk several miles a day
Nope. I have BPD and yet still managed to lose about 40 lbs over the course of a few years. Up with protein, down with carbs, stop eating at 5 pm, eliminate all alcohol, sugar, and simple white carbs. It takes work but it CAN be done
I disagree completely. On zyprexa, I went from a 170-180 pound runner to a 330 pound slob who was constantly tired, slept 16 hours a day, could barely keep his eyes open while driving, almost got fired from his job for falling asleep at his desk... and on. Now I've been off those meds for several months. I have energy, to exercise, and sleep as much as I can, which is way less than I need to, and I've been dropping weight like crazy.
I'm not advocating stopping your meds. Honestly, I'd be willing to try something else, if I could actually find a psychiatrist since moving- because you know, provider shortage. The psychosis, paranoia, and anxiety is difficult to bear, I'm constantly getting in trouble at work for acting out, and my cognition feels way sluggish and scattered. But I also feel alive again, for the first time in nearly five years. I'd rather be insane and doing things than fat, miserable, and too zombified to care.
Natasha, I am curious about your opening sentence: People with bipolar disorder, regardless of medication, are, on average, heavier than the average person. This is likely due to sedentary lifestyles and poor dietary choices due, in part, to reduced income.
Are you tying bipolar disorder to socio-ecnomic status? Are you saying that all people who have reduced income eat poorly and are sedentary? Maybe there was helpful information in your article but I couldn't get past that odd opening with bad stereotyping.
By the way, just to add, its a myth that working out is how you lose weight. If you want to lose weight forget about working out...even people who aren't on medications have learned this. I have had people tell me, working out won't have you lose much. Its all diet. And since I've been working out constantly, and never saw a change, but when I eat differently (can't keep it up but when I have I have lost up to 11 pounds).
Losing or gaining weight is all 100% what you eat and how much of it. And the medication makes me pack on the pounds because it makes me very hungry and crave carbs.
But even more than vanity I am worried about getting diabetes.
Thats nice about nobody remarking about your weight, thats not been my experience, my mom has constantly badgered me about losing weight. Mostly because diabetes is in our family.
I have also not been treated very well in other places either, because of my extra weight. Especially in places where I used to like to work out. (Believe it or not, working out a lot which I have always done hasn't changed m y weight.) I've quit martial arts for now, because its just really discouraging to be the fat one, and I can't perform well. I used to turn heads, I was really good looking, but I've even been called ugly because of my weight.
But even more importantly, I have diabetes in the family. My mom almost got it she was pre-diabetic but managed to get better again. But if I keep taking this medication, I wonder if it won't be long before I will have to start sticking needles in myself.
I've been on serequl for over 6 years and have tried numerous diets, working out, everything, and I'm sick of it. I'm gunna talk to my doctor and ask if there is something else I can take for bipolar depression. Especially since my risk for diabetes is four times as high on this medication!!
I think I am about the only person out there who WANTS to gain weight. I am Bipolar (mostly with manic depressive episodes), ADHD/ADD, borderline narcoleptic (daytime drowsiness), night time insomnia and have anxiety. Currently I am on Lamictal (weight neutral), Adderall (extreme weight loss), Clonidine, Halcion and Klonopin. Basically, a whole messed up cocktail of drugs. I am 5 feet tall and only weight about 104 lbs. I am a little skeleton of a woman.
The Adderall helps me function so well, it battles my depression and gives me drive to actually go out and do things, the issue? I don't eat and lose weight. The Lamictal works okay-ish, but it makes my white blood-cell count very low, which is a problem. Who likes being sick all the time? But, again, being a weight neutral drug, it doesn't help combat the weight loss. I have tried Lithium, which did not work, and Seroquel, which just made me nauseous.
Since I started the ADHD meds, I have gone from a comfortable 130-140 to a tiny 104. I know most people would kill to be that small, but what people don't understand is that being that skinny has serious repercussions. It eats muscle tissue, your bones grate on each other, which can lead to osteoporosis, scoliosis and breaks down the cartilage in between your joints. You have NO padding when it comes to sitting down, I mean it, you are literally sitting on your tailbone. It also causes sleeping issues, no matter how many foam cushioned pads you put on your bed, your body just folds in on itself and again your muscles and what little fat you have cannot support your body, (my BMI is 18.5), which is underweight. This causes massive cramps, aches and bruising.
I know people are pissed about their self image, in our current world Fat=ugly, and people believe it. But believe me, being skin and bones is ugly too. Just look at a picture of an anorexic person, is that pretty? Is that what you want to look like? If it is, I am sorry. I only wish I was in some of your shoes.
I WEIGHED 174 WHEN I STARTED TAKING MEDS FOR BIPOLAR & M. DEPRESSION AND NOW 2 YEARS LATTER I WEIGH 235, AND I AM MISERABLE AND WOULD RATHER DIE THAN CONTINUE ON LIKE THIS. I SEE MY DOCTOR TOMORROW AND I AM TELLING HIM I AM DONE AND THIS IS NOT WHAT I SIGNED UP FOR. I WILL REQUEST TO BE PUT ON WELLBUTRIN BECAUSE IT IS WELL KNOWN FOR CAUSING WEIGHT LOSS AND WORKS WELL FOR DEPRESSION AND ANXIETY. IF MY INSURANCE DONT COVER IT I WILL APPEAL IT ..........OR GIVE UP THE MEDS BECAUSE I NOW ALSO HAVE HIGH BLOOD PRESSURE AND TERRIBLE BACK PAIN ...
I was treated by a psychiatrist who told me: "You have to choose sanity over vanity. And the only thing making you put on weight, is what goes in through your mouth wrt food. I refuse to treat you further of you do not start exercising."
I felt like a total and utter failure.
I have really struggled with trying to lose excess weight that I picked up while taking 4 different meds. I'm on my way to losing it now. I'm blogging my journey with bipolar and weight loss on www.justanothermanic.com.
Sad to say, although Latuda/lurasidone is supposed to be weight-neutral, that has not been the case for me. I gained 20 pounds in six months. (Admittedly not as bad as some antipsychotics, but not "neutral.") I have been holding steady at that weight for the last two months, with some effort. If I try harder, I should be able to get rid of it - but that's easier said than done.
Ever since I started taking Latuda, I've been craving far more sweets and carbohydrates than I did before. This, after a lifetime of not having to think much about my diet or try very hard to control my weight - so I have never been challenged by my weight before. It will take some time to learn to cope with it effectively.
My feet and my joints have already told me that I can't just accept the weight gain as inevitable. But I do have to accept the battle, because I'd rather have a constant weight challenge than ever suffer an episode of uncontrolled hypomania again.
To advise someone to accept the often massive weight gain is irresponsible
Why is there no mention specifically about the all too common Metabolic Syndrome (that's more often than not associated with the use of antipsychotics) in this article? This is a very serious issue folks. Not one that should be taken lightly. It can cause cardiovascular disease, stroke, diabetes etc. You don't have to look very hard to find numerous articles on the internet that also indicate it can shorten your life by up to 20 years or more
https://www.nami.org/Learn-More/Treatment/Mental-Health-Medications/Metabolic-Syndrome
We need to have a real, open, honest, serious discussion about the mortality rates associated with taking bipolar medication. There are two sides to every story. I'm so tired of watching it being overlooked or swept under the rug like it doesn't matter because IT DOES MATTER. Obesity related to some meds is a fact that seriously puts people at risk for heart disease, stroke, diabetes, etc and shortens lives just as much if not more than suicide!!!
I would love to accept the weight gain but it is killing me. I was 140 lbs before taking medication for bipolar disorder now I am 340 lbs. My weight gain caused a pseudo tumor which caused me to start going blind. I can't run, I have severe chest pains, my ankles andback kick my ads after a long day and I am only 30 years old. I disorder has made me feel like I was in hell before and it is something i do choose to manage but now it seem my options are have hell on earth or die young.
I have tried about a dozen medications, and there is only one combo that works for me. That is a combination of Lithium, Invega, and Seroquel. And it has caused over 40 lbs of weight gain that I can't lose. I've tried every diet (including Atkins, paleo, South Beach, calorie restriction to 1200 kcal/day, vegetarian), all sorts of exercise regiments, Metformin, and thyroid medication. Nothing. No loss whatsoever. And I just can't do this weight loss rat race anymore. Without this one particular medication combo that works for me, I would either be dead from suicide or so psychotic that I would be confined to a state hospital for life. My bipolar is severe, and I know this is true. My doctor tried Latuda (allegedly weight neutral) with me last time I was hospitalized, and it made my symptoms worse and is now on my "do not use" meds list in my medical record. What choice do I have but to accept the weight gain? I have not had any other associated health symptoms like diabetes or high cholesterol. Just the extra pounds. My job does not depend on how I look, just on how well my brain functions. My young daughters do not care how I look, they just want a Mommy that is not crazy, not sick, and is there for them. What is the worst that could happen as a result of my weight gain? That my husband leaves me for someone thinner??? I seriously could care less - a motivation so shallow would mean "good riddance". Ultimately, with this terrible illness we have, we need to learn to prioritize our goals. Sanity is paramount, because without it our lives are hell. Thank you, Natasha, for writing this article. I re-read it often for motivation to help me reach the stage of acceptance.
Dear r,
I feel for you! Maybe you should talk to doc about switching meds?
I put on over 100 lbs in one year before being diagnosed and could not lose a pound for years in spite of meds, restricting calories and exercising. I was still having extreme mood swings, crying all the time or staying awake for days running up credit cards. The meds also gave me a bizarre "verbal dyslexia ". I would think one thing and something completely different would come out of my mouth! I was also in a fog that took a while to shake.
I recently switched doc and meds and am finally losing weight! Not much, just down a couple sizes but will take it. I am also sleeping, not so weepy and better about spending. Still having some depression but not as extreme. Please don't lose hope!
Pdocs seem more interested in mania than depression. Antipsychotic meds to treat mania can cause a massive amount of weight gain. But so can depression and there doesn't seem to be very effective meds available out there, since antidepressants are off the table, to effectively treat the bipolar depression. At 303 pounds I have NO self esteem left. I am severely depressed. I have a difficult time just walking let alone "exercising" I've lost hope. I hate my body and I hate my life. I'll most likely die of a stroke or heart attack before I die from bipolar disorder. The stigma surrounding morbid obesity and mental illness is absolutely killing me, mentally, emotionally, physically, spiritually.... I don't know how much more of this shit I can take... Either way you look at it it's a slow suicide!!! I don't have any fight left in me to do anything about it. I truly wish I were dead!
Well I was the same size for 4yrs even though I had bipolar I was trying to deal with it without meds but when family always say watch her she can be 3 ppl within 3seconds & being nice mom to monster mom in the blink of an eye I gave up got on my meds & guess what I have gained 15pounds in 4 months
I have struggled all my life with a weight problem which has had a huge impact on my self esteem. My family has always been on my back about it. Now because of the type of medication I have to take because of this shitty disease I have gained even more weight. My family has basically abandoned me because of my past behaviour. Not only do I have to battle the stigma of being morbidly obese (my weight has climbed to 285 pounds - my feet ache ALL the time) I also have to deal with the stigma of this damn disease ALONE. I have absolutely NO self esteem left anymore. I put all my energy into working for a 'living' then I come home and sleep. I live in constant fear of losing my job. Most of my money goes to paying down a huge visa debt. I know all the medication in the world is not going to change my current circumstances only I can do that but it's just so damn hard some days not to throw my hands up in the air and shout at the top of my lungs that's it, I give up!
I go to the gym 3-4 times a week and it is helpful for mood regulation but that is about it.It has been the hardest thing to deal with since it is so tied into your own experience of yourself. Often I hate myself because of it and there are plenty of people who are quite willing to make judgments. For some reason it is still OK to blame people for their weight.People feel very comfortable critizing loudly and often.I would love to get over it.I am healthy by all measurements bit still it continues.
I WAS DIAGNOSED APPROXIMATLEY 24 YEARS AGO I HAVE BEEN DIAGNOSED 6 TIMES ALL TOGETHER. STRUGGLED THROUGH THE UPS AND DOWNS OF IT ALL. SOME OF US MAY BE THOSE TYPES OF PEOPLE THAT HAVE THE WEIGHT GAIN PROBLEM I KNOW I AM.LIKE EVERYTHING ELSE IT DEPENDS ON YOUR OWN ACTIVITY AND EATING. HERE IS WERE MY PROBLEM LIES I SUFFER FROM EXTREME INSOMNIA WITH MY BIPOLAR AND ACUTE ANXIETY. USUALLY 2 BUT SOMETIMES 3 I GO THRU THE ROUTINE OF PLEASE GOD LET ME GO DOWN LET ME SLEEP I MAY HAVE A GREAT NIGHT AND SLEEP SO SO RESTFUL BUT THE NEXT NIGHT IM UP PRETTY LATE EARLY MORNING A FRAID TO SLEEP IN MORNING TILL AFTENOON BECAUSE I MOST LIKELY WILL BE UP VERY LATE AGAIN THAT NIGHT IF I DO. THEN BY THE GRACE OF GOD I GO TO SLEEP. NEXT NIGHT NO SLEEP AGAIN SAME WORRIES IF I SLEEP TO REST AND DO IT AT ALL DIFFERENT TIMES OF THE DAY THEN I WILL MOST DEFINATLEY BE UP NEXT NIGHT. ITS LIKE A VICIOUS CYCLE.I USE TO RUN 48 HOURS UP AND A STRAIGHT 14 HOURS OF SLEEP. 48HOURS UP THEN 14 HOURS DOWN. YOU MAY FEEL YOU COULD BECOME USE TO THE MESSED UP SCHEDULE BUT WHAT MOST DON'T REALIZE IS YOU ENCOUNTER ALL SORTS OF OTHER PROBLEMS-ERRATIC EATING OR BINGE EATING YOU LIVE WHAT LIFE YOU LIVE HALF SLEEP DEPRIVED AND SLEEP DEPRIVATION IS NOT A GOOD THING AT ALL.YOUR SCHEDULE FOR YOUR LIFE, YOUR SLEEP, YOUR EATING HABITS AND EVEN YOUR EMPLOYMENT WILL SUFFER GREATLY.LACK OF SLEEP LACK OF NUTRITION WILL MAKE YOU VERY VERY SICK NOT TO MENTION TERRIBLE HEADACHES OR MIGRAINS.MY BIGGEST PROBLEM IS STICKING SOMEHOW TO A SECURE SCHEDULE TO TRY TO HELP ME ADJUST.ANY ADVICE? IM HAVING SERIOUS ISSUES AT THIS MOMENT AM SUPPOSE TO HAVE A VERY RISKY BACK SURGERY AND I HAVE ALWAYS HAD A PROBLEM WITH THE WEIGHT GOING UP AND DOWN RANGE AT PRESENT IS 29 POUNDS UP AND DOWN. MY MEDICINES CHANGE FREQUENTLY FOR ME SO IM STUCK WITH THE MEDICINE USUALLY MAKING ME GAIN WEIGHT MOST I HAVE BEEN ON DO. ITS HARD TO LOSE WEIGHT WHEN YOU CAN'T EVEN PROPERLY DEVISE A SCHEDULE YOU CAN GO BY BUT YOU CAN'T DO THAT IF IT'S CHANGING EVERY OTHER DAY. MY BACK ISSUES HAVE SLOWED ME DOWN QUITE ABIT SO NOT AS MUCH ACTIVITY BUT GUESS WHAT CAN'T DO THE SURGERY THAT I NEED BECAUSE MY WEIGHT IS BACK UP TO DANGEROUS. I AM A BIG WOMAN BUT ITS MORE IN STATURE BUT THE OTHER WEIGHT IS POSITIONED ITSELF IN APLACE THAT IM BEGINNING TO RESEMBLE A PREGNANT WOMAN. I CAN'T EXERCISE BECAUSE OF THE BACK ISSUES, VERY PAINFUL TO EVEN MOVE AT PRESENT. DOES ANYONE HAVE ANY SECRET WEAPONS AGAINST THE WEIGHT GAIN. ARE THERE ANY FOODS THAT WOULD BE BEST FOR ME TO HELP AT ALL.FOR AS BIG BONED AS I AM I TRUTHFULLY DON'T EAT ENOUGH TO BE ON A REGULAR DIET. SOMETIMES THANKS TO THE DEPRESSION AT TIMES I LOSE MY APPITITE FOR LONG PERIODS OF TIME. YOU WOULD THINK IF YOU DIDN'T EAT MUCH YOU WOULDN'T GAIN BUT YOU DO. PROPER EATING HABITS ARE A MUST FROM WHAT I AM TOLD BUT HOW CAN YOU EAT IF YOU HAVE NO APPITITE AT ALL. I FEEL LIKE I OF ALL PEOPLE SOMEONE WHO'S BEEN IN THIS GAME THAT LONG WOULD HAVE ALREADY FOUND SOLUTIONS BUT ABOUT THE TIME YOU DO WELL ANOTHER MEDICINE CHANGE. SOME MEDS MAKE YOU SICK EVEN AT FIRST TO WHERE YOU WILL VOMIT FOR DAYS I HAVE AND IT DOESN'T MATTER IF IM GETTING SICK FROM IT FOR AWHILE I'M NOT SHEDDING ONE POUND. IT SEEMS TO BE THE WORST THIS TIME I HAD LOST 29 POUNDS AFTER A PREVIOUS SURGERY DID GREAT FOR AWHILE AND THEN GUESS WHAT MED CHANGE WELL I'VE GAINED 20 BACK. DOES ANYONE HAVE ANY IDEAS OF ANY THING THAT MAY HELP KEEPING A SCHEDULE, OR A GREAT FOOD OR FRUIT THAT HELPS WITH WEIGHT LOSS I KNOW YOGURT I WAS GOING TO SAY GRAPEFRUIT BUT DO NOT EAT THAT UNTIL YOU CHECK WITH YOUR DOCTOR SOME MEDS AND GRAPEFRUIT SHOULDN'T BE MIXED SOMETIMES ITS LABELLED ON THE BOTTLES.ILL TRY ANYTHING I HAVE ALWAYS HAD LOW SELF ESTEEM OR NO CONFIDENCE THIS WEIGHT GAIN IS GETTING OUT OF CONTROL I'VE ACTUALLY THOUGHT ABOUT STOPPING THE MEDS I MEAN ITS NOTICABLE WHAT I HAVE GAINED BUT I ALSO NOTICE IN MY BREATHING I ALSO HAVE COPD EMPHASEMA AND IM GETTING LABORED EASY CAN'T MOTIVATE REALLY AT ALL CAN'T DO EXERCISES OR WALK I CAN'T EVEN SHOWER WITH OUT A GREAT DEAL OF PAIN AND IT WAS BROUGHT UP THAT I ALSO MAY HAVE SOME FIBROMIALGIA. SORRY THIS IS CONFUSING BUT THERE IS ALOT OF THINGS INEED TO GET IN ORDER AND IF ANY OF YOU HAVE ANY I WOULD GREATLY APPRECIATE IT.THANK YOU.
Two years ago, I was put on antipsychotics (right after I quit smoking). Since then I have gained 60 lbs. I am disgusted and so are my relatives. They get in little digs, "don't sit on that chair, you'll break it." etc. I have never been thin. I was always overweight. But now I am obese and I can't stop eating chocolate, sugar and salt. I now turned my addiction to smoking into my addiction to eating again (I had this as a teen thru my 30's). I had gastric bypass in 2002 and lost a lot of weight. Now I am within 60 lbs of that starting weight. I try so hard not to give in but I can't seem to help myself. The more I eat the worse my depression gets. My last shrink told me to just stop eating. Well that's great advice from a man who weighs 150 lbs and never had any eating problems. Anyone going through this?
I would take being fat over being ill any day. Besides, I really love to eat and don't give a rat's ass at this point. If the weight really bothers you, the weather is nice, and you have some energy, take a walk! But depression being the way it is, do the best you can.
I was falsely diagnosed and took medication for seven years. After divorce it appeared I did not have ADD nor bipolar disorder. I was married to a man with probably two personality disorders!! And I wrote a book about the stigma of bipolair people. Well, I know all about the stigma and the medication..I think the weight gain is totally unacceptable. So is the loss of your creativity and your personality. Antipsychotics are terrible. They did not work for me, because I am not ill, but I know all about the side effects. I think it is terrible that people should accept all the side effects on you brain and character and frankly, it makes me very sad that everyone says that people with psychiatric diagnosis should accept the terrible side effects. Why should anyone accept 40 pounds of weight gain? I myself sported 5 days a week and that's what I gained at the time! It's terrible. Not only do you lose your vibes, but also your looks! Why?
I'm all for loving who you are, the "skin your in", appreciating whatya got & etc. That includes NOT stressin out over a few extra lbs caused by a medication, ESPECIALLY if said medicine is the lesser of two evils and is helping! However, saying that "accepting" notable or significant weight gain is the answer, I personally find that irresponsible & DANGEROUS! That could to all sorts of other very unwanted health problems. Non of us want that, I'm sure. DON'T ACCEPT THE WEIGHT GAIN! DO CONTINUE YOUR MEDICATION! Just get off your butt & do something about it is all! It IS a choice that WE make daily. What we do or don't eat (money REALLY ISN'T an issue there!) and whether I'd not we exercise (moneys no issue there either, you don't need a gym..just walk or run). Acceptance is giving up. DON'T GIVE UP...EVER !!!
Katrina
Equating not wanting to gain weight with vanity makes me sick. It's not a vanity issue for many - I'm sure you know that weight gain brings with it its own set of health risks. Many atypical antipsychotics are associated with weight gain, development of polycystic ovarian syndrome, and the onset of metabolic syndrome. All of these things increase one's chances of developing, among other medical issues, type II diabetes.
I already have PCOS and have to work hard to keep my weight down. I'm at a good, healthy weight and am toned, and I compete in triathlons. My psychiatrist told me we would talk about what side effects I would be willing to deal with and which ones I wouldn't, and I told her weight gain is something I don't tolerate. She has been working with me to find drugs that don't cause weight gain, and we've found a few - I'm on one that seems to be working well.
Accept getting fat if you want, but don't criticize those of us who want to maintain some semblance of health.
Don't worry about suicide, fat and happy will take your life first!.......I have been extremely depressed and sitting on a couch staring at the wall, and in manic epsiodes with raising thoughts nearly every other day with my bipolar disorder mixed rapid cycling...but there is a time between the two I care enough to exercise just enough to keep my weight down to in a reasonable range......Don't worry about your bipolar..."Diabetis" will eventually get you...and that's a new round of new expensive medications, test strips, doctors visits and payments etc etc to worry about......Maybe suicide may get you first even though you think you're fat and happy!
THANK YOU THANK YOU THANK YOU
I have struggled with weight my whole life. Born barely over 5 lbs, then overweight since before age 5. Since becoming very depressed and bipolar and being medicated and diagnosed with fybromyalgia I have leveled off at 250 lbs. Not good for a girl that is 5'6". But I have leveled off. That is a big deal for me. I have not put too much thought into losing weight because I am having a horrible time managing my symptoms. I know once my mood is good, the weight will come next. I am SO GLAD to know that it is OK TO BE LIKE THAT! Thank you.
Hi, I see all of your points in the weight gain issue. This is twice that I have gained over 40 pounds on a new medicine change. It's funny I didn't notice it as the weight was going on except my clothes were getting tight. I am now back on the treadmill, watching my carbs and sugar....that is all I know what to do. It seems like this time I feel more worn out and tired so it makes it harder to walk over 2 miles. It took walking 6 miles a day for months to drop the first 40. So far in this month I've only dropped 6 pounds.....kinda discouraging...........but will keep at it cause my closets are full of size 10 and 12 clothes and don't want to get rid of them!
Hi to Kathleen Brannon,
You seem to have misunderstood me. You seem to have got only the general gist that you would expect from someone advocating diet and exercise, and not the specific place I am coming from on this one.
I am on medication which apparently causes weight gain, which has, in me, 'caused' weight gain Lets say the mechanism of this is a changed metabolism. So to address this issue, I'm changing my diet and exercise patterns. The cause is not the medication. The cause is a diet and exercise regime that does not suit the new metabolism, i.e. you are stuck in your old patterns when a new balance is needed for the medications.
I do understand, very well, about depression and weight gain, and how a person can't just get off the couch. However it is possible to make small but reasonable goals, reasonable for the amount of depression you are suffering. In those horrible black times the diet and exercise might have to wait...
...but in general I am saying that if you blame the weight gain on your mental health circumstances, you will be powerless to change.
I am suggesting a frame of mind which might be helpful to people who do want to improve their physical health by losing weight. I am suggesting that people do not think that their circumstances are to blame, rather take an internal 'locus of control' over the situation.
Go on, change your diet. Not an over-the top diet where you beat yourself up on a daily basis. Just regular, healthy, nourishing food. If you are having emotional food cravings, try to address the basis in therapy, distract yourself with other kinds of indulgences
You may still feel powerless, as though you are not ready for weight loss, that the mental health factors are too much for you. It's how I felt for a long time, but I've found the confidence - somehow to make the necessary changes. Do not allow the mental health factors to overwhelm you. You're still allowed to be as depressed as you like while on a diet. It has no direct bearing on your actual diet, if you don't let it.
I'm not going to accept weight gain!!!
Hiking, running, biking, going out and doing things is what can help me. I can't do any of those things if I'm obese and my body can't support me.
Managing my weight is hard, lots of things are hard.
No one should accept fat and happy vs thin and crazy. Fat and on the couch watching TV, is not happy and not life.
I'm sorry, Natasha, but I don't agree with this "acceptance" idea. With my weight gain I've acquired sleep apnoea and hypertension, both life-threatening and life-shortening conditions. And inconvenient too. I am now in a constant battle to control my cravings and to control my weight. But I NEED these meds; they've saved my life. I am not happy about this situation, and I find your position unhelpful on this topic.
Shall we accept the diabetes as well?
And as for fat and happy... pretty cliche, but is it true? Health affects the brain. Fat, unhealthy body with screwed up metabolism... may not be happy too long.
And don't call this vanity. It's a health issue as well.
Sarah and Kyle: you are the ones who are pushing b.s. Because you were able to control your weight through diet and exercise, and by simply not taking any meds that caused or exacerbated it is great! I am happy you can do that. I wish everyone could. The point of the article is that some people can't stop a particular med because of weight gain -- because it's the only med that works for them! And some people who don't exercise are lazy, but some are physically unable -- because of depression. (It's a physical illness of the brain. You seem to be forgetting that.)For those people, accepting their bodies is the only choice that won't make their illness worse by making them hate themselves and be more depressed. No one person's experience is definitive.
BULL SH*T!!
ACCEPT WEIGHT GAIN??? Which part of that should we accept?? NO! I refuse to believe that there is no other way. NO WAY in hell I'm going to accept that. And please, it's not about "vanity" at all! For crying out loud. I work in an industry where looks and figure is very important. So it could cost me my job, my profession, my PASSION, my life! Not eating anything and still gain 20 pounds!! NO. NO. NO. I'm done with the weight gain. And I am not gonna be a good girl who just takes her meds because I'm better than a good girl. I'm a smart girl. I THINK. I have convictions. I believe in the "Work-around." I believe that there are 101 ways to skin a cat. If weight gain is a side effect at a considerable amount, it has to go. There are other options. I will not accept that I just have to be fat to be okay.
I love what you say Sarah, and most of it is true. There are some medications that do actually slow your metabolism, however. Not many, but a few. I would imagine though, that if someone has a healthy diet and is exercising and building muscle, that the effect of any gained weight because of a reduction in metabolism would be somewhat mitigated.
Accept my weight gain? Never!!!
I got fat because I ate too much junk food. I can blame the medications or my emotional problems, but those were just circumstances I didn't have to deal with before.
Now I admit what the problem was, I can admit that there is something I can do. Stop eating junk food and start eating sensibly. That is the bottom line. I haven't been able to do this to date because I blamed the emotional problems and medication, two things I haven't been able to change.
Also it helps that my emotional problems have improved lately, because I've reached out for the help I need.
So far I have lost 5kg, in just a few weeks. I'm still enjoying my food. Just not the bad food.
Ultimately, our circumstances are difficult which can affect the likelihood of weight gain. But if you have gained weight, don't tie it to irrelevant issues. Medication may have changed our eating patterns, but if you use it as an excuse to keep dong the same thing, then you are stuck. The only issues relevant to weight loss are diet and exercise. Nothing else.
You can lose weight no matter what sort of person you are, what you are taking, or even if you love to drown your sorrows in chocolate icecream. Drown your sorrows in a romance novel instead.
2 things - diet, and exercise. Keep those in mind and you can and will lose weight.
I find this article bringing relief like some of your others have, because you emphasize acceptance. On the days I accept my weight, I will do positive things to live with it, like buy clothes that actually fit instead of holding out that my old ones may be comfortable again someday. I stop guilting myself for not exercising which is a joke since most days I can barely get out of bed to take care of my son, let alone do more than an occasional walk. I think it is good to remember though, that at some point the weight can make things worse. I probably only need to lose 30-40 lbs, but that seems to be enough to cause some back and cholesterol problems for me right now, and knowing about the other problems triggers my anxiety. But then, I know I could certainly eat better to help my moods, whether it affects my weight or not.
Hi Cyndi,
Yes, if you are on the right medications, you should be experiencing those positive effects. If you're not seeing those, that's not the right medication for you.
- Natasha
Can of Worms, or Pandora's Box . . .
First, to Cyndi, that's kind of the point of taking the meds. So if it doesn't do that, then it may be worth revisiting.
Regarding the whole weight gain thing, it just makes my head spin in about a thousand directions.
Two years ago, I had a major upset in my life, tremendously so. I also had a hiking fall. And so in that entire year following I was pretty darn inactive. I'd gone from hiking 5 days a week to not at all, for the most part. In that year of inactivity, I gained 20 pounds. Then 6-8 months later, I started seroquel. Within maybe 2-3 months, I'd gained about 10 more pounds. I'm not overly concerned about it all because I work out with a trainer 2-3 times a week, and I stay as active as much as I can. But weight? I hate it. The proportionate ratios? I hate that too. I just want my old self back.
I try not to fret about it; I hardly ever even weigh myself. But I hate it all the same.
One step at a time! Literally!
Leave a reply