Does Depression Cloud Your Future?
My depression is really making me struggle with the daily task of living right now. I can't keep going the way I have in the past few years. I hate my life; I'm completely broke and in debt and I feel like all of my relationships are crumbling. Sometimes I sit back and look at my life and think, "Is this really it for me? Is depression going to define and imprison me for the rest of my life?"
I know it's pretty common for someone in the late twenties to question where their life is going, but I feel like I have extra questions than the average person who say, isn't diagnosed with depression.
Where can I go from here when all I've known is suffering? Can I really invest in a better future when both my present and past feel empty?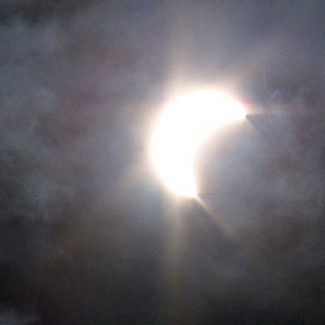 I feel like I've done everything I can with my depression treatment, from psychotherapy to antidepressants. I know my past traumas and how they have affected my thinking patterns.
I feel both restless and apathetic. I feel frustrated with recovery and frustrated with sliding backwards. There has to be more to life than this, even if I have depression. Otherwise the next 60 years are pointless for me, right?
Perhaps this isn't a typical post from me that you can learn from, but know that if you're dealing with questions in your depression recovery, you aren't alone. I mean, if we had no questions life would be pretty boring.
I just can't wait until everything doesn't feel like life or death, or like death is the only option I can count on. I'm sick of counting on death. I've thought about suicide for most of my life and I don't want to keep thinking about it as this option that will always define me, holding me back from engaging in life.
Is Depression Making Your Future Uncertain?
When depression has your life in its hands, it can feel like it's impossible to move forward. The future feels vague and uncertain, like it won't actually be there for you when you reach it, but the future isn't certain for anyone.
Has depression helped you look at your life and your future differently than you would have otherwise? By knowing the pain in life, can we seek good things with more clarity, or is it all fog? I'd love to hear your input.
Maybe depression can be a stepping stone to something better. There's nowhere to go but up.
You can also find Erin Schulthies on Twitter, Google+, Facebook and her blog, Daisies and Bruises: The Art of Living with Depression.
APA Reference
Schulthies, E. (2014, August 28). Does Depression Cloud Your Future?, HealthyPlace. Retrieved on 2023, May 28 from https://www.healthyplace.com/blogs/copingwithdepression/2014/08/does-depression-cloud-your-future
Author: Erin Schulthies
I, too, struggle with depression and have ever since my 1st husband took his life in 1992. Maybe I was depressed before that, I really can't remember. If I was I didn't know the signs of what depression was. I don't remember what "happy" is. Every day is a struggle for me. After 18 years married to my 2nd husband, he up and abandoned me three days before our 18th anniversary, said he didn't want any responsibilities anymore. He told me this after I had quit my gov't job and worked side-by-side with him on our dairy farm for 16 years. I blame myself for his leaving, I never thought I was good enough for him and slowly, but surely, pushed him away. When he up and left I spiraled all the way back to the spot when my first husband took his life, I hit rock bottom. I am currently on depression medicine, the highest dosage my doctor can give me, anxiety & sleeping medicine. The anxiety & sleeping medicine are new since he left. I can function just so long and then something will trigger it and I hit bottom all over again, it's a vicious cycle. I'm going to go out and try to find a job, I haven't held a "civilian" job since before the farm, I'm scared to death because of my depression, a person can only "fake" being happy for so long. I have a 32 year old daughter that I don't see a lot, I try to keep it together because of her. As long as she's on this earth I will not take my life, even though I've thought about it many, many times. I'm so grateful for the internet, there are a lot of people out there just like me. Thank you for allowing me to post a comment.
Thank you so much for you post. I have felt this way for so long. I am a lot older than you. I don't feel that I have so many years and therefor so many opportunities to turn my life around. My ability to function in the workplace has declined with time and with my mood. I feel like there is little left for me. I have been in this severe depression for 3+ years and despite meds, therapy, self help and reading everything I can find I can't seem to pull away. Suicidal thoughts hover constantly. I push myself for a while and then run out of energy because I gain nothing and it just leaves me drained. I don't know how to look for the positive anymore.
When I was a teenager I was very suicidal. Until my mom od'ed on some of her boyfriend's meds which I always took as a suicide attempt. She also drank a lot - and told me to hide the pill and beer bottles if I had to call her an ambulance. I was 16, and this was a terrible situation for me to be in.
I gave up on life instead of giving in to death. I started the drugs, sex, and rock n roll in an attempt to squash these terrible feelings. But on the ensing 15 years I have no idea how to deal with all the lost opportunity when I had to spend time surviving instead of figuring out what I want to do when I was supposed to. I feel for anyone who lost even more years but so upset that anyone loses time they could spend finding the zest for life, thru trauma and or mental illness obstacles.
I don't think I've seen this honesty on here about depression before..and in alot of ways it's refreshing to see that someone isn't just talking about what to do to help depression and how it will get better in time. I've dealt with depression most of my life but would always scratch and claw my way out of if it after so long..not this time though 3+ years ago I had loss upon loss ..several family members passed..my best friend who was my sister in law was cheated on by my brother and he divorced her..even though I've tried to keep a good relationship with her unfortunately it hasn't worked out quite so well...and on top of that relationship being pulled apart my brother and I' s relationship I'm starting to feel is beyond repair. I lost a very good friend over a misunderstanding and tried over an over to mend it to no avail. My husband was hiding and abusing alcohol (which makes him very violent) told him he had to quit drinking or not be together..no talking was done he just left me and my daughter with nothing..did I mention my son joined the Navy during this time??I am at the worst place of my life at this time ..loss upon loss upon loss has destroyed me..I've lost all hopes and dreams..my daughter is a senior and I'm living for her to have her make it through High School..I'm extremely depressed..my family doesn't want to hear it so I've been abandoned..they don't want to hear it I don't want to live it. Some people say things will get better in time...I find that very hard to believe at this time. I've isolated myself pretty much to inside my house 90-95% of time. I exist I don't live I exist..
HI ERIN, I HAVE BEEN IN DEEP DARK DEPRESSION ABOUT 3YRS NOW IT HAS TOTALLY CONSUMED MY LIFE EVERYTHING I USED TO DO INCLUDING COOKING LAUNDRY CLEANING HOUSE HAS ALL JUST PASSED ME BY!! IM NOT SURE HOW TO LIVE A NORMAL FUNCTIONAL LIFE ANY MORE I STAY IN MY HOUSE AND NEVER GO ANYWHERE AND NEVER DO ANY KIND OF ACTIVITIES WHAT SO EVER I TOO HAVE SUICIDAL THOUGHTS ALL THE TIME IM AM SO VERY UNHAPPY AND ACTUALLY FORGOT WHAT IT IS LIKE TO BE HAPPY AGAIN I HATE THIS WITH EVERYTHING THATS IN ME!! A LITTLE MOTOVATION WOULD BE GREAT TO HAVE YEAH WHAT THE HELL HAPPENED TO MY LIFE I WAS TOTALLY OPPOSITE BEFORE BEING DIAGNSED BIPOLAR MANIC DEPRESSIVE SO YEAH I LIVE IN A CLOUD OF FOG... THANKS FOR SHARING UR STORY.
I have struggled with many traumas in my life such as losing 5 pregnancies, being married to a verbally abusive man for 24 years and the start of my life being born to a Mother and Father who were Holocaust Survivors, needless to say the house was filled with depression and anxiety. Now at 57 I still fight depression everyday, sorry to say! But I have adopted a daughter who is now 16, got a divorce and married the love of my life who accepts me the way I am. He encourages me everyday. A few months ago I started writing poetry and blogging and it has really helped. I count my blessings every day when I go to bed. Nothing is perfect, yes it is damn hard but don't give up! There is always hope! Keep reaching out, it helps. Keep talking, keep, loving, keep living!
Dear Erin,
Thank you for your honesty. It's very helpful. Depression makes thoughts of the future fearful at times for me. But I also know that, as you mention, the future is uncertain for everyone. And I try to remind myself that I can only do my best and take one day at a time.
Best,
Jenn
Erin,
I can so relate to this. Yes, depression absolutely does cloud my future. I often feel there's no point to continuing and nothing to look forward to. I feel a bitter disappointment in life and that the feeling of fulfillment and purpose I've spent my life reaching for is simply not going to happen. Like you, I've been depressed my entire life; despite my efforts to not let it define me as a person, it has anyway. I'm 20 years older than you, and it seems to just keep getting harder and harder.
I have also done everything I can to treat my depression: medication, doctors, years of therapy, years of sobriety, self-care, etc. In the end, I'm not sure it's made any real difference. Everything still feels like it's crumbling.
Thank you so much for writing this. You also are not the only one who feels this way.
Hi Greg,
Thanks so much for your heartfelt and honest comment. Despite all the pain, writing the truth is a monument against the darkness. I respect you greatly. Take care, the best you can.
Erin
Leave a reply