Anxiety and Schizoaffective Disorder, Schizophrenia
I have schizoaffective disorder, bipolar type. It's very common for anxiety to accompany bipolar disorder. So that means I have to deal with all the stress, obsessive worries, and other pitfalls of anxiety while dealing with my schizoaffective disorder (and many are in this same situation with schizophrenia). Let me give you a breakdown on what it's like living with schizoaffective disorder and anxiety.
Anxiety Triggers Schizoaffective Disorder's Symptoms
I've written about hearing voices with schizophrenia and schizoaffective disorder. My voices are triggered by anxiety. Yet, it's puzzling because some days I can get really worked up and not hear voices, while other days the same dose of anxiety throws me into a tailspin and the voices invade. So there's really no way to gauge the amount of stress that will tip the balance. There's no way of knowing when I should stop the stressful activity - and we all find ourselves having to do stressful things - or I will hear voices.
Schizoaffective Disorder and Anxiety Make Me Walk on Eggshells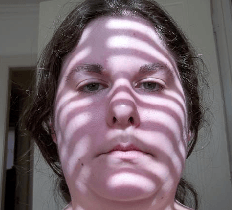 There's a trap door in my head that I fall into and when I'm there, everything seems dangerous. Anything from lighting candles to wiping up crumbs after I've eaten a sandwich can send me falling through this trap door. I wonder if other people have trap doors like this in their heads, other people who don't have schizophrenia, schizoaffective disorder, or generalized anxiety disorder.
Trap doors lead to cold, dank spaces with big, menacing shadows on the wall that look like real monsters. It is when I am in this space in my head that I need to walk on eggshells. I live with so much anxiety that I walk on eggshells around myself. Since anything — from brushing my teeth to blowing my nose to picking my ear to even eating and going to the bathroom — can send me into a tailspin of anxiety, I have to be very careful about what I do, touch, or say. That, alone, is very anxiety-provoking.
Lists Help Me Cope With Anxiety and Schizoaffective Symptoms
And I keep lists — lists for when I leave the apartment and when I park my car in the garage. The checklist for leaving the apartment includes items from making sure the TV is off to making sure there's no open beverage by my laptop to making sure the wipes container is closed. Items on the list for my car include making sure the garage door is closed. The lists are not kept so that I'll remember to take care of certain things but, rather, so that I'll have proof they've been taken care of after I've checked off all the items and left the garage or the apartment.
Sometimes, when I'm having a particularly bad day, I don't trust the lists. That hasn't happened in a while, though. Sometimes, I call my mom or my husband several times in a row to resolve a single fear that I left a door unlocked or a piece of paper too close to a radiator.
When something as seemingly benign and ordinary as eating a sandwich can send me into that space in my head where everything screams menace, I know I'm a long way from recovery. But it is my hope that, with a combination of medication, psychotherapy, and dialectical behavior therapy techniques, I will begin to find a way out of the room under the trap door and no longer have to walk on eggshells.
Photo by Elizabeth Caudy.
Find Elizabeth on Twitter, Google+, Facebook, and her personal blog.
APA Reference
Caudy, E. (2015, March 10). Anxiety and Schizoaffective Disorder, Schizophrenia, HealthyPlace. Retrieved on 2023, November 30 from https://www.healthyplace.com/blogs/creativeschizophrenia/2015/03/schizoaffective-disorder-and-anxiety
Author: Elizabeth Caudy
Can Anxiety,Schizoaffective, bipolar disorders coexist with other mental disorders? Like separation anxiety, delusional thoughts or isolation?
Yes, they can. For example, I have schizoaffective disorder and generalized anxiety disorder.
My partner and I absolutely love your blog and find many of your post's to be just what I'm looking for.
can you offer guest writers to write content
for yourself? I wouldn't mind creating a post or elaborating
on a lot of the subjects you write with regards to here.
Again, awesome site!
Leave a reply