About Karl Shallowhorn, Author of the Debunking Addiction Blog
I was born in Buffalo, NY and was adopted at 6 months. I had a pretty "normal" childhood. Once I got into my teens, I began to experiment with alcohol. Upon entering college, I progressed to other drugs. During my freshman year, I experienced a psychotic break. Despite this, I continued to abuse drugs. Somehow, I managed to graduate from college and was able to land my first real job. Throughout these years, I was in counseling and had many inpatient psych stays. It was a recurring cycle of hospitalization, recovery, and relapse. It all came to an end in 1988 when my counselor referred me to a 12-Step program; which I still participate in today.
Addiction Counseling is My Calling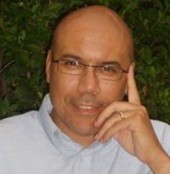 Since that time, I returned to school and earned my Masters degree in Student Personnel Administration and became a Credentialed Alcoholism and Substance Abuse Counselor. I worked as a substance abuse counselor for six years in the 90's and then entered the world of higher education where I worked for twelve years primarily doing Admissions-related work. Two years ago, I made the decision to return to counseling and joined Horizon Health Services as a mental health counselor with a specialty in addictions.
I have also been involved in several mental health/addictions-related projects over the last 5 years. I wrote a book entitled Working on Wellness: A Practical Guide to Mental Health (Chipmunka Publishing). I also developed a 10-week college prep program for the Western New York Children's Psychiatric Center. I speak regularly in the Western New York area and have presented at several mental health conferences. I am currently on the Board of Directors for the Mental Health Association of Erie County. I am on the planning team for the United Church of Christ Widening the Welcome Conference. I am also the Honorary Chairperson for the 2012 Road 2 Recovery Mental Health 5K and Wellness Walk. I have been published in the Buffalo News and will be featured in the Spring 2012 edition of BP magazine (On My Mind).
Karl Shallowhorn Welcome Video
In my first video for the Debunking Addiction blog, I share a bit more about myself and my hopes for the blog. I hope you'll come back often and read my articles and share your thoughts and addiction experiences in the comments area. We can definitely learn from each other.

You can also find me on Google+, Twitter and Facebook and my Working on Wellness site.
APA Reference
Shallowhorn, K. (2012, April 17). About Karl Shallowhorn, Author of the Debunking Addiction Blog, HealthyPlace. Retrieved on 2023, December 9 from https://www.healthyplace.com/blogs/debunkingaddiction/2012/04/about-karl-shallowhorn
Author: Karl Shallowhorn, MS, CASAC
There is a simple problem of human physiology engineers discovered when it caused mental breaks for office workers that explains why counseling works to stop mental health issues. I learned of it as a 22 year old engineering student in 1966 but had never seen it happen before. My wife had a psychotic break after her office was changed eliminating Cubicle Level Protection. The cubicle was designed to block peripheral vision to prevent the long term suppression of the vision startle reflex to stop it in offices by 1968. Today computers allow anyone to create the "mental break causing design mistake." Preventable Subliminal Distraction episodes are being mistaken for mental illness because doctors are unaware this problem exists. ___ Simple free precautions will prevent UNDETECTABLE Subliminal Distraction exposure. ___ Adding screening for it will insure a quick positive response for counseling. The episode will spontaneously remit when exposure causing activities are found and stopped.
Leave a reply