Almost Alcoholic: A Review
Have you ever wondered if you are an alcoholic? Do you continue to drink despite one or more negative consequences associated with drinking? Do you look forward to drinking? Do you drink alone, and not just socially? Do you sometimes drink to control some emotion? Is your drinking causing suffering for you or a loved one?
Are You Almost Alcoholic?
If you answered yes to any of these questions but haven't suffered the more serious consequences of drinking then you may be almost alcoholic. This term comes from the book, Almost Alcoholic: Is My (or My Loved One's) Drinking a Problem? by Robert Doyle, MD and Joseph Nowinski, PhD (2012 Hazelden). This book is targeted to individuals who are affected by problem drinking.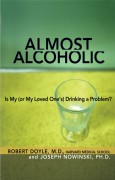 The book consists of two parts; the first helps the reader to understand the concept of almost alcoholic through case studies and research done on the topic by the authors. The second part deals with helping the almost alcoholic learn ways to prevent their drinking from progressing to full-blown alcoholism.
Although I found much of the information in Almost Alcoholic to not be necessarily revolutionary, it was thought provoking. There are many people who exist in the world between social drinking and alcoholism. One of the key points the authors make is that when an individual is almost alcoholic there are specific interventions that can be used to divert a greater problem from occurring.
There are several key interventions promoted in Almost Alcoholic including developing a support system (i.e., Alcoholics Anonymous), honest, self-evaluation, changing routines, and using refusal skills. Many of these methods apply to anyone who is in any particular phase of alcohol dependence. One interesting point is that the authors ask the question of whether abstinence is, or is not, the answer. The answer is left up to the reader.
A Missing Piece
One issue I have with the book is that the case histories are of individuals who are middle-class (not that I have anything against the middle class). There is no representation of individuals who are from a lower socioeconomic strata or apparently diverse cultures. There are environmental factors that come into play with this group that could have been highlighted to help make the book more universal in its approach.
While I said previously that Almost Alcoholic is not necessarily a revolutionary idea, it does raise the question of how severe a person's problem might be and what can be done to help him/her. If you are interested in enough to purchase this book then you may already be on the way to recovery.
APA Reference
Shallowhorn, K. (2012, July 2). Almost Alcoholic: A Review, HealthyPlace. Retrieved on 2023, December 8 from https://www.healthyplace.com/blogs/debunkingaddiction/2012/07/almost-alcoholic-a-review
Author: Karl Shallowhorn, MS, CASAC
Interesting Karl. Honestly, I'm a bit skeptical but I'm open. :)
I agree Karen. It kind of seems like a variatiion on an old theme (alcohol abuse). But if it helps someone to acknowledge that they have a problem then that's what counts.
Leave a reply