Teen Drug Abuse Trends: Looking at the Numbers
If you're an addict, like me, then you probably started to experiment with drugs and/or alcohol in your teen years. I remember the first time I drank vividly when I was 15. It seemed like fun until I woke up with a wicked hangover the next day. But that didn't stop me. I ended up continuing to drink and eventually go on to abuse other drugs. This early use was the first step to my becoming an addict.
The Numbers Don't Lie
In a July 2012 newsletter published by the National Institute on Drug Abuse, a survey called Monitoring the Future showed that overall illicit drug use has risen greatly, primarily to an increase in the use of marijuana. In 2011, 7.2 percent of 8th graders, 17.6 percent of 10th graders, and 22.6 percent of 12th graders used marijuana in the past month, up from 5.7 percent, 14.2 percent, and 18.8 percent in 2007. Daily use has also increased; 6.6 percent of 12th graders now use marijuana every day, compared to 5 percent in the mid-2000s. The same survey showed that 11.4 percent of 12th graders reported using synthetic marijuana (Spice or K2) in the past year.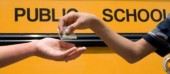 In addition to the increase in marijuana use, non-medical use of prescription medications has also increased – Vicodin and Adderall are favored by many teens (15.2 percent of 12th graders reported using prescription meds in 2011). On a brighter note, inhalants, alcohol and cocaine use have decreased slightly.
Much of this increased use has to do with teens' perceptions of drug use. Many feel that these drugs are either not harmful or that they will not become addicted. Of course, for some teens, the pattern of early use does not become addictive in nature but for others it ends up setting a self-destructive pattern that becomes difficult to break.
Looking Ahead
I know it's a cliché, but our children are our future. Unless we do more to address this issue our society will inevitably face more difficulties down the road. The implications of an addicted generation are far-reaching: economic, legal, healthcare, and judicial problems, to name but a few.
We need to face this problem on a number of levels: at home, schools, and in the community at large. By providing the appropriate interventions, we have the opportunity to help our kids avoid a future fraught with despair and pain. We all have a duty and obligation to make this happen.
APA Reference
Shallowhorn, K. (2012, November 5). Teen Drug Abuse Trends: Looking at the Numbers, HealthyPlace. Retrieved on 2022, December 8 from https://www.healthyplace.com/blogs/debunkingaddiction/2012/11/teen-drug-abuse-trends-looking-at-the-numbers
Author: Karl Shallowhorn, MS, CASAC
Scary stuff, Karl. Thanks for posting.
So true, I cringe every time I see those words "Legaize Marijuana" yes I understand the concept of the oil for healing, but I stand by the dangers and health effects of smoking it. Decriminalize private use if they must grow and smoke but never give the dealers the right to make money off of addictions.
Leave a reply