Managing Self-Sabotaging Behaviors Part 2: Communication
I define self-sabotaging behaviors within Dissociative Identity Disorder as any thought, feeling, or action by any member of the system that actively impedes the intentions and goals of any other member of the system. Self-sabotage, by my definition, is a regular part of life with DID. And what most of us do when an alter disrupts our lives in some way is attempt to change the disruptive behavior. It makes sense, but it's counter-productive. Before you know it, you're entrenched in a power struggle that ultimately solves nothing. Without even realizing it, I engaged in a power struggle for years with an alter who effectively blocked all internal communication. Once I became aware of the situation, I stopped trying to change it. I now believe acceptance is the first step in managing self-sabotaging behaviors. And communication, I think, is the second.
[caption id="attachment_1629" align="alignleft" width="300" caption="Photo by Scarleth White"]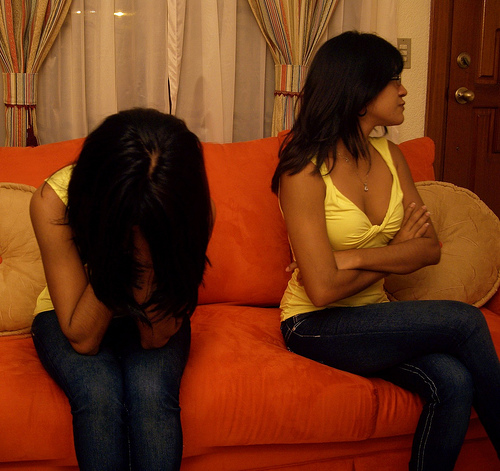 [/caption]
Communicate Your Genuine Feelings about Self-Sabotaging Behaviors
Accepting things exactly as they are isn't the same as making peace with things exactly as they are. It just means ceasing the tug-of-war, putting down your end of the rope. And then, when your energy is no longer focused on stopping the self-sabotaging behaviors, something very painful happens: you begin to feel. I thought I knew how I felt about my inability to communicate with my Dissociative Identity Disorder system. I felt frustrated. But when I accepted that I couldn't force a change, I felt a whole lot more than frustration. I felt excruciatingly helpless, trapped, small, and afraid. Therapists encouraged me to communicate with this alter - the very alter who was keeping me from communicating! What could I do? The only option I felt I had was to simply write her a letter, telling her exactly how I felt.
February 2010

You are like a powerful undertow. Every time I try to rise to the surface to breathe, to speak my truth, to get help, you pull me back down. It's easier to just stay down. It's easier not to fight you. I'm tired of fighting you. I want to give in. I want to let you win.
There are those who might say I was being defeatist. And perhaps they'd be right. But sometimes surrender is the first step to freedom.
Self-Sabotaging Behaviors Are Never Arbitrary
A funny thing happened when I stopped focusing on this alter and her behavior and started focusing on me and how I felt: she responded and explained why she was blocking internal communication. To my surprise, her reasoning made perfect sense. She wasn't messing with me, or trying to make my life difficult. She was protecting the system in the only way she could. I can't emphasize enough how vital I believe it is to understand the other party's point of view in any disagreement - internal or external, whether you have Dissociative Identity Disorder or not. Negotiation is impossible if your own position is the only one you understand. And the only way to understand is to communicate openly, honestly, and from a place of acceptance.
Follow me on Twitter!
APA Reference
Gray, H. (2011, February 14). Managing Self-Sabotaging Behaviors Part 2: Communication, HealthyPlace. Retrieved on 2022, September 30 from https://www.healthyplace.com/blogs/dissociativeliving/2011/02/managing-self-sabotaging-behaviors-part-2-communication
Author: Holly Gray
Hi SAGobrecht,
I have been diagnosed. But, as my therapist says, a diagnosis is nothing except a convenient way to describe a group of symptoms. I have heard voices in my head, however, I most often don't. I think a DID diagnosis is like most other psych diagnoses. There are some symptoms one "must" have to be diagnosed with something in particular, and many symptoms one "may" have.
Also, I know only too well, speaking from my own experience and to no one else's, that rushing the process of getting to know the internal world is impossible. DID and other dissociative disorders are indeed set up to keep unpleasant info hidden. We can fool others, we can fool "ourselves," but we cannot fool the subconscious, or "inner-world." Info, in whatever form it comes (and there are many possibilities, voices being just one of them), will only come when it is ready.
Again, this is jusy my experience and opinion. It may or may not be similar to anyone else's.
Best wishes.
Hey Holly,
I fit all of the symptoms of DID but I don't "hear" any voices of any alters. I haven't been diagnosed with DID (yet) but dissociation has always been there, like it or not. I am in therapy but learning about dissociation is all very new to me. I know for a fact I dissociate constantly but I don't seem to have alters, or maybe I just haven't "met" them yet, so to speak? What's your take on that?
This is a really interesting topic. I often struggle with self-sabotaging behaviours, and while I can't blame them all on the DID system, they are all a product of my dysfunctional childhood.
I like your tug of war imagery; Paul from Mind Parts often talks about balance in healing… I've transferred that thought into a metaphorical seesaw, and at the moment there are parts of the system jumping up and down on one end of the seesaw, while others are trying to find ways to balance the actions out. It's like they're so busy doing their own thing, that they've forgotten that they can just stop, turn to each other and talk. I think you're right, communication is vital.
Take care,
CG
This is exactly what I needed to hear. I feel like there is this never ending battle going on inside. A constant war....and I am losing that war. I have been journaling, and writing letters, but as I go back and look at what I have written over the last couple of weeks, I can see now that I am still fighting. Even though I am being more polite about it, I am still struggling to maintain control, avoiding any and all vulnerablility, and I'm definitely keeping those walls firmly in place.
So I want to thank you for sharing the letter that you wrote, and for sharing your story of surrender. I like that you say that sometimes surrender is the first step to freedom. This is something for me to work on. So far with everything that I've written, I am only digging my hole deeper. So what do I have to lose by surrendering, right?
No truer words have been said. The roots of the "fight" are clear. And it's very hard to learn that to heal we need to not keep up the fight inside. To let down the walls, to feel, to be vulnerable, to communicate inside and out... that's all what healing is about. You said it really well.
Glad to see you back Holly and thank you for you words,
I can't really talk to my alters yet. Msg are sent to me but not me to them. Anything I try to write, type or say gets deleted for the most part. One ray of light though, I can do something quick and fast. One says internally a whisper in my ear " I want to cut grab a knife" I can feel the pressure for her to do so. I can say "no! we do not need to do that!" out loud. It ends up in lost time for me but no new knife wounds so something I said out loud got one of the protectors up and aware.
I does not happen daily as it used to more a couple times a week if things are really stressful but I do walk around thanking out loud whoever wants to listen for what they have done for me. It is all I can really do right now. There are some massive conversations going on when I am not around sometimes I get the footnote versions :)
I guess all I can do is wait and keep trying there is so much though, so much history that the wisdom of my therapist is it is really protective they know a bit more then me and have said they damn breaking if you will would not be a good thing. So one day I hope to talk to the one who wants to cut but for now the episodes are getting less and less so I have to take that as a step in the right direction.
Self Sabotage is a way of life for me right now, I am just rolling with it for now.
Thank you
Leave a reply