Fashion Fundamentals For The Wacky
"It's not so much what you wear out that matters most but who." Taz Mopula
How many times have you found yourself in this all-too-familiar predicament? You're handcuffed and sitting in the back of a police car, on your way to yet another mental hospital, rehab or county lock-up. As thoughts cascade through your cattywhumpus consciousness like an unruly herd of Slinkies descending a dark, dilapidated staircase, you inadvertently spot your own reflection in the rear view mirror and stop to consider your attire.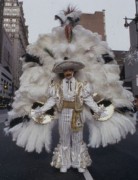 Pre-WWI leather football helmet (complete with earflaps) and Dame Edna rhinestone-encrusted sunglasses pilfered from your Aunt Belinda's attic. Cinderella costume with fishnet stockings and engineer boots. The alligator handbag resting next to you on the seat contains two partially thawed flounder fillets, a small jar of mayonnaise and the collected poems of William Shatner. "It's bold and dramatic," you think to yourself, "but is this the fashion statement I want to be making when I'm being fingerprinted?"
Of course, in the case of you women out there it might look quite different.
Either way, if you are about to stroll the aisles of Cookoopantsatopolis, it behooves you to remember that it's not about what your wear, it's who you wear. You are going to be evaluated on what your ensemble says about you, and you would be well served to remember what your needs will be after the doors have been locked. A Gianni Versace jumpsuit is certain to get you noticed, but nothing says, "I'm ready for my meds" like traditional work wear from Levi Strauss.
Know chic, Sherlock!
Fashion on the inside of Cookoopantsatopolis is very much like fashion on the outside - the idea is to give the impression you are something that you aren't! Doctors, nurses, cops and Ken Burns will be watching your every move and recording anything noteworthy, so make your wardrobe say what you want it to say.
Here are a few fashion do's and don'ts intended to hasten your reintegration into society.
Don't:
1. Spill borscht on striped pants. (Staffers call this the "psycho-killer" look.)
2. Wear white after post-partum depression day.
3. Wear "busy" patterns. (Staff shorthand states - Busy is dizzy!)
4. Dress in the dark. Wearing clothes backwards will lengthen your stay.
5. EVER wear a T-shirt with an arrow pointing straight up at your chin that says, "I'm with stupid."
Do:
1. Change your clothes at least once a week – staff will be impressed!
2. Pockets! Spend hours hiding things from yourself and hunting for them!
3. Trendy leisure togs. Jog corridors purposefully; check heart rate often.
4. Tennis whites. Staff will think you are identifying with them!
5. Corporate attire. Mingle with visiting family members and leave when they do!
Spoiler Alert: Do NOT read this if you are sane!
[We've all been there, we know. Even in the heights of whackadoomiousness the little voice inside is whispering "show time" - if we would only listen. So take a few minutes to change out of that gorilla suit and into something that says, "All right Mr. Freud, I'm ready for my close up."]
APA Reference
McHarg, A. (2011, September 27). Fashion Fundamentals For The Wacky, HealthyPlace. Retrieved on 2023, December 1 from https://www.healthyplace.com/blogs/funnyinthehead/2011/09/fashion-fundamentals-for-the-wacky
Author: Alistair McHarg
Great piece, Alistair! Can't say I've been in a cruiser, but the back of an ambulance has the same Kubrick-esque realism, and they wouldn't let me wear my Burberry sunglasses, which was the biggest tragedy of all!
I fully plan to use the term "Cookoopantsopolis" in future writings, but I'll be sure to credit you in the footnote :-)
Deltra
Hi Deltra - Thanks for reading, and for the comment. Glad you've been spared the cruiser experience. I'm content to let Cookoopantsatopolis glide into public domain! All the best, A
Thanks for reading, and for the comment. - Yes, I've been there myself, more than once, in fact. I believe it was Oscar Wilde who said, "Experience is the name we give to our mistakes." There's enduring; then there's living and learning.
Hilarious! The all too familiar predicament of being handcuffed in the backseat of a police cruiser. Been there many, many years ago, and I can't say that I remember 'who' I was wearing, but after reading this I can certainly say that I will now look back on the experience with a smile. LOL!!
Hmmm...have yet to sit in the back of a cruiser, but have done the mirror check on occasion. With DID, the return view is sometimes surprising...which is when I wonder why I'm NOT in the back seat of a cruiser. As long as I can explain the look I, at least, think I'm safe. Damn...mental illness runs quite the spectrum.
Indeed it does! -- Thanks for reading, and writing. A
Leave a reply