Mental Illness Jokes I Am Too Proud To Repeat
Readers often ask, "Alistair, don't you have any shame?" I am happy to answer them, "No, no I don't."
Before you dismiss this remark as glib braggadocio, let me quickly add that shame has a very particular role in the lives of mentally ill people. After all, it was Taz Mopula who observed, "Guilt is when you feel badly about something you have done; shame is when you feel badly about something you are."
Gentle reader, not much in life hurts more than feeling horrible about your very self, your identity, your being.
So when I say that I have no shame I mean that I have burned through every scrap of embarrassment I ever felt about being bipolar. I have acted out maniacally in the spotlight's naked glare and looking back upon it does not raise a blush – quite the contrary, now I wear these memories like medals, battle scars I paid for very dearly.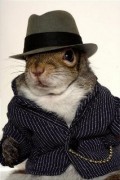 However, while I have no shame I do have standards, and there are limits to what I will inflict upon an audience in my fevered campaign to provide divertissement.
To give some specificity to these gaseous ramblings, here are some of the jokes I have vowed never to use because doing so would be beneath me. Once you see them you will understand that sharing them with you would be tacky and disrespectful. After all, quality standards must be maintained. Here they are.
Sigmund Freud, Carl Jung and Pema Chödrön walk into a bar. The bartender says, "Help yourself."
Question: How many kids with Attention Deficit Hyperactivity Disorder does it take to change a light bulb?
Answer: Squirrel!
People are always finding God in mental hospitals, and finding God is really hard. So why is it impossible to find something easy, like a gift shop?
Question: Why did the alcoholic cross the road?
Answer: Because somebody told him not to.
Question: What do you call a mental patient whose insurance has run out?
Answer: Cured
APA Reference
McHarg, A. (2013, June 19). Mental Illness Jokes I Am Too Proud To Repeat, HealthyPlace. Retrieved on 2023, October 1 from https://www.healthyplace.com/blogs/funnyinthehead/2013/06/mental-illness-jokes-i-am-too-proud-to-repeat
Author: Alistair McHarg
Signs in rest room: Dystelics Untie!
My all-time favorite: "I have CDO. It's like OCD, only it's in alphabetical order like it should be."
Keep up the good work Alistair, this is important stuff, no joke.
What is the difference between a neurotic, a psychotic, and a psychiatrist?
Answer:
A Neurotic builds castles in the sky.
A psychotic lives in them.
A Psychiatrist collects the rent.
This is very old. When I first heard it I thought is was so funny I nearly kicked the slats out of my cradle. That was in 1946
Hi Alistair! Loved the jokes and the bunny photo. :)
I have another joke, lame, but it's my best try.
Question: How many DID patients does it take to change a light bulb?
Answer: None, they can't decide who should do it.
Leave a reply