How Mentally Ill Americans Can Redeem Politics
For days I have been tormented by blinding headaches, merciless nausea, recurrent waves of despair, and an overwhelming premonition of impending doom. At last I have discovered the source of my torment.
The 2012 presidential campaign has officially begun.
I am writing today from the New Hampshire hamlet I inhabit having just come back from voting in the nation's first primary election. Returning home after exercising the franchise so many take for granted I had what people like me refer to as "an aha moment" – which is to say, I stumbled across an original thought.
This is it – mentally ill people are uniquely qualified to redeem the unsightly quagmire we refer to as American politics.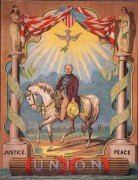 You're surprised, of course, and I was too. But the logic is actually very simple. Here goes.
Of all the forces corrupting politics, what is doing the most damage? Why, money of course.
Now, mentally ill people like us are outsiders, and consequently we've had to learn a lot of things so called "regular" folks manage to ignore. Like living without money, for example.
Face it, if you're paying for psychotropic meds, talk therapy, recovery books, online seminars, pilgrimages to Freud's birthplace, and self-hypnosis crystals all at once – and – you just got fired from your job because you filled your manager's Lexus with lime Jell-O…again – learning how to stretch a buck and solve financial problems innovatively has already become second nature.
Through apprenticeship programs and mentoring workshops, mentally ill individuals could teach politicians how to live within budgets that are absolute, not imaginary. Ironically, since mentally ill people as forced to become expert at navigating easily between the opposing worlds of madness and normality, they are highly qualified to explain the difference to politicians – who clearly have no concept of it.
Of all the personal qualities shared by all politicians, which one does more to undermine our wonderful country? Why, dishonesty of course.
Here again we can see the mentally ill riding to the rescue. The difficult road to recovery demands self-awareness and rigorous honesty, so the whackadoomius in our midst learn, and cultivate, these qualities. It does not come easily, but the payoff is profound. So we could be patient and understanding as we educated eager politicos who, like exchange students, would be learning a new language; truth.
Naturally, these evolving personalities would go through a traumatic period of confusion and disorientation, as they adjusted to a life of talking about honest feelings and real beliefs, one can only imagine the strain. But, having gone through the challenge of reinvention ourselves, we could show them how it's done.
One of the most unfortunate mistakes made by the mentally ill is undervaluing their worth. Come on ya'll. Let's show them we can do the impossible; let's drain the swamp!
APA Reference
McHarg, A. (2012, January 10). How Mentally Ill Americans Can Redeem Politics, HealthyPlace. Retrieved on 2023, December 1 from https://www.healthyplace.com/blogs/funnyinthehead/2012/01/how-mentally-ill-americans-can-redeem-politics
Author: Alistair McHarg