American Businesses Eagerly Court Mentally Ill Consumers
When the Disney Corporation, icon of social conservatism, first actively began pursuing gay tourists, many consumers were shocked. However, hospitality industry insiders were not; they understood that, like other American businesses, Disney places profit over prejudice ten times out of ten.
So, much to the consternation of Grumpy, Doc, Goofy, Minnie and Snow White, wonderlands of all things Mickey were suddenly gay-friendly and in no time at all the music of cash registers began wafting breezily through the sheets of fiberglass snow falling gently on plastic hills and valleys. Disney Corp. even bundled special events, tours, and vacations specifically for this demographic.
For mentally ill Americans like me, it was a bittersweet moment. On the one hand, we were delighted to see members of a beleaguered minority group finally welcomed into the inner sanctum of what passes for culture in this country. But, on the other hand, we felt our own exclusion even more painfully. When – we wondered – when would our day come?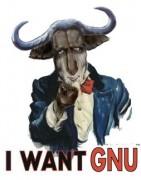 Well grab your hat and goat, Nellie, because the good news is – that day is here! Whether you're slightly off, eccentric, whackadoomious or mad as a March hare – American business wants you! They've had a good look at mentally ill America and - after tallying your special wants, needs, expectations, and dreams – are releasing a slew of products and services exclusively designed with your mind (such as it is) in mind.
Here are just a few marketplace innovations illustrating this exciting new trend!
NEW IMBALANCE Shoes – With a cute little, right-leaning gnu for a logo, New Imbalance shoes invite you to make your mental illness a fashion statement. Every right sole is one full inch slimmer than the corresponding left, meaning you're always off kilter – for all to see. Expect them soon in better shoe stores everywhere and look for the cute little right-leaning gnu asking the question, "What's gnu? I'll tell you what's gnu! NEW IMBALANCE shoes, that's what's new!"
I CAN'T FACE IT BOOK Finally! Social networking for people with no desire to see anybody, talk to anybody, share likes and dislikes, or actively solicit input or assistance of any kind. Preformatted, completely fictitious user profiles are immediately downloadable and "hidden" – just to be on the safe side. Browsing history is not available to anyone, including user – unless an alien life force with malevolent intentions makes a really tempting offer to I CAN'T FACE IT BOOK management.
SHELF MEDICATE – Booze You Can Use! For years, alcoholic beverages have been divided into two categories: top-shelf, (premium) and bottom shelf, (economy). But what about all the alcoholics, bipolars, and others who use alcohol with the skill of research chemists to carefully control, adjust, and maximize their personal insanities? For them, a 3rd shelf – Shelf-Medicate – where they will find a delightful assortment of beverages carefully calibrated to impair motor skills and rationality while modulating moods and temperaments with surprising precision. (Many are lemon-scented!)
HELPY PLACE – There is even talk of a website devoted exclusively to the needs of individuals with mental health issues! Clearly, the whackadoomious in our midst are coming into their own!
APA Reference
McHarg, A. (2012, February 23). American Businesses Eagerly Court Mentally Ill Consumers, HealthyPlace. Retrieved on 2023, September 25 from https://www.healthyplace.com/blogs/funnyinthehead/2012/02/american-businesses-eagerly-court-mentally-ill-consumers
Author: Alistair McHarg