Practical Tips For A Mentally Healthy Government Shutdown
It is widely acknowledged that the United States is the greatest country in the world; beating out such plucky contenders has Azerbaijan, Bongo Bongo, and Chad. It is also widely acknowledged that the United States has the best government money can buy. Within the cornucopia of services provided by our government is the character-building exercise known as "the shutdown". Random government shutdowns, frequently sneaking onto the scene under the guise of improbable, preposterous power plays, posturing peacock parades profiling pointless politicos, offer the American public an opportunity to build up endurance, patience, and the ability to keep down unpalatable food. This is no mere unintended consequence, quite the contrary, it is a behind-the-scenes character building service.
In order to fully appreciate just how much thought the government puts into this exercise, consider the amount of pre-printed literature ready for distribution at a moment's notice. As you know, government shutdown immediately cripples all mental health resources nationwide since these are considered nonessential. (Essential services include congressional salaries and health benefits, military spending, and lobbyist shoehines.) Congress, well aware of the impact on America's homeless, hapless, and harmless, commissioned a panoply of brochures with foolproof tips mentally ill people can use to help themselves while Congress is helping itself. (Note that Congressional salaries continue to be paid during a shutdown. This textbook example of insanity leads one to wonder how quickly the shutdown would be remedied if all congressional salaries were put on hold until it was.)
Here are some helpful ideas for mentally ill people dealing with the disappearance of federally funded mental health care.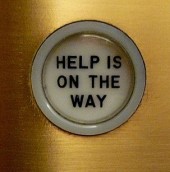 Paranoid? Stop worrying about it, stop taking medication, and learn to enjoy the attention!
Wrestling with feelings of abandonment? That's quite all right. There's nothing wrong with feeling abandoned, you have, in fact, been abandoned.
Depressed? Good! One could find no healthier emotional response when Congress threatens to hold its breath until it turns blue unless a law that has already been passed is repealed.
Bipolar? Consider downsizing. With the paucity of healthcare available you can no longer afford two polls. Find the one you prefer, and concentrate on it.
Wrestling with obsessive-compulsive disorder (OCD)? Consider a long-term project, like organizing your spice rack alphabetically by continent of origin. Your desire for order, rationality, predictability, and logic will not be satisfied by anything coming from Washington in the foreseeable future.
Finally, if you struggle with anger management issues, a complete news blackout is recommended. There is no way to predict precisely which story, or faux news fabrication, will be the one that sends you over the edge.
What appears to be a misadventure in blithering idiocy is in fact a carefully orchestrated exercise to make us stronger, more resilient, and tougher. In the column marked "unintended consequences" you can also add "saner" – it boosts our self-esteem. That's because, no matter how far you roamed off the map in life, no matter how broad a swath of destruction you cut; you never shut down the entire United States government – you are not that disturbed!
APA Reference
McHarg, A. (2013, October 2). Practical Tips For A Mentally Healthy Government Shutdown, HealthyPlace. Retrieved on 2023, December 9 from https://www.healthyplace.com/blogs/funnyinthehead/2013/10/practical-tips-for-a-mentally-healthy-government-shutdown
Author: Alistair McHarg
Howdy,
Perhaps the U.S. Gov't. is taking a page from WalMarts' book and is using the shutdown as an incentive for us mentals to put our MH issues on layaway. That way, later on, when we are "saner", we can cash in our looney tune vouchers and it will cost the government less. Everybody wins!
PS: I really enjoy your writing, so i bought your book today. Doc.
Hi Doc: I must say I am very impressed by your thoughts on this; you clearly have an aptitude for thinking outside of the box. - Thanks for purchasing Invisible Driving - my no holds barred bipolar memoir. I am very interested to hear what you think of it. You can always contact me here - or at my website - http://alistairmcharg.com/ Very best regards, hope you drop by again soon. Cheers, Alistair
LOL Just found your blog tonight and it's got the whole family laughing, even my 15 1/2 autistic son. Way to Go!!! Your humor is something we compulsive sarcastics can really sink our teeth into!
Hi Jennifer: Thank you so much for writing - your comments really made my day! I think that "outsiders" can't really understand what we must endure - and how much we can benefit from a little humor to keep our plight in perspective. - Very best regards to you and your family - Cheers.
I think I have to totally agree with the news blackout in my case. Every time a politician starts speaking on the news I start getting these rages!
Good evening Alistair :) I agree-lack of pay may very well get the Congress to settle, then again maybe not. It's good to know I only need one pole to concentrate on, I've just got to find it first and figure out how to pay for it when I do. Now I'm off to watch Buffalo Sabres' hockey on the telly before someone tries to shut it down. Of course the way they are playing, that may not be a bad thing. Have a good week!
Leave a reply