ADHD Medication Vacation: Should Your Child Have One?
Many parents with attention-deficit/hyperactivity disorder (ADHD) remember, as a child, taking an ADHD medication vacation during the summer. Well, summer is around the corner and maybe you're wondering what to do about your son or daughter's ADHD medications. Bob says, "my child really needs them for school, and the medication has calmed him down a lot, but some people have told me they take their kids off ADHD medication in the summer. I'm not sure what to do!" (See an Adult ADHD Medication Vacations article here.)
Is an ADHD Medication Holiday Good For Kids?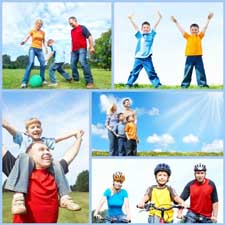 Bob is right that some parents take their children off ADHD medications in the summer, and, in fact, that used to be the standard recommendation. A break from medication was thought to be particularly helpful for children experiencing appetite suppression while taking stimulants. Parents and doctors alike hoped the summer medication holiday might allow for a growth spurt. Recently, though, some experts have begun to dispute this idea. And some ADHD experts are looking even more carefully at the importance of maintaining consistent medication use for promoting better long-term outcomes in individuals with ADHD.
Should Your Child Have an ADHD Medication Vacation?
So what's a parent to do? Following a friend's advice might not be the best option. For one thing, what works well for one child with ADHD may not work well for another. Additionally, specific summer plans for your child and family may make a difference in what you decide. Knowing how your child's ADHD medication works is another factor. It's always a good idea to discuss your individual situation with the family doctor or psychiatrist who knows your child best.
Considering the following pros and cons can prepare you well for that discussion and for a decision you'll feel confident about in the end.
Pros of a ADHD Medication Vacation
Stimulant medications can be used "off" and "on" as needed with no adverse drug effects, so there is no danger, per se, in taking a break or using these medications on an "as-needed" basis.
Non-stimulants, like Strattera, work differently. To stop Strattera, it's important to check with your doctor as careful weaning may be necessary. To make sure your child is ready for school, restarting Strattera several weeks before school resumes is also essential.
Some health care providers suggest a periodic break from ADHD medications to see if they are still needed. The summer can certainly be an easier time for that since the demands of school are not in play, but remember: that doesn't mean medication won't be needed again when returning to the more structured classroom environment.
For children having troublesome side effects with their medication (reduced appetite is a common example), the summer can allow time for a "vacation" from those concerns. Some experts suggest, though, that as an alternative to a break, the summer should be used to try a different dose or a different medication to minimize side effects.
For children who are primarily inattentive, treating
ADHD symptoms
with medication may not be needed in the summer when the demand to stay focused to succeed is so significantly less than during the school year.
APA Reference
Dupar, L. (2014, April 2). ADHD Medication Vacation: Should Your Child Have One?, HealthyPlace. Retrieved on 2023, June 9 from https://www.healthyplace.com/blogs/livingwithadultadhd/2014/04/adhd-medication-vacation
Author: Laurie Dupar, PMHNP, RN, PCC