Managing Your Mental Illness Through the Holiday Season
It is no secret that the holidays are stressful for everyone, however, for someone with a mental health disorder, they can be derailing. All of the additional activity and added responsibilities can prove to be too much excitement, or can cause the development of additional challenges for those with various mental health diagnoses. Here are some things that come about during the holidays that can make it especially hard for those who are struggling with a mental health disorder.
Triggers of Mental Illness over the Holidays
Those with anxiety may struggle with the extra-crowded shopping centers, large family gatherings, or an overly-packed schedule.
Most holidays involve an extensive amount of food and drinks, which can be extremely difficult for someone who is trying to overcome an eating disorder (Surviving (and Thriving) During the Holidays With An Eating Disorder).
All of the parties and holiday toasts can make it especially hard for those who are struggling with a substance abuse disorder as they face additional temptation (Making Addiction Recovery a Priority in the Holiday Season).
For people who do not have much going on for the holidays, or who are reminded of those they have lost during this time, the holidays can be a time of loneliness and depression
Due to holiday schedules, therapists and doctors may be unavailable
---
Treatment program: Lauren Hardy M.A., writes on behalf of Highland Park Hospital, which provides adolescents, adults, and senior's behavioral health and addiction treatment that sets the stage for lifelong recovery.
---
Strategies for Coping with Triggers and Mental Illness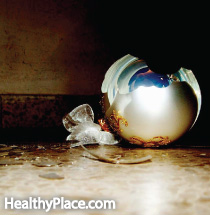 No matter how hard you try, you are never going to be able to avoid all of the stressful situations that tend to arise during the holidays. So instead of locking yourself in your house, in an attempt to dodge stress, it might be beneficial to sit down and making a plan that will help you cope with that stress and the additional risks brought on by the holidays.
Here are some strategies that may help you make it through the holiday season in one piece, and ultimately allow you to take part in the holiday cheer:
Know your limits: The holidays tend to be full of family gatherings and parties. Before attending one of these events, make sure that you have an exit strategy. If it comes to the point where you have become overwhelmed, make sure you have an excuse on hand so that you are able to make a quick exit if needed. Some individuals find that large gatherings are too much for them and only opt to attend smaller get-togethers, which is completely fine.
Don't over-schedule yourself: From November through January, there are bound to be many different parties and events that can quickly pile on top of each other. This doesn't even include all of the shopping, decorating, or preparation that accompanies the holidays. Make sure that you don't overload your calendar. Pick a few events that you are going to attend and then politely decline the rest. This will allow you to have some time to rest in between events.
Avoid alcohol: If you are struggling with a mental illness, you are already aware that alcohol has the potential to interfere with medication and may even exacerbate some of your presenting symptoms. The holidays are no exception and should not be used as an excuse for you to throw a few back. You can still participate in the toast, but stick to sparkling water or juice instead.
Don't forget your medication: During the holidays, a person's normal routine tends to go out the window and, in some instances, when a routine is changed, people don't always remember to take their medication. While it may not seem like a big deal, for an individual with a mental health disorder, skipping even one dose of medication can cause serious disruption.
Stick to a routine: With all of the extra activity going on around this time, it can be hard to stick to your regular routine. However, as much as you can, it is important to try and keep things as close to normal as possible in order to avoid the development of additional problems or to prevent a relapse. This will also assist you in remembering to take your medications.
Above all else, if you are facing a crisis situation, do not hesitate to reach out for help. Go to a support group, contact your sponsor, call a suicide hotline, or, if it is an immediate emergency, go to the nearest hospital. Just because you have a mental illness, it does not mean that you have to let the holidays get the best of you.
APA Reference
Hardy, L. (2015, January 5). Managing Your Mental Illness Through the Holiday Season, HealthyPlace. Retrieved on 2023, November 28 from https://www.healthyplace.com/blogs/mentalhealthtreatmentcircle/2015/01/managing-your-mental-illness-through-the-holidays-2
Author: Lauren Hardy, MA
Any kind of Addiction can lead to mental illness. It's very important and necessary to keep ourselves away from any kind of addiction while on holiday and specially if one is suffering from mental illness. Thanks for sharing
Leave a reply