Transition to Independent Living: How Long?
I write this from Las Vegas. My son Ben has been living at home with us ever since his discharge from the hospital three weeks ago. The last time he lived at home was over seven years ago, when his schizophrenia diagnosis was so new and his rebelliousness so out of control. This time, he is a delight to live with, and wants to be fully cooperative with the "program" we have set up for him - routine, structure, rules, meds. But - for how long? And is this good for him?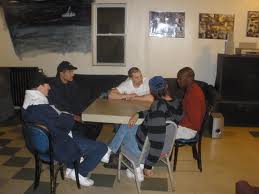 Let's be frank here. Ben is with us because I'm terrified; scared to allow him back into the hands of the caseworkers who mismanaged his transition in May from the group home (that had served as his surrogate family for so long) to an independent living situation.
This "transition period" was set up by me as part of Ben's discharge plan after the relapse that landed him back in the psychiatric hospital for six weeks. I didn't - and still don't - have much faith in the system that failed him in May. I wanted to make sure he would be well guided as he returned to reality: his outpatient program, his job, his NA meetings, his life. I wanted to make sure he took his meds.
The results so far? Actually, quite spectacular. Being with us has been great for Ben, and he has returned to the young man he was before this relapse: what a friend of mine just described to me as "a warm ray of sunshine."
Ah. Insert sigh of relief here. In fact, Ben is even warming up to the idea that my book is getting some attention - and for the first time, asked me to read a page of it to him.
Here's the question, though: how long can he stay with us? For his emotional growth, for his life journey back to responsibility and maturity, for all the reasons I "made him homeless" eight years ago, he is supposed to go back to living his own life with support. But - while I felt so secure about his group home existence, I don't know how to help him if he goes back to the lonely, roach-infested apartment that I am convinced was part of his relapse.
But - what happens to his benefits if he lives with us? What happens to my marriage? What happens if we have to be full-time caseworkers for him? That is not a good dynamic, I know. Right now, my husband and I are out of town, and thankfully Ben's sister and brother-in-law are stepping in to keep him company (and drive him to work, and supervise meds...) and Ben is loving it. But - forever? I don't think it's a good idea. And yet - how do I throw him back to the wolves? Where are the transitional services that can take our place with more confidence?
Since the book (Ben Behind His Voices) has been delivered to many who pre-ordered it, I have begun to get e-mails from families who resonate with the story it tells, as has happened here on this blog. Many of us are in this same boat. All I can do right now is say "this has been a good day" - and trust that somehow we'll find the way to the right decision. For now, we're doing the right thing for Ben's recovery. Meanwhile, we are exploring options for the next steps - and keep paying the rent on that apartment - and will see how the next steps unfold.
APA Reference
Kaye, R. (2011, August 19). Transition to Independent Living: How Long?, HealthyPlace. Retrieved on 2023, December 3 from https://www.healthyplace.com/blogs/mentalillnessinthefamily/2011/08/transition-to-independent-living-how-long
Author: Randye Kaye
As you know, there's no one size fits all solution. Here's a tip from someone whose son has been living at home since he dropped out of university seven years ago. My husband and I were determined to make it work, all the more so after he had a relapse two years ago. We were getting pretty impatient with him and panicking that he was losing out on education, training and paycheques and I felt his relapse was due to our putting too much pressure on him to achieve some milestones. In order to make it work, my husband and I had to get a grip on ourselves, to not endlessly dwell on the negatives of the situation and mourn our son's missed opportunities. So, we took up yoga and meditation together, which is a great way of letting go, and learned to practice Low Expressed Emotion. At the same time Chris got out of hospital, our middle son moved back home after university. I thought this would never work, since he and I have had a volatile relationship in the past. I dreaded all those bodies under foot. However, it's turned out great. I feel that we have learned patience and in the process have become more optimistic that Chris will eventually strike out on his own in a direction of his choosing. One very key thing is company. It's not good for anyone to be alone for long stretches, but particularly for people who have had mental health issues. Roommates?
Leave a reply