Your Family and Mental Illness: Can Happiness Return?
Today is the start of the "Jewish New Year", Rosh HaShana. No matter what your community, there always seems to be a period of time set aside to reflect on what has happened in the past year, how you are going to process it, and how you hope/plan to act on what you learned in the future.
Next week the journey continues, during Mental Illness Awareness Week. Maybe those of us living with mental illness in our families can inspire awareness and thought in others, as we consider our own situations. Reflection can lead to realization, and to change. This is not merely a matter of what has happened to you and to those you love; it is more a reflection on how you eventually choose to deal with it.
[caption id="attachment_329" align="alignright" width="170" caption="Mental Illness Awareness Week"]

[/caption]
In the last 12 months, this family has had its share of challenges (don't we all), both financial and emotional, but the most emotionally difficult was Ben's slide into a return of the symptoms of his illness. He was hospitalized this summer for over six weeks: a painful reminder for us all that schizophrenia just cannot be cured at this time. We knew this, of course; we just hadn't had to look too closely at it for awhile. We'd had some lovely blinders on. Ben's relapse was a painful reminder that his mental health is always, and may always be, close to the edge.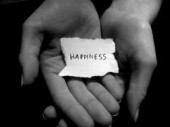 So how do we find happiness, knowing that disaster can return at any time? How do we laugh, love, work and play, living under the shadow of schizophrenia in our family?
The answer? Because we have to. Because we choose to. Because, after we take any and every action we can to help Ben, we are then left with only our own emotional reactions to the fact that he has a pretty severe case of schizophrenia.
We will never like it, of course - but we have come to accept it. And as I reflect today on our challenges (like Ben's relapse) and triumphs (he has returned to us), I know that on some level we have to constantly choose happiness. What helps us? Three things:
Expectations: Keep them realistic. Educating yourself and your family about the illness helps.
Hopes and dreams: Keep them. Just don't make your happiness contingent upon their coming true - at least, not on your schedule. Patience helps a lot.
Gratitude: Keep it high. A good day is better if you take a moment to appreciate it.
I look at Ben hugging old friends at our congregation, hear him share his excitement about Richard III (Shakespeare class), and a different sort of tear comes to my eye. I will never take this for granted. And, yes, we could focus on what Ben has not accomplished in life compared to others his age- marriage, career, independence - but why? What good would that do?
Ben is where he is - and this is his journey. Meanwhile, it helps to stay in touch with "the miracle of ordinary moments." If there are things that cannot be changed, then why not choose gratitude over disappointment?
NAMI's Family-to-Family program reminds us to "choose to love our ill relative just as they are today, while holding on to hope." We have tried to do that in this past year - even when it was really hard - and hope to keep doing that in the coming one. Whenever your "new year" starts, (and of course we celebrate again on January 1) it's always good to hang onto that thought.
APA Reference
Kaye, R. (2011, September 29). Your Family and Mental Illness: Can Happiness Return?, HealthyPlace. Retrieved on 2023, December 7 from https://www.healthyplace.com/blogs/mentalillnessinthefamily/2011/09/your-family-and-mental-illness-can-happiness-return
Author: Randye Kaye
Thank you, that article was very helpful ....I have to stop thinking about why my song got the "short straw" and just deal with it.....that is very very hard to do, but I am working on accepting too.
I'm glad it was of help to you. There's no getting away from the occasional moments of grief, still - I think we have to occasionally let some steam out of the pressure cooker - but after we process those moments, a re-focus on choosing happiness does help. As someone once told me, you don't have to like something to accept it. My best to you and your son on your journeys, Randye
Leave a reply