Schizophrenia in the Family: Living in Hope
If our story of schizophrenia hitting a family were made into a movie, here is where it might end: on the hopeful note of some dreams having come true, after challenges and crises too numerous to count. My adult son, Ben, is stable, taking his medication, able to participate in family functions, and actually working part-time as - of all things - a server in a restaurant where customers come in and ask to be seated in his section.
At least, as of today. We are always looking up to see if the "other shoe" is about to fall, just as we might wonder what really happens after the "happily-ever-after" end of a film.
And, in case you were wondering, no, Ben does not agree that he has schizophrenia. That is a huge missing piece in his recovery, and there are two very awkward moments each and every day when we (still) supervise him as he takes his schizophrenia medications.
Will he "rebel" again, someday, and refuse the meds? Who knows? At 32 years old, how much longer will he continue to cooperate on the strength of our family relationship? After all, it took us nearly a decade to get to this point of cooperation.
But, oh God, I hope every day for another good day. I have seen what can happen, within 24 hours of refusing treatment - and it's heartbreaking.
Still, this is almost better than I had ever dared dream when Ben's life seemed to consist of basically pacing the psych hospital corridors talking to the presences in his head.
Back then, our family was afraid, perhaps, to dream. There were so many times when all the evidence seemed to point to Ben's life completely lost to any semblance of purpose. But - we still did dare, and still do dare, to hope.
Hope in Schizophrenia: What is Possible?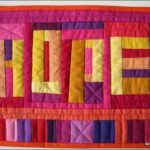 Sure, some moments are still upsetting. When Ben is tired, or stressed, I can almost see those voices knocking on his door by the way he gets distracted and shuts down. Always, that tightrope - with gratitude for whatever balance we manage. Will we ever be out of the woods? Well, I hope so. And work toward it. But any family dealing with illness will tell you there are no guarantees.
So, we choose hope. Is hope enough? Hardly. But at least it keeps us company while we see what happens.
And at this point in our journey, dear reader , I am going to take leave of regular posts on this Mental Illness in the Family blog. We have been together for three years, and I leave you in the very capable hands of Chrisa Hickey. She has been providing awesome posts here for the past few months, and while I will continue to respond to your comments as often as I can, it's time for me to officially move on from regular posts here. I hope to continue to provide guest-posts here and there, and so we'll just call this farewell for now. I have so enjoyed your comments on the HealthyPlace posts and also my book, Ben Behind His Voices.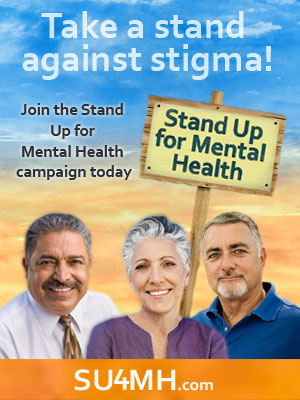 For those families much earlier in their journeys - perhaps at the onset phase of confusion and doubt, the crisis phases of fear and anger and grief, or just beginning the phase of acceptance and advocacy - I applaud you. While our journey may be a bit farther along than yours (we've been living this for over half of Ben's life now), we still walk the same tightrope as you. I hope you will check out earlier posts here to see how we weathered our storms, and hope you will find some ideas and comfort there - as in the book, which outlines the story from the start. I hope you will continue to read Chrisa's excellent posts, and to follow our journey as well at benbehindhisvoices.com.
Our journey is far from over - as you well know. And, with one in every four families dealing with mental illness, we must set aside the stigma and blame and "Stand UP for Mental Health" - together. Let's keep hope alive - for ourselves if we can (for hope is the match that can spark the actions we need to take), and for the other families, our kindred spirits, as well.
Thank you for being a part of our family's journey, and letting us be a part of yours.
Never give up hope.
Randye
You can also find Randye Kaye on Google+, Facebook and Twitter.
APA Reference
Kaye, R. (2014, June 16). Schizophrenia in the Family: Living in Hope, HealthyPlace. Retrieved on 2023, December 11 from https://www.healthyplace.com/blogs/mentalillnessinthefamily/2014/06/living-in-hope-randyes-farewell-post-for-now
Author: Randye Kaye
I was am a true schizophrenic because, although I have a support team, 90% of my triggers were while I was alone. I don't know how I ever got through them, being so scared to death, but I do know now how to handle them much better because of my tremendously superior support team that I do have. I promised myself my creator to never give up and here I am today...proud to be able to help others with my Facebook page called True Paranoid Schizophrenic. Please feel free to visit it if you want. I am Roberta Bates, and I am living proof that schizophrenia is very crippling, but can't win the battle if you simply DO NOT GIVE UP! Thank those of you who stood by my side (Hank, Noonie Noona, and Dixie) Dr. Shaefer and Dr. Kirzner and their secretaries. You all are the very best! Thank you for letting me share.
Thanks, Janice! Your book, too, is a wonderful contribution to the conversation.Let's open doors!
thanks,
Randye
Randye, you have been such an articulate and honest advocate for surviving mental illness in the family, and I know that your stories have given hope to some and comfort to others. I'm sure still others were spurred out of their complacency to take action because of your cautionary tale. Your contribution to the mental illness dialogue should never be underestimated. I'm very sad you will no longer be posting, but I understand your energies are needed elsewhere. Thank you for sharing your heartbreaks, your triumphs, and your wisdom. -- Janice Holly Booth, author of "A Voice out of Nowhere," #1 Amazon best-seller in schizophrenia. http://amzn.to/1hnlnB5
D -
How about trying a new approach? I highly recommend the following online course: http://familieshealingtogether.com/courses/recovering-our-families/
It's not "just another course." It's radically quite different in what it teaches.
"Recovering our Families" introduces families to key recovery principles, leaders, research and resources that are person- and family-centered, trauma-informed and strengths based. Emphasis on the person-and family-centered, trauma-informed and strengths based.
Yes, I've done the training, and I go to a support group, and a therapist, and am on medication for the anxiety that I have because my loved one won't abide by the treatment prescribed to him. I can't imagine the mess I would be if I didn't do all of those things! Lol. I laugh, even though I am not particularly happy, and I smile and wish everyone a splendid day, and pretend that everything is fine... :-) That's just how it is.
We have a 35 year old son who got Schizophrenia after serving a year in Iraq & a very disastrous marriage. He was abused in the marriage. He lives with us. He takes his meds and goes to the VA on a regular basis with good results. He shut downs or starts talking like a child on a daily basis. He isn't able to work. He is more than welcome to live with us vs a group home, but just wish life would be easier for him.
I went from hoping against hope, to hoping, to where I am today...I am finding it extremely difficult to maintain any kind of hope. I just don't know how to do it anymore. I try to help my loved one, but it just seems 'hopeless'. I don't know how to rekindle it. The problem is that I can't give up, even though I know that I've already lost.
I'm sorry you're losing hope. Have you checked with your local NAMI for a Family to Family training or caregiver support group?
Randye,
It is wonderful to hear how well Ben is doing. I look forward to hearing more from you on your journey.
...Rossa
Thank you so much! It has been a pleasure blogging here, and will continue to pop in when I can. The book website will also provide updates and tips. My best to you. Every comment has inspired me as well.
Your story is so moving. This is the first time I've ever been here so I'm sorry I won't be experiencing more of what you have to say as often.
I enjoyed your post and will be looking forward to more from you as a guest.
Leave a reply